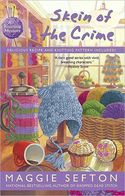 Knitting Mystery #8
June 2010
On Sale: June 1, 2010
Featuring:
Kelly Flynn
304 pages
ISBN: 042523438X
EAN: 9780425234389
Hardcover
$24.95
Mystery Hobbies, Mystery Amateur Sleuth
Buy at Amazon.com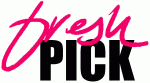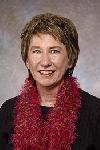 Skein Of The Crime
by Maggie Sefton
The newest installment in the series, with knitting patterns and recipes included!
Fall has come to Fort Connor, Colorado, and the cool air has inspired the knitters at the House of Lambspun to start on their hats and mittens. It's also brought an influx of students to the university town-and into the shop for knitting classes. Kelly Flynn is happy to teach them the tricks of the trade-until one of them is found dead on the river trail near Kelly's house. Compelled to investigate, Kelly finds herself following a path that twists more easily than the yarn with which she knits. Knowing the killer could be close, Kelly must work fast to unravel the skein of this crime.

The wool is flying as a mystery comes unraveled!
Excerpt
"How did your counselor friends find this guy?" Kelly whispered to Jayleen as they entered a corridor.
"My friend, Jerry, is director of the program that helps bring in the vagrants who're trying to put their lives back together. Jerry met with some of them yesterday, on Sunday, and straight out asked if anyone remembered seeing a young blonde girl wandering the river trail a couple of weeks ago. This morning, one of the guys came up to Jerry and admitted he'd seen someone that night. A young blonde girl."
"Wow, that's great news." Kelly glanced through the doors as they walked along the corridor.
"Here we are," Jayleen indicated. "Now, better hold back and let him tell his story. He's kind of skittish. He's one of the ones who's been out on his own for a while Read More…