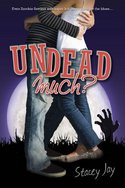 Megan Berry, #2
February 2010
On Sale: January 21, 2010
Featuring:
Megan Berry
304 pages
ISBN: 1595142738
EAN: 9781595142733
Paperback
$8.99
Young Adult Paranormal
Buy at Amazon.com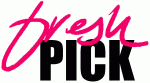 Q: How many guys does it take to make your boyfriend wild with jealousy?
A: Only one, if he's UNDEAD.
Megan Berry had a perfectly average new-sundress-and-boy-obsessed life–until her power to settle the Undead returned. Oh, and then her best friend tried to kill her–and ruin homecoming–with a bunch of black magically raised zombies. At least she got a spot on the pom squad and a smokin' boyfriend (Ethan). But now Megan is in deep fertilizer all over again. Why? Well, let's see… ·
Feral new super-strong zombies? Check. ·
Cheerleader vs. pom squad turf war threatening half time as they know it? Check. ·
An Undead psychic hottie (Cliff) who's predicting a zombie apocalypse–and doing his best to tempt Megan away from Ethan? Yum. I mean, Check. ·
Earth-shattering secrets that could land Megan in Settler prison for life? Um, IT WASN'T ME!!! Everyone thinks Megan's at fault for the new uber-zombie uprising. Looks like she'll need the help of both Cliff and Ethan if she's going to prove her innocence before it's too late…
Excerpt
Ethan paused. "Megan, I—"
Suddenly, there was a knocking at the car window.
I screamed, a piercing, girly scream that made Ethan wince, but I couldn't help it. Give me creepy flesh-hungry Reanimated Corpses and I can get my Buffy on with the best of them. But interrupt me whilst making out and I am far more the hysterical-screaming-and-clutching-at-my-clothes type of girl.
"Um, sorry. Didn't mean to freak you out in there." The voice outside was male, but it didn't sound like anyone I knew.
He was definitely a young guy, however, which meant we'd escaped discovery by Ethan's seventy-year-old grandfather. Thank. God.
Not that a complete stranger was a much better option.
"But um…I'm here," the dude outside said. "So are Read More…