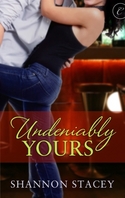 November 2010
On Sale: November 1, 2010
Featuring:
Kevin Kowalski; Beth Hansen
ISBN: 1426890729
EAN: 9781426890727
e-Book
$4.99
Romance
Buy at Amazon.com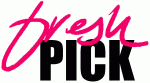 A Fresh Fiction 2010 Favorite Read. "Sexy, sassy and immensely satisfying"
Undeniably Yours
by Shannon Stacey
One-night stand + two percent condom failure rate = happily ever after?
Bar owner Kevin Kowalski is used to women throwing their phone numbers at him, but lately he's more interested in finding a woman to settle down with. A woman like Beth Hansen. If only their first meeting hadn't gone so badly…
Beth's tending bar at a wedding when she comes face-to-face with a tuxedo-clad man she never thought she'd see again. She tries to keep her distance from Kevin but, by last call, she can't say no to his too-blue eyes or the invitation back to his room. Then she slips out before breakfast without leaving a note and, despite their precautions, pregnant.
Kevin quickly warms to the idea of being a dad and to seeing where things go with Beth. After all, he's not the player she thinks he is. But she's not ready for a relationship and, given his reputation, it's going to take a lot to convince her to go on a second date with the father of her child…

A really cute story of two people thrown together by unfortunate circumstances.

Sexy, sassy and immensely satisfying
Excerpt
October
Every time the New England Patriots chalked one up in the win column, Kevin Kowalski got laid.
A score for them was a score for him. Not that he was always looking for a companion on a Sunday night, but the offers weren't scarce. As he slid a foaming mug of Sam Adams down the polished surface of the best damn sports bar in New Hampshire's capital city—which just happened to list his name as proprietor—he caught a blonde watching him. The Pats were lining up at first and goal on the big-screen, but her eyes were on him, letting him know the New England quarterback wasn't the only guy in scoring position.
But tonight he was having a hard time concentrating on the blonde with the chemically enhanced lips, surgically enhanced boobs and alcohol-enhanced Read More…