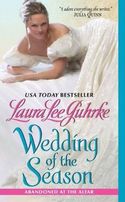 Abandoned at the Altar #1
January 2011
On Sale: December 28, 2010
Featuring:
Beatrix Danbury; William Mallory
384 pages
ISBN: 0061963151
EAN: 9780061963155
Mass Market Paperback
$7.99
Romance Historical
Buy at Amazon.com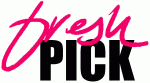 Hopefully nothing like this happens on Friday!
Wedding of the Season
by Laura Lee Guhrke
Being jilted. It's awful for a girl.
Especially if your fiancé was also your childhood sweetheart , your prince charming, and the handsome, rakish duke you'd built all your dreams around. Even more awful if he jilted you two weeks before your wedding and took off for Egypt. It would take a girl a long time to get over that sort of humiliation.
But what if six years later, on the eve of your next wedding, he returns and he decides he wants you back? Too bad, you say? But what if he's as hot, handsome, and rakishly charming as ever? What if his return stirs up all the old passions you thought you'd conquered? What if you find yourself longing for the past and questioning the future? What if you have to spend a whole month at the same house party with him and your new fiancé?
Well, for Lady Beatrix Danbury, that sort of situation is more than awful. It's impossible. It's intolerable. It's a nightmare. But it might also turn out to be her dream come true.

Wedding plans go awry in this delightful historical romance