First of all, let me thank Fresh Fiction for a great review and for inviting me to visit with you.
And second, I want to thank READERS for making the first Cleo Mack Mystery a USA Today Best Seller! Murder at Harbor Village tells how Cleo moved to Fairhope and fell into a new job managing a retirement community. The second book, Murder at Royale Court, centers on a murder that occurs during an antique automobile show. And now, the third book in the series—Murder at the Arts & Crafts Festival—shows Cleo with a big circle of friends who help with the sleuthing when Twinkle Thaw, the famous portrait artist, crashes her sister's dinner party, comes between an old sweetheart and his wife, takes over a local art gallery, and dies. The series is set in Fairhope, a quaint, bayside community in coastal Alabama.
Unlike the murders, the arts & crafts festival actually occurs every spring. I love attending it for many reasons, some of which I'm listing below, along with a few photos from recent festivals.
The main thing we expect to find at art festivals is art—paintings, drawings, photographs, and other things that hang on the wall. Art comes in all sizes and colors and styles, but it's not the only attraction at festivals. Some of my favorites include:
People–It's always great fun to mingle with the crowds! And the 200,000+ visitors who attend Fairhope's Arts & Crafts Festival every year are always in such good moods. One year my husband was working at the info booth when a lovely lady lost all sense of orientation and couldn't remember where she'd left her car. Being a bit of a sleuth himself, he plied her with questions:  Had she seen water as she drove into town? Was it the northern part of Mobile Bay, on her right side, or the Fairhope shore, on her left? Did she park in a church lot, a shopping center, along a city street? Had she taken a shuttle bus or walked up the hill, passing quaint old cottages? His questions helped her solve the mystery of the lost car.
Pottery–Maybe my favorite. This teapot made by Chuck Solberg, of St. Paul, Minnesota, caught my eye one year.
Jewelry is always nice. This necklace is similar to the one interior designer Michael Bonderant selected for Cleo in Murder at the Arts & Crafts Festival.
Glass–Beautiful! If I had a mantle, it'd be full of such pieces. But unfortunately, I don't have any display space beyond the reach of a cat, and I'd die if one of these beauties got broken. You may remember that the Grand Prize in Murder at Royale Court was a piece of art glass.
Dogs–both furry and junque varieties. Note the glass doorknobs used for eyes.
Food–Funnel cakes, anyone? How about lemonade, or fudge from the Punta Clara Candy Kitchen, located just down the road at Point Clear.
Weather–always a source of excitement, whether it's a shower, or a freak windstorm that upends display tents, or an unseasonable cold snap that sends exhibitors scurrying for warm clothing.
Music–something different on every corner.
Shuttle Buses–some of them are artworks in themselves. I wish I had a photo to show.
Nature–driftwood sculptures, birdhouses, gourds, twisty branches. Love them all.
Hair–just because.
If you decide to attend this year's Arts & Crafts Festival, maybe I'll see you there. It's always the third weekend in March, and you can find more information at this link:  https://fairhopeartsandcraftsfestival.com.
—
COMMENT TO WIN: Tell us your favorite things about attending arts and crafts festivals, and you'll be entered to win a signed copy of Murder at the Arts & Crafts. US Only. Good Luck! 
—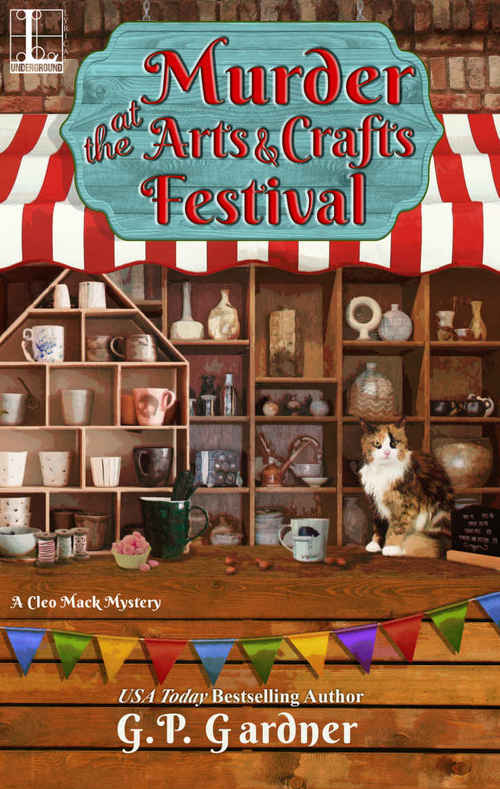 It's late March in Fairhope, Alabama, and artists from around the country are flocking to the bayside town's Arts & Crafts Festival. The annual tradition has something for everyone, only this year, the main attraction is murder . . .
Cleo Mack's life has been a whirlwind since she inadvertently became the executive director of Harbor Village, a retirement community bustling with energetic seniors. Juggling apartment sales, quirky residents, and a fast-moving romance is tricky business. But on-the-job stress develops a new meaning when Twinkle Thaw, a portrait artist known to ruffle a few feathers, arrives unannounced for the weekend's festival and drops dead hours later—mysteriously poisoned . . .
Twinkle's bizarre death doesn't seem like an accident. Not with a sketchy newcomer slinking around town and a gallery of suspects who may have wanted her out of the picture for good. As Cleo brushes with the truth, she soon finds that solving the crime could mean connecting the dots between a decades-old art heist and an unpredictable killer who refuses to color inside the lines . . .
Mystery Cozy | Mystery Hobbies | Mystery Woman Sleuth [Lyrical Press Underground, On Sale: December 3, 2019, e-Book, ISBN: 9781516109043 / eISBN: 9781516109036]

Who killed Twinkle Thaw?