So here we are again, approaching the end of another calendar year, and the beginning of another holiday season in many traditions. My yuletide memories aren't uniformly positive. My dear mother had to wrangle Christmas on a shoestring for seven children. Pennsylvania winters meant those children were very much underfoot, and family tensions could erupt into something other than four-part harmony.
And yet, I love this time of year. I love how the whole hemisphere gets a little quieter, the evenings longer, the mood both more reflective and more congenial. I get more writing done over the winter months than in any other season, and writing is one of my very favorite things to do.
I also enjoy our annual year-end focus on charity, on welcoming the stranger (angels unaware is one of my favorite Christmas tropes), and on looking out for our neighbors who might have trouble paying the heating bill or affording anything for the children on Christmas morning. I don't need to see the brain science to know that kindness lifts my spirits, whether I'm the giver or the receiver. I think we are intended to be kind to one another, and the holidays give us permission to yield to that impulse.
If I had to choose one aspect of the holidays that truly warms my heart, it's the abundance of material that lends itself to delightful romances. How many terrific holiday tales have started off with no room at the inn? With a funny thing happening under the mistletoe? With that inopportune snowstorm that wrecks the carefully laid holiday plans but offers something even more precious for characters with a little courage and heart?  
For my novels, I've drawn upon a baby arriving very unexpectedly (Lady Sophie's Christmas Wish), old secrets making an inopportune holiday appearance (Lady Louisa's Christmas Knight), and all the uproar and conflict that can emerge when a family gathers for Christmas (Lady Jenny's Christmas Portrait). In shorter works, I've used the stranger coming from afar, the Grinch (both in Christmas Treats), mistletoe (Patience for Christmas, what a fine tradition!) and the holidays as a time to reconcile old hurts and begin afresh (Respect for Christmas).
These are some of my very, very favorite stories, and I think that's because they all share something with the Christmas story I was raised with. In the coldest, darkest time of year, when you're far from home and facing enormous challenges, love can find you and bring you joy. Despite hardship, fear, and bewildering changes, miracles occur.
I love that message, which is by no means unique to any one tradition, and I love weaving it onto my happily-ever-afters.
And if that wasn't enough, we have holiday baking, decorations, terrific music, tons of great holiday movies, a few extra days to spend with the family. What's not to love?

What's your favorite aspect of the holidays? Do you have any traditional re-reads this time of year? To one commenter, I'll send a signed copy of my very first holiday tale, Lady Sophie's Christmas Wish.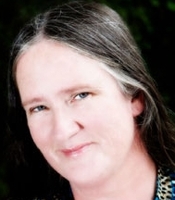 Sweet, Spicy, Substantial Regency Romances…
Grace Burrowes started writing as an antidote to empty nest and soon found it an antidote to life in general. She is the sixth out of seven children, raised in the rural surrounds of central Pennsylvania. Early in life she spent a lot of time reading romance novels and practicing the piano. Her first career was as a technical writer and editor in the Washington, DC, area, a busy job that nonetheless left enough time to read a lot of romance novels.
It also left enough time to grab a law degree through an evening program, produce Beloved Offspring (only one, but she is a lion), and eventually move to the lovely Maryland countryside.
While reading yet still more romance novels, Grace opened her own law practice, acquired a master's degree in Conflict Transformation (she had a teenage daughter by then) and started thinking about writing…. romance novels. This aim was realized when Beloved Offspring struck out into the Big World a few years ago. ("Mom, why doesn't anybody tell you being a grown-up is hard?")
Grace eventually got up the courage to start pitching her manuscripts to agents and editors. The query letter that resulted in "the call" started out: "I am the buffoon in the bar at the RWA retreat who could not keep her heroines straight, could not look you in the eye, and could not stop blushing–and if that doesn't narrow down the possibilities, your job is even harder than I thought." (The dear lady bought the book anyway.)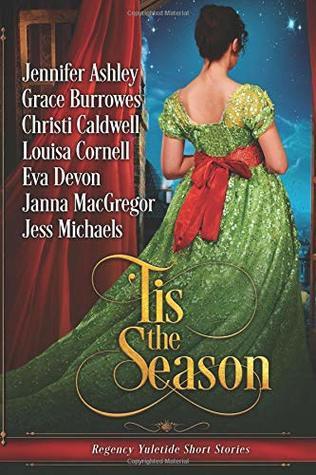 'Tis the Season, a unique Regency romance collection is sure to fill your heart with holiday cheer!
NYT and USA Today Bestselling romance authors, Jennifer Ashley, Grace Burrowes, Christi Caldwell, Louisa Cornell, Eva Devon, Janna MacGregor, and Jess Michaels are ringing in the holiday season with this limited edition collection of short stories.
You'll be swept away by some of your favorite heroes and heroines. Delight in meeting old friends from previous books and new ones you'll meet again in future titles!
The collection includes:
Jennifer Ashley: A First-Footer for Lady Jane (A Scottish Regency Romance)
When Grandfather MacDonald predicts Lady Jane will marry the this year's First-Footer–the first guest into the house on Hogmany—she laughs. Her childhood sweetheart is fighting on the Peninsula, and she can't imagine marrying anyone but staid Major Barnett.
But when the clock strikes midnight, and Hogmany begins, a knock at the front door changes Jane's life forever.
Grace Burrowes: A Knight Before Christmas (A Rogues to Riches Story)
Chloe Thatcher's livelihood is in peril when her late grandfather's bookshop is doomed to be sold at auction just as the Yuletide season arrives. Aidan Ferris is a man of business for the banker most determined to gain ownership of Chloe's property, but Aidan is also decent, honorable, and prone to lingering beneath sprigs of mistletoe. Will Aidan take possession of Chloe's home–or of her heart?
Christi Caldwell: Home for the Holidays (The Brethren story)
Martha and Graham Whitworth are eagerly embracing their first holiday as a new family. But will a summons from Graham's father, the Duke of Sutton steal their holiday cheer? Or mayhap Christmas might prove a time of forgiveness and new beginnings for all…
Louisa Cornell: (A Many Brides of Lord Creighton story)
Sebastian and Minerva Brightworth are prepared to celebrate a wonderful first Christmas together. Until Minerva accepts an invitation from Sebastian's estranged brother Will Sebastian and Minerva's first holiday together be their last?
Eva Devon: Joy to the Duke (The Duke's Secret story)
When the ghosts of Christmas past come to haunt The Duke of Blackstone, will he and his new duchess be able to put them to rest? In a story that revels in the joy of the holiday, join the characters of The Duke's Secret for a festive escape.
Janna MacGregor: The Earl's Christmas Bride (The Cavensham Heiresses)
Cameron Dunmore, the Earl of Queensgrace, is determined to win the hand of his true love, Miss Julia Lawson. Julia never forgot Cameron, but she won't abandon her family, even if she must sacrifice her own happiness. When a Christmas angel in the guise of Julia's little brother brings these stubborn lovebirds together, only Cam and Julia can decide if Christmas wedding bells are in their future.
Jess Michaels: Silent Night (A 1797 Club story)
Ewan and Charlotte Hoffstead, the Duke and Duchess of Donburrow, are anticipating a wonderful holiday with their children, family and friends. But when Ewan finds out a secret Charlotte has been keeping, they'll have to face a painful past and redefine their love.
Historical | Romance Historical | Holiday [Amazon Digital Text Platform, On Sale: October 23, 2018, e-Book, ISBN: 978172933281 / ]