Excerpt -Mated to the Vikens
Erik, Planet Viken, Viken United Compound, Transport Center

Nerves made my heart beat faster than I wished as I watched my two brothers-in-arms. Gunnar, with his black hair and blacker heart, stood silent and still as a statue as we waited for our mate to arrive via transport. He'd vowed not to love her, but Rolf and I didn't need him to do so.

"How long must we wait?" Gunnar turned on the Viken warrior behind the transport station, every line in his body screaming of his irritation.

"For someone not interested in a mate, you're fucking impatient," I countered. While the other two stood near the transport area, I leaned against the wall.

Gunnar regarded me over his shoulder with a look that screamed fuck you.

"Not long, sir," the attendant said. "The transport signal is strong. Your mate should arrive in the next few minutes."

"Relax, Gunnar," Rolf said. He could always calm our friend. "Earth is a long way from here. A long, long way."

They stood shoulder to shoulder. Next to Gunnar's darkness, Rolf looked like a beacon. Always smiling, his pale blond hair and bright green eyes nearly made him glow in the transport room's artificial light. His easy smile and natural charm had served us well over the years. Women took one look at Gunnar and either ran away or lay down at his feet like slaves awaiting orders from a master. But Rolf? They hung on his every word, offered him everything. They fell in love with him as easily as rain fell from the sky. One was light, the other dark.

Females fell at their feet, but neither warrior loved in return. I'd fought by their sides for a decade in the Hive war. We had bled and killed together. I knew these men better than I knew myself, and they did not love.

Neither did I. We were all broken. But when the Queen you've sworn to protect, the leaders you've laid down your life to keep safe, ask you to take a mate, to help them unite the three sectors, refusal is not an option.

"Did you two see her profile?" I asked. Less than an hour ago, our mate's information had been transmitted to us from Earth. Sophia. We knew her name and that she was some sort of smuggler, convicted of crimes on her home world. But that mattered not, for we were not perfect men. We'd killed, and worse, during the wars, and learned to live with it. Sophia promised us a new beginning, a new chapter in our dark lives. The report stated she was twenty-six years of age, young but ripe. I had stared at her image, looked into eyes nearly as dark as Gunnar's, and my cock had grown hard. It was impossible not to want her as we looked at her Earthen beauty. I'd been stunned to discover an alien female that stirred my cock.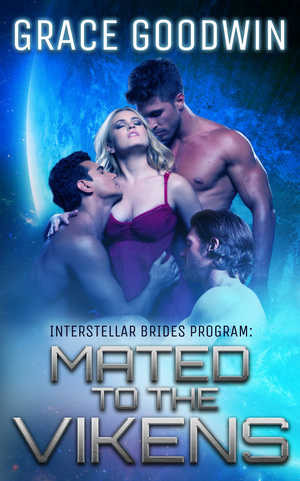 As an art dealer in New York, Sophia Antonelli's worked hard to build her business, but fate forces her to make a deal with organized crime. When things go wrong, she takes the fall and is offered a choice: twenty-five years in jail or the Interstellar Bride Program. The choice is easy and Sophia is shocked to learn she's mated to not one, but three Viken warriors.
After ten years fighting the Hive, Gunnar, Erik and Rolf are now the Kings' guards at Viken United. Bowing to the new Queen's wishes, they agree to share an Interstellar Bride. It should be an easy task since she's matched to three of them, all battle hardened warriors. But none can save her from being kidnapped during transport.
Accidentally mixed up in an evil organization's plot to assassinate the Viken Queen, Sophia refuses to back down, even with her mates standing protectively in the way. After her experience on Earth, she's not about to let anyone ruin her new life. Sophia will risk everything to expose her enemy, but when it comes to their new bride, her three Viken mates will do whatever it takes to eliminate the threat and keep her…forever.
Romance Science Fiction | Romance Erotica Sensual | Erotica [Author Self-Published, On Sale: December 5, 2016, e-Book, ISBN: 2940156968558 / eISBN: 1230001457049]
Once upon a time, a young girl was born into an average, working class family. The wee little girl, convinced she was not an average child but was, in fact, a fairy princess, longed to leave the mundane world behind and live her dreams. She grew up, went to school, and when she'd grown too big to wear tutus and tiaras in public without drawing unwanted attention, turned to writing down her fantasies instead.
Now a bit older, her fantasies have grown to include sexually dominant men who know how to ensure a woman's pleasure. Grace believes all women should be treated like princesses, in the bedroom and out of it, and writes love stories where men know how to make their women feel pampered, protected and very well taken care of.
She currently lives in Oregon where she spends her days writing, and her nights in the arms of her very own Prince.