Well everyone, I'm doing something new this week. I'm in Mexico (in August) sweating because it's about 90% humidity when it isn't raining. My daughter and I are doing a vegan/raw cleanse at a yoga retreat. Yeah. So anyone ever hear me talk about yoga? No? That's because I haven't done it in years, but I am now! Twice a day! So guess what I'm learning while here…
Vegan food can be fabulous! Especially when it's lots of fresh mango and avocado
As in my body surrendered into poses I didn't think I could make. And then my shoulder surrendered when I tried a chaturanga and landed face first into my yoga mat. Oops.
I can get used to feeling sweaty and sticky, especially when I'm exhausted from yoga and zenning out while watching the ocean waves.
Everything's good when reading a great book.
Answer: All of the above! Yup, the food here is great. My shoulder did indeed give up the ghost on day 5. No more yoga for me. But that just means I have more time to read and watch the waves! And well, everyone's sweaty here, so it's all good! BTW, I missed the turtle hatching because I was reading Vivien Jackson's WANTED AND WIRED. Really loved that book.
So now it's your turn. Have you done anything new this August? Tell me and one lucky commenter will get an e-copy of The Stone Men Vol 1. My novella "Rock Hard" won a Prism Award!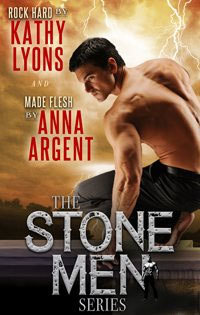 2 books in one
Meet the Stone Men—Kane Addison and Dolton Thatcher— slaves of the hedonistic goddess Pyrenia, their bodies and consciousness imprisoned in stone until needed.
To break the curse, each must find true love. But what modern woman believes in real magic? That statues can come to life? Or that the evil goddess Pyrenia will do anything to keep her playthings enslaved?
Book 1: ROCK HARD: Regency gentleman, Kane Addison, sacrificed himself for the family title only to discover true hell as a cursed slave of goddess Pyrenia. To break the curse, Kane must give one woman a moment of True Bliss. But after centuries of shagging, Kane discovers the truth: only true love breaks the spell. Now 200 years out of his own time and filled with despair, Kane must battle evil minions, selfish goddesses, and the lady's mother to win his beloved Jacqueline.
Book 2: MADE FLESH: After inheriting her uncle's statue of a hot, naked man, Sue Sullivan is shocked when it animates to save her from a brutal attack. Now cast into a magical world filled with warring goddesses, Sue strikes a bargain to give her stone man, Dalton Thatcher, a precious week of freedom. But what begins as a simple bargain is about to cost Sue and Dalton everything, if they can't outwit a goddess.
Paranormal Romance | Romance Paranormal | Fantasy [Self Published, On Sale: August 9, 2016, e-Book, ISBN: 9781614178644 / eISBN: 9781614178644]
CLICK HERE TO JOIN ME AT READERS & 'RITAS, NOV. 10-12, 2017 IN ALLEN, TX
Kathy Lyons is the fun, contemporary side of USA Today Bestselling author Jade Lee. She loves sassy romance with lots of laughter and sex. Spice is the variety of life, right? Okay, so maybe two kids, two cats, two pennames, and writing over 50 books has messed with her mind, but she still keeps having fun.
Or hang out with her sexy historical half, Jade Lee. Titled heroes with dark secrets are Jade's passion. Especially when they fall for women who add more than just spice to their lives.