The thing about weekends is they're rarely perfect. The other thing about weekends, though, is if you chase perfection too hard, you'll destroy any chance you have of achieving it. It's sort of like a soufflé in that regard. A perfect weekend requires both underplanning and overdelivering.
When I think about that elusive, never-to-be achieved perfect weekend, I think a lot about unstructured time. By unstructured, I don't mean time in which I'm doing nothing. I am genetically incapable of doing nothing. The idea of stretching out for an hour by the pool with my eyes closed give me hives. Nor do I nap—at least not willingly–though I will occasionally nod off for five minutes in a movie. (I blame the dark.) Unstructured time means time in which I can do whatever I want for as long as I want. So, for me, the perfect weekend would be something like this:
Friday
Afternoon swim with husband. We have a heated pool at our condominium. Heaven. Better than cocktails and that's saying A LOT.
Head to a late afternoon movie. (Yes, we're that old.)
Head somewhere for dinner—Thai, Indian, Ethiopian, sushi, Mexican, BBQ, noodles—we like it all.
Home for a TiVoed episode of John Oliver or Sam Bee.
Read myself to sleep (Maybe three pages before the book falls out of my hand. I'm currently reading Harry Potter and the Cursed Child. I feel sorry for J.K. Rowling that my book came out the same week as hers.)
Saturday
Coffee on the terrace, preferably on a cool day, preferably with my dog at my feet. Read the newspapers.
Head to our favorite diner for poached eggs and bacon.
Unstructured morning and afternoon, but usually I'm writing, writing, writing, writing, writing, writing, writing. Sometimes I make jewelry. Sometimes I read. Sometimes I'll actually go to a bricks and mortar store to shop for clothes. Rarely I'll knit or crochet. Even more rarely I'll clean. Cleaning is the Sasquatch of activities.
Late afternoon swim with husband.
Make dinner. I usually do the cooking, but my husband makes a killer pad see ew.
Watch more TiVoed shows. I only really like scripted TV shows (What can I say? I'm a writer.) And I really only like good scripted TV shows—Better Call Saul, Sherlock, Silicon Valley, Veep, and, of course, Outlander.
FaceTime with darling daughter at college. (Son would rather stick a steak knife in his eye than FaceTime.) Call son. Son doesn't answer. Text son to say I'm thinking of him. Son doesn't respond. Resolve to believe son was touched by the message and have that be enough.
Sunday
Sleep in. Sadly, this doesn't mean much when you're old. My current goal: Sleep late enough that I don't wake up before the newspaper's been delivered.
Coffee on the terrace, dog at feet.
Head to our second favorite breakfast place—a Greek diner. Have small Greek salad and a grilled pita for breakfast. Steal a bite of gyros from husband.
Unstructured time for rest of morning and afternoon, but usually I'm writing, writing, writing, writing, writing, writing, writing.
Late afternoon swim with husband.
Make dinner and curl up to watch whatever Masterpiece Theatre or HBO have going on.
Son replies to text.
Go to bed happy.
Sirens of the Scottish Borderlands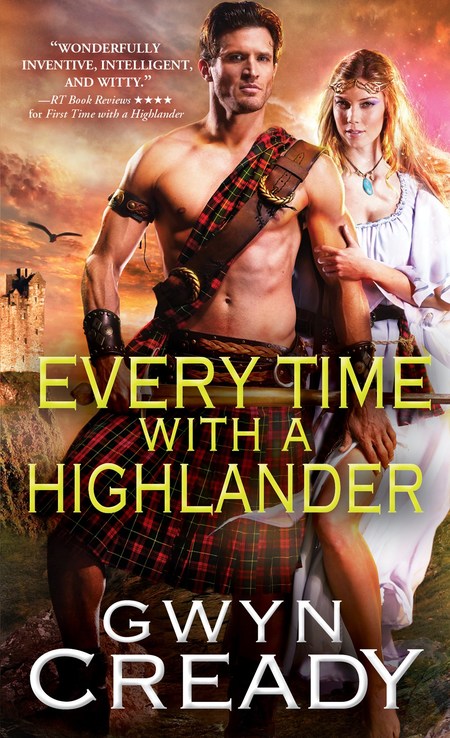 Third in the Sirens of the Scottish Borderlands series from Gwyn Cready, the "master of time travel romance" (Booklist)
She can work her magic on any man
In a quest to bring peace to her beloved Scottish borderlands, fortune-teller and spy Undine Douglas agrees to marry a savage English colonel. Desperate to delay the wedding long enough to undermine the army's plans, Undine casts a spell to summon help and unexpectedly finds herself under the imperious gaze of the handsome and talented Michael Kent, twenty-first century British theater director.
But in this production, he commands the action
Though he abandoned acting years ago, Michael will play whatever part it takes to guard Undine's safety—he's used to managing London's egocentric actors and high-handed patrons, after all. But not even Shakespeare could have foreseen the sparks that fly when the colonel's plans force Undine and Michael into the roles of their lifetimes.
Romance Time Travel [Sourcebooks Casablanca, On Sale: August 2, 2016, Paperback / e-Book, ISBN: 9781492601999 / eISBN: 9781492602002]
Gwyn Cready is a writer of contemporary, Scottish, and time travel romance. She's been called "the master of time travel romance" and is the winner of the RITA Award, the most prestigious award given in romance writing. She has been profiled in Real Simple and USA Today, among others. Before becoming a novelist, she spent 25 years in brand management. She has two grown children and lives with her husband on a hill overlooking the magical kingdom of Pittsburgh.