Spoilers Ahead
Missy Jane: Today we're talking to Master Wynnston and Master Kephas, the two heroes of Born of Magic. Welcome gentlemen, and thank you for the interview. I know you're both quite busy.
Wynn: (chuckles) Thank you, Missy. I wouldn't say we're very busy at the moment. Kephas has his royal wedding approaching, but I'm free so long as Zephara doesn't need me.
Kephas: (groans) Gods, don't remind me of the wedding. Do you realize the entire kingdom has been invited?
Missy: Aren't you excited?
Kephas: Not at all. I'd much rather steal my bride away and have a quick handfasting like Nel did. He avoided all of the crowds and fuss that way.
Wynn: The king would kill you.
Kephas: (sighs) Yes, I know. So instead I'm allowing the royal house of Kadmos to plan out the most important day of my life… I can't wait for it to be over.
Missy: (laughs) Let's talk about the journey you both had to take to find your women. Was it a surprise that you found women so compatible and irresistible?
Kephas: Yes.
Wynn: Absolutely. But it was a relief as well. We have watched Orestes and Nel with their women, and they all seem so happy and content.
Kephas: Not that any of us realized we were missing anything before they found them.
Wynn: True. It took us all by surprise when Orestes admitted how attached he'd grown to his little human lover.
Kephas: (snort) Never let him hear you call her that. Ever.
Wynn: (chuckles) Well she is small, even for a human. Anyway, their attachment was a complete surprise. More so because he was never in the habit of taking human lovers as some of our other brothers were. But the attachment was undeniable. I have to confess, I was quite envious.
Kephas: I as well. But now we have nothing to be envious of.
Missy: True. Neither of you had an easy time of it though, but I guess you would both say it was worth it?
Kephas: Oh, certainly.
Wynn: Without a doubt. I'd walk through the many hells to find my Zephara if the need ever arose.
Missy: Aww, that's so sweet.
Kephas: (snorts) More likely she would fight her way out before you finished putting your boots on, brother.
Wynn: (chuckles) True. She is amazing. It's a bit daunting at times that she doesn't need my strength.
Missy: I'm sure she still appreciates it, as well as your many other fine attributes.
Kephas: (rolls eyes) Now you're going to swell his head so bit it won't fit through the door and you'll be stuck here with him. Besides, he's not that wonderful.
Missy: (giggles)
Wynn: He's just jealous. But thank you for the compliment. Zephara is a very fine woman and one of the most amazing wizards I've ever met. I'm truly a lucky man.
Missy: I'd say you're both lucky men. A princess and a wizard. You can't do much better than that, especially since you both have to spend much of your time guarding the kingdom. I'll bet it's a relief they can both take care of themselves.
Wynn: Mmm…
Kephas: Most of the time. Sometimes, it's nice to know we can still step in and protect them, though.
Wynn: When they allow it, of course.
Kephas: Of course.
Missy: (chokes down a laugh) Of course. Well, thank you again for the interview, and congratulations to you both. I know you will both be very happy for a long future together with your ladies.
Both Masters: Thank you.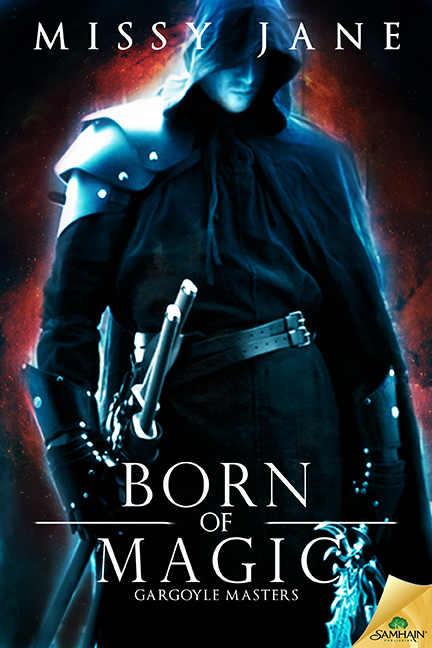 Guarding the kingdom is child's play compared to guarding their hearts.
As his month-long guard duty comes to an end, Master Wynnston should be looking forward to well-deserved time away from the king's castle. Instead, he feels strangely reluctant to leave. When Zephara of the Pastelle race arrives, he realizes why.
The stunning, silver-eyed ambassador is the woman his heart, body, and soul have been waiting for. She's also a powerful wizard who will endure the test of the Twenty. Wynn has never been afraid to woo a strong woman, but winning and keeping Zephara's love will test him to the limit.
Meanwhile, pure chance has finally led Master Kephas to find the runaway Princess Theodora. But before he can return the frightened, skittish beauty to her father, he must win her trust—and her heart.
Physical strength will do Wynn and Kephas no good as they face their challenges. And two women will search deep within themselves for the strength, courage—and tenderness—to bring two powerful men to their knees.
Warning: If you're looking for ugly stone creatures, move along—you won't find them here. If you like hot, protective males who aren't intimidated by strong, assertive females, settle in and turn the page.
Romance Paranormal [Samhain Publishing, On Sale: July 12, 2016, e-Book, ISBN: 9781619234628 / eISBN: 9781619234628]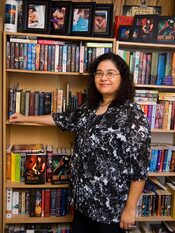 Ms. Missy Jane is the alter ego of a Texas mother of four who has been married to the same wonderful man for over twenty years.
A few years ago Missy finished reading a book by Mercedes Lackey and James Mallory, titled The Outstretched Shadow, and thought "Now, what if…" and a monster was created.
Missy now spends most of her time lost in worlds of her own making alternately loving and hating such creatures as vampires, shape-shifters and gargoyles (to name a few).
When not writing, she spends her time reading, taking photos of her four beautiful daughters and training her husband to believe she's always right.
Missy Jane: Anyone who would like to know they full stories of Masters Wynn and Kephas just need to pick up one book, Born of Magic, now available through Samhain Publishing here
Excerpts from Missy's paranormal and erotic tales can be found at www.authormissyjane.com and http://msmissyjane.blogspot.com/.
Would you like to win a signed print of Joel Santana's rendition of Beauty and the Beast? Find out how here?