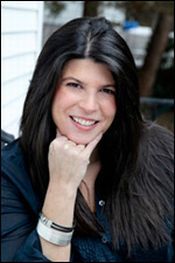 Everyone deserves a happy ending. We all have our own tragedies to survive, large and small, so we all need the reminder that hope and love are all around us. I believe this so deeply that I built two entirely separate—and surprisingly successful—writing careers so I could make that happen for all my characters and all my readers.
Twelve years ago, in one of the darkest periods of my life, I desperately needed hope. My daughter was born very ill, and in her first few years of life, she faced so many crisis-level medical problems that I held her life in my hands more times than I want to remember. At some point, a nurse handed me a romance novel: KISS AND TELL by Cherry Adair. That novel—with its message of hope fulfilled and of happy endings emerging from the darkness and chaos—saved my life. It, and other romances like it, were my escape, my antidepressant, my hope during hopeless times.
So when I started thinking that maybe I could write one of these books that had saved my life, my only goal was to help someone else the same way I'd been helped. If I could do that for one single other person, I would have done my job. I used my daughter's experiences as a fighter and a survivor as inspiration to let others know that they could also make it through, that there's always hope, no matter how impenetrable the darkness seems. Over the years, I've received so many emails from readers telling me how my books provided them with an escape just like that first romance gave me at the Cincinnati Children's Hospital. And every email, every reader I help, makes me cry with joy that I get to do this job that I love.
By 2009, I'd been lucky enough to land an agent, and a publisher, and then multiple publishers. I was writing under two names—Stephanie Tyler and Sydney Croft—and everything seemed to be going well. Readers were connecting with my stories, and I was signing more contracts. I was busy and happy and fulfilled . . . but I was becoming more and more upset about the fact that I couldn't tell all the stories in my head. It seemed that hope and happy endings were for one type of couple only, rather than for everyone.
All the men in my head were survivors and fighters like my daughter, warriors and heroes with traumatic backgrounds and the will and determination to overcome them and grasp hold of love. But half of them were gay or bisexual, and the traditional print market wasn't interested in allowing their stories to take center stage. So even though they deserved their happy ending just as much as anyone else, I couldn't give it to them.
Except . . . I could. Because this was right when male/male romance—romance stories about gay men written and read largely (but by no means exclusively) by women—was making a huge splash in digital publishing. Here was an opportunity for me to branch out into digital publishing, into a new genre, to be able to give all my characters happy endings.
But why start from scratch? Why do it under an entirely different name?


I started over because I myself needed a little bit of the hope that romance provides. For a year, I'd been the target of multiple malicious online attempts to destroy my fledgling career. I'd tried to be a fighter, a survivor, to roll with the punches and carry on, but I was close to despair. When the gay and bi characters in my head started talking louder and louder, I took that as a sign to start fresh and new to see if I had what it took to find readers again, to find another happy ending for myself.
Except it wasn't an ending. It was a beginning.
I chose the name "Jakes" to commemorate one of my most compelling heroes, Jake from my first non-series title, HARD TO HOLD, and as a reminder to myself to focus on what was most important: love and hope. I wrote what moved me—the lives and loves of gay soldiers and warriors—and amazingly, thrillingly, I found readers again, ardent readers who leave me completely humbled and so very thankful. And those readers, in turn, convinced Tyler that she still had something good to say, that she still had happy endings to create.
And now it's time to stand up and bring all the parts of me back together. It's time for me to honor all my characters, and all my readers. Which is why I'm so excited to be announcing here today that SE Jakes and Stephanie Tyler are both me, and I'm proud and honored and humbled that readers like you allow me to keep sharing all my characters and all their stories with the world. We're all survivors, every one of us, and we all deserve hope. No matter who we love.
To comment on SE Jakes's blog please click here.