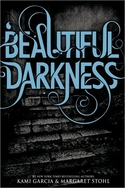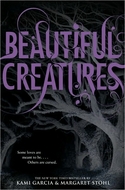 I may have mentioned, October is my favorite month. It's finally cool enough to throw open the windows, sprawl out on my patio in a lawn chair with a pumpkin spice latte and an equally delicious book.
BEAUTIFUL CREATURES, by Kami Garcia and Margaret Stohl, should fit the bill. This Southern Gothic is about as Southern and as Gothic as they come. The atmosphere is as thick as South Carolina humidity, with characters so vividly quirky they come off the page.
In a switch from the usual "Extraordinary boy pulls misfit girl into his extraordinary world" theme so prevalent in paranormal YA right now, BEAUTIFUL CREATURES is told from the point of view of a 16-year-old boy in a small Southern town where there are only two kinds of people living: "The stupid and the stuck… . Those bound to stay or too dumb to go." Ethan can't wait to shake the dust of Gatlin off his heels, but when a new girl arrives in town, the niece of the crazy old recluse, he learns of a whole other side of his home town, and nothing he's taken for granted his whole life is what it seems. There's this whole other dark side to the world, and curses, and supernatural beings.
Co-authors Kami Garcia and Margaret Stohl blame their teens for challenging them to write this book, and its definitely a book with a lot of teen appeal. Ethan is different, and worse, he's different in a fishbowl sort of environment where different is incredibly difficult to live with. What high school student can't identify with that? Then he meets Lena, and his idea of what 'different' is gets kicked up a notch.
I felt the boy's pov was an interesting choice for a gothic novel, but Ethan's voice is engaging and different. The Southernness of the setting is like a whole other character in the book, and the authors' love of literature is evident. The antecedents of this book are clear.
BEAUTIFUL CREATURES came out in paperback in September, but I'm going on about it because the sequel, BEAUTIFUL DARKNESS, comes out on October 12th, and I suggest you pick up the first before you pick up the second. You can view a trailer for the book here.
Other books to look for in October: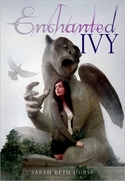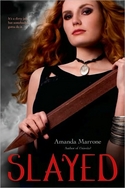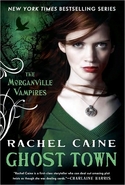 ENCHANTED IVY, by Sarah Beth Durst. Lily is on a campus tour of Princeton University when she discovers a secret gate into a magical world. Were-tigers, dragons, talking gargoyles… these things were all left off MY college orientation tour. Sarah weaves together urban-fantasy, mythology, superstition and growing up as Lily must race against time to save herself, her world, and, oh yeah, any chance of college admission.
Get your vampire fix with SLAYED, by Amanda Marrone. Daphne Van Helsing would really like to go to a normal high school instead of traveling around with her vampire hunting family. She finally meets a hot potential boyfriend, but, oh nuts, he happens to be a Harker, the son of her families biggest rivals in the slay-for-hire business.
Do I need to mention GHOST TOWN, by Rachel Caine? This is book nine in the Morganville Vampire series, and if you love vampire books (ones were the vampires are actually scary and evil actions have consequences) and you're not reading this series, you need to go pick up the books from the beginning. Then grab the ninth.
Enjoy the autumn, and I'll be here next month with some exciting contemporary books to stock up on for the cold reading-by-the-fire months. Until then, happy reading!
Rosemary Clement-Moore
Rosemary Clement-Moore writes Young Adult books because she loves to read them.
Visit her webpage or blog to find out more about her award winning Maggie Quinn: Girl vs. Evil series, and her gothic romance, THE SPLENDOR FALLS.