I'm originally from New Zealand. Head toward Australia then head left. If you hit Antarctica, you've gone too far. Back up and listen for sheep. There are sixty-six million of them to four million people.
Kiwi's are intrepid travelers. We check out our own county, head to Australia, then bounce around the world. I've bounced to the United Kingdom, and Australia. I am now fortunate to call America home. I love it here. OMG. Southern California rocks. Beautiful weather, beaches, super friendly people who can't understand a word I say.
A case in point. Our super cute street has wine and cheese night on the last Friday of every month in summer. We rock up to someone's yard with said wine and cheese and get to know our neighbors. I thought I was chatting to a lovely elderly man, who gently put his hand on my arm.
Lovely Elderly man: "I have no idea what you're saying."
Me – going red. "Oh, that we live in a beautiful part of the world."
He gently shook her head and ambled away. I proceeded to eat my bodyweight in cheese. That's a lot of cheese just quietly.
In TEN DAYS WITH THE HIGHLANDER, Georgia who is American arrives in a quaint, gorgeous town in Scotland, and is at once hit by Scottish Thor's creamy accent (the hero, Callum), and how different things are? Want spotted dick? Yes, please. It's an excellent little dessert. There's a great scene in the pub where Georgia is helping out, and she can't understand what the people are saying.
He smiled at the pile of notes his new waitress had left on the bar. "Toddler Moms" had Guinness with a shot of raspberry, which Georgia had written gross underneath.

"Dart Throwers" required pints of "Black Fries." He'd pulled pints of Black Friar. Lots more of "That Bruce Guy" with a smiley face. "The Grunters" required cocks that walked, with an unhappy face drawn on the pad. He'd laughed out loud and poured "Cock O' The Walk" for the brothers, who employed a grunting language only they understood.
I can't tell you if Georgia finds her home, (insert smiley face), but I've found mine with my weird accent in a fabulous part of the world.
I hope you've found your forever home too.
She loves Princess Bride, Young and the Restless, Days of our Lives – the drama is deliciously addictive. Big Bang Theory but will take Wolowitz over Cooper. Star Trek not Star Wars. Undercover Boss, Secret Millionaire – any story that shows the little guy making it. I follow the Buffalo Bills like a religion. She is spellbound by showjumping and equestrian eventing. She love curling up and reading all books – no genre is off-topic. She likes ironing, she hates peas, love donkeys, she plays a killer game of Scrabble. Hayson will often be heading towards the fridge for another Diet Coke. She eats nothing with legs and believe wine goes with everything, oh and she is an expert at finding new and inventive ways to avoid exercise.
She live in the sparkly beachside suburb of Redondo Beach in California with my Fake Gordon Ramsay and two boys who speak in mystifying grunts.
She would love if you subscribed to her blog. (Promises not to spam you), where she chats about incredibly important issues like lipstick, foster dogs and the occasional recipe. Oh and there's pictures of smiling bunnies and blob fish.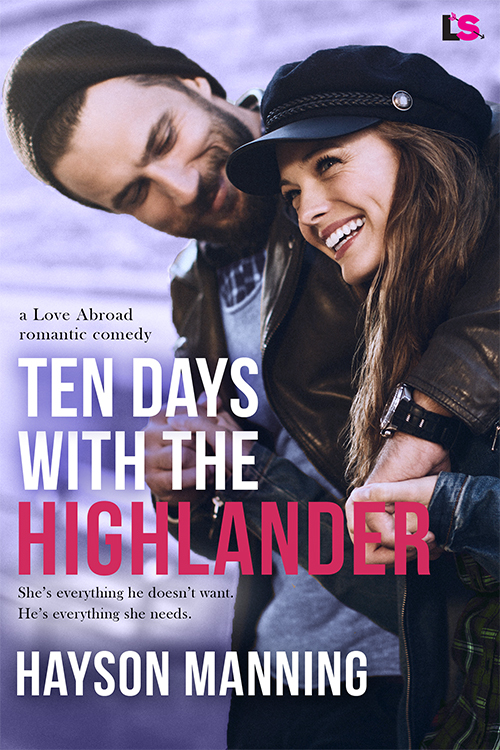 Go-getter Georgia Paxton has ten days to acquire a quaint hotel in the Scottish Highlands for her travel accommodation company before she's off on her next grand adventure. Too bad the sexy, broody Scot who owns the place is dead against the idea…and that she's in very real danger of losing their little bet to see who can convince whom first.
There's no way Callum MacGregor is going to let the gorgeous American turn his tiny hometown over to bored tourists looking to satisfy their Outlander fantasies. He only has ten days to convince her to slow down and see the magic of the town and its people. If he succeeds, he won't have to run her out of the county. But if he fails, Georgia might run off with his heart.
Romance Contemporary [Entangled Lovestruck, On Sale: August 14, 2017, e-Book, ISBN: 9781640631977 / eISBN: 9781640631977]