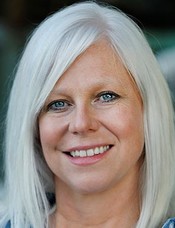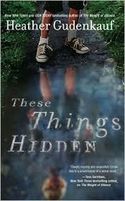 In my latest novel, I delve into what it means to be a mother and all its manifestations ~ good, bad, attentive, indifferent. These Things Hidden is the story of an infant who left at an Iowa Safe Haven site and the women who pass in and out his life. It is the story of four women's undeniable love for one little boy who was abandoned at a fire station as an infant. The individual manner and at times questionable means the women display this love will cause the reader to reflect upon their own loved ones and to the lengths they would go to ensure their safety and happiness and begs the question –  What does it mean to be a good mother?
I love reading novels about motherhood. Amy Tan's THE JOY LUCK Club introduced me to a new and wondrous culture where past and present is intertwined to tell an age old story of wanting what's best for our children and wanting to make our parents proud. Of course there is benevolent Marmee from LITTLE WOMEN and patient Caroline Ingalls from the Little House on the Prairie series by Laura Ingalls Wilder who made us believe that we could always be serene and wise matriarchs during the most terrible of times.  Then we have the mothers from literature like murderous Ingrid from Janet Fitch's WHITE OLEANDER and Flaubert's Madame Bovary that makes us shiver. There are also the real-life mothers that nightmares are made of and are written about in memoirs, such as Dave Pelzer's A CHILD CALLED IT and Christina Crawford's MOMMIE DEAREST.
Finally, there are the every day mothers that we aspire to become, the mother's we don't necessarily find in books, the mothers who live simple lives in some of the most extraordinary situations. I have a dear friend who, after the tragic death of her sister, took in her sister's four children. In one night her child count went from three to seven – seven children ranging from three months to seven years. Every day she selflessly tends to and cares for her children as do women around the world who are never written about or featured on television, but who exemplify what it means to be a true mother.
I am also fortunate to have a very caring, loving mother who has always encouraged me to be who I am and to follow my heart. She has taught me to always remember that we never really know what is going on in the private lives of others and to be compassionate and patient. Besides having six children, working outside the home, making sure that we all sat down together for supper my mom was (and still is) a lot of fun. Some of my favorite memories with my mom include sitting outside on lawn chairs late into the night and looking at the stars in the evening sky, telling ghost stories by candlelight on rainy nights when the power went out, and watching TV movies together on Friday nights with a big bowl of popcorn. My mother told me from any early age that I was put on this earth for a special purpose. Growing up I always pondered as to what that purpose might be ~ lawyer, archaeologist, teacher, writer? Each week I had a new dream. It wasn't until the nurse laid my firstborn into my arms that it dawned on me what that purpose was – to be a mom – the best mom I could be. I only hope I am as good a mother to my children as my mother is to me.
What does a good mother mean to you? What special mothering memories do you have with your mother or with your children? I'd love to hear from you.
To comment on Heather Gudenkauf's blog please click here.