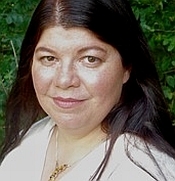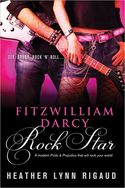 It's nice to be here today to talk about my book and to meet your readers.
I was given free rein in this blog, and so I thought I'd talk about music and how it's a part of FITZWILLIAM DARCY ROCK STAR.
FDRS is a modern retelling of Jane Austen's classic PRIDE AND PREJUDICE. It's about Fitzwilliam Darcy, virtuoso guitarist and the behind the scenes leader of the world famous rock band Slurry. The other members are Darcy's best friend, Charles Bingley, the frontman on vocals and bass, and his cousin, Richard Fitzwilliam on drums. While Slurry is hugely successful, they've had trouble completing concert tours and they're current one is about to hit the skids. Right as they're about to begin the American leg, they've lost they opening act, and they've gained a reputation for being impossible to work with.
Forced to chose a 'B' group, and quickly, they hire Long Borne Suffering, a girl group made up of Elizabeth and Jane Bennet and Charlotte Lucas. These ladies are right on the edge of making it big, and they're hungry for a chance, hungry enough to go on a tour with the band with the worst reputation in the business. Sparks fly and passions heat up right from the get go.
But enough of what you can read on the back cover, I said I wanted to talk music. It was brought home to me during the 9/11 remembrances last week, how music has a unique ability to help us deal with difficult emotions. It helps us express our grief, reach out to others, and remember important times. As I watched Paul Simon at the 9/11 ceremony, it took me back to the first Saturday Night Live that aired following those attacks, and how he played 'The Boxer' in the opening, and all those tangled emotions of grief, anger, and fear of that time. That's the power of music.
It's that power that my book is about. Too many times, in books or on TV, music is 'dumbed down' to the point where it's really not music, but something vaguely resembling it. That was something I took pains to avoid. Music is a real part of my life and I wanted to bring that reality to my book. To do so, when I first wrote and posted the story on a fan fiction board, I took the unusual step of posting links to the music my characters were playing. For Darcy's band, I used songs from Puddle of Mudd, Seven Channels and Lifehouse. Not only did these songs fit the mood of the band at each point in the story, but they also helped to develop a sound for the band in the reader's mind in order make it more real for them. Similarly I used songs from Michele Branch for Jane Bennet and Sheryl Crow for Elizabeth. And I got really, really lucky in that while I was writing, Michele Branch released a song she did with Santana, who conveniently plays the exact guitar I'd already given Darcy. 'The Game of Love' became a part of the story as an ensemble piece.
Of course, when my work was published, I couldn't use the songs I had borrowed for fan fiction. I was forced to push myself to develop songs and lyrics for the two bands. While readers will only see the lyrics, I can say I actually do have a song for each one. If you're lucky, I'll never sing them for you.
The other side of music and my story is how it's a part of the make up of the characters. In the book, Darcy is a survivor of a number of traumatic events: his mother, and then his father die, leaving him alone to care for his much younger sister. I don't want to give away too much of the story, but the man's been through a lot. Darcy becomes a musician due to these losses. He's inspired to write songs as a way of working out his feelings of grief. Any loss creates complex emotions, but the loss of a mother is especially traumatic; in Darcy's case, I used it as a catalyst for change.
People ask me all the time "Why make Darcy a Rock Star?" The answer is usually about things like musical inspirations and preserving Austen's class structure. And while that's all true, it's also true that Darcy became a rock musician to survive the loss of his parents. That's why Darcy's music is pretty hard and edgy, not sweet or easy listening.
Music is a universal experience, as is loss and love. I tried to use all three of the elements in my story, as something the readers could relate to personally, while at the same time being novel and fresh. I hope that it worked, and that readers will enjoy FITZWILLIAM DARCY ROCK STAR.
To comment on Heather Lynn Rigaud's blog please click here.