To celebrate this week's release of the third book in my paranormal romance series, REVENGE OF THE WRONGED, I'm excited to share with Fresh Fiction readers a very popular paleo recipe from the first book in the series, SLIP OF FATE.
I received so many emails from my readers who tried this recipe at home after reading the chapter in which our big, scary, bad-boy supernatural Alpha dons a tall white chef hat and apron and pan sears rib-eyes for our very confused and reluctant vegetarian heroine, Milena. In the book, Alex prepares the steaks following a slight variation on the recipe provided below, which has been taken from PaleoFoodieKitchen.com. I hope you enjoy it as much as Milena ends up loving it in SLIP OF FATE!
Recipe:
Pan Seared Rib-eye Steaks (Recipe credit: PaleoFoodieKitchen.com)

INGREDIENTS
2 grass fed ribeye steaks (about 1″ thick and 10 oz each)
1 tsp sea salt (preferably Himalayan or Celtic)
1 tsp black pepper
½ tsp paprika
¼ tsp onion powder
¼ tsp garlic powder
2 tbsp grass fed butter
2 sprigs of fresh rosemary
cloves from 1 head of garlic, peeled
coconut oil
INSTRUCTIONS
To make the dry rub, combine salt, pepper, paprika, onion powder and garlic powder. Set aside.
Heat cast iron pan on high for a few minutes.
Rub room temperature steaks with some coconut oil to help the dry rub stick.
Sprinkle dry rub on steaks.
Once the pan started smoking, place steaks and cook for 3 minutes on the first side for medium rare.
Flip it and cook the other side for 3 more minutes.
Place cooked steaks on a plate and cover with foil so that they rest for a few minutes.
Meanwhile, reduce the heat to medium low and add the garlic cloves, rosemary and butter to the pan dripping.
Cook until rosemary is fragrant and garlic is soft.
Pour on top of cooked steaks and serve immediately.
Bad-boy werelock meets stubborn human girl in this epic series.
Finding love at first sight with your fated soul mate sounds so romantic. Unless, of course, that "mate" happens to be your brother's sworn enemy and the overbearing Alpha werewolf-warlock who has taken you hostage.
Things get complicated in this twisty love-hate trilogy about a stubborn American girl who stumbles upon forbidding paranormal circumstances and finds herself at the center of a blood feud between rival South American werewolf packs.
The task of taming a formidable, drop-dead sexy werelock has never been so hard. And so hot.
In REVENGE OF THE WRONGED, the highly anticipated finale to the first trilogy in the Werelock Evolution series, Milena Caro faces her greatest challenges yet.
Torn between her loyalty to her brother and her growing affection for his nemesis, Alex Reinoso, Milena vies to salvage some remnant of her former life as she becomes increasingly enmeshed in the bitter feud between werewolf packs.
Will blood prove thicker than water? Will the ill-fated blood curse Milena wields destroy her and all those she holds dear?
In the struggle between good and evil, ideals and reality often clash. And in this game of survival amid conniving, bloodthirsty supernatural opponents, it's the player no one saw coming who will change all the rules.
**Mature Content Warning** This book contains violence, strong language, and graphic sex and is intended for adult readers.
Giveaway:
Tell us what you think about the meal Alex cooked for Milena, one reader will win a copy of Fear the Heart paper back and Reading Is Sexy mug

The kitchen scene where Alex cooks the rib-eyes for Milena
I continued to nurse my carbonated red wine, enjoying the new flavor the more I consumed, as I watched Alex begin to sort through the pre-assembled ingredients and cookware items the nervous young kitchen worker had gathered.

I'd been dubious as to Alex's ability to boil water without assistance, so initially I simply stared in stunned silence as he heated a large cast iron skillet over the gas stovetop before brushing what appeared to be a half a dozen rib-eye steaks with coconut oil. But I snapped out of my stupor when he began sprinkling the raw meat with a dry rub preparation of herbs and spices.

"Um … so I'm a vegetarian," I announced.

He raised his head and paused for the briefest moment before continuing to season the steaks.

"As in I don't eat meat," I clarified stupidly after a beat.

"I'll fix a salad to go with your steak," he said as the iron pan started to smoke. He placed two steaks onto the skillet, and almost instantly my mouth began to water at the delectable scent of raw meat cooking.

I hadn't consumed animal flesh since I was twelve. Yet now it smelled like the only food I wanted to eat. Confused, I gulped down more of my fizzy wine while I watched Alex poke and flip the rib-eyes with a two-pronged steak fork.

I soon found myself staring at the way his chest and arm muscles flexed as he worked. Studying the blue veins that ran up the underside of his forearms beneath his golden brown skin. Pondering completely inappropriate and wholly irrelevant things like how the smooth skin covering his absurdly cut abdominal muscles might feel against my lips. I pulled at the collar of my V-neck henley and fanned myself, feeling hot all over.

"Shouldn't you be wearing a shirt?" I complained, my breath sounding ragged. "Or an apron at least? It's not very sanitary cooking half-naked like that."

His lips curved slightly as he glanced up at me, his eyes warming as they caught mine, some sort of understanding glinting in their depths.

"Would you like me to put something on, princess?"

"Yes, please." My voice was a faint whisper. But he'd heard me, because he turned and I found myself gawking at his muscular, broad back next while he sifted through a basket of folded linens on a metal storage shelf located behind him.

Grabbing a white waist apron, he wrapped it around his midsection and tied it so that it was slung low across his hips overtop his lounge pants, effectively covering nothing that hadn't been covered already. I felt my brows draw together and my lips purse into a pout. He gave me a toothy grin and went back to attending the stovetop.

"You should wear the hat, too," I insisted upon eyeing a classic-looking, white chef hat that was sticking out of the top of the bin he'd rummaged through.

His brow lifted and he eyed me curiously before following the path of my pointed finger to the shelf behind him. I was sure he was going to deny my silly request, but he turned and snatched up the article I'd pointed at, slowly unfolding the comically tall chef hat and placing it atop his head. "Satisfied?"

He looked positively ridiculous! I immediately clasped my hand over my mouth and screeched at the sight of him, swinging my legs giddily back and forth over the side of the table in a rush of girlish delight as I cackled.

He shook his head, frank eyes assessing me up and down. Then he stepped forward and plucked the wine glass from my hand, threatening under his breath, "You'll be the one wearing this hat and nothing else later if you don't slow it down with the wine and quit being so cute."

Unsure of how to process the way my lower region warmed in reaction to his remark, I chose to ignore it. Alex emptied the rest of my carbonated wine concoction down his own gullet and set the empty glass atop the prep table.

The steaks appeared largely uncooked still as he removed them from the cast iron pan, setting them aside onto a serving plate. I estimated he'd cooked each side for no more than a few minutes.

Reducing the gas flame, he tossed butter, fresh rosemary, and several peeled, whole cloves of garlic into the skillet. The scent of rosemary, butter, and garlic simmering in the pan drippings was divine. My eyes glazed over with undeniable longing when Alex ultimately drizzled the buttery garlic rosemary sauce over the undercooked steaks.

Setting the serving plate next to where I sat on the countertop, Alex grabbed a fork and knife, cut a small piece of the heavenly-scented rare meat, and offered it up to my lips.

Though I was desperate to taste it, I shook my head in denial. "I really can't eat that; I haven't had meat in six years, Alex. I'll get sick." My stomach growled its disagreement.

"You won't get sick. I promise."

I made a childish whimpering sound, my mind and my body torn.

"C'mon, you have to at least try it. I made it for you," he beguiled in a seductive whisper, "… and while wearing this stupid hat you forced on me."

The guilt tactic proved the final straw to break my shaky resolve. It was my Catholic girl curse.

I opened my mouth and let him feed me the bite of steak. My eyes rolled back in my head and I moaned as the soft, buttery meat virtually melted in my mouth. It was pure perfection!

I gazed dreamily back at Alex and found him waiting, another bite of meat poised on the tip of the fork, ready for me. He seemed so genuinely thrilled that I liked it, I reasoned there was no way I could refuse a second bite.

So I didn't. And I even let him feed me a third bite before politely prying the fork from his fingers so that I could shovel the meat into my own mouth at a less leisurely pace.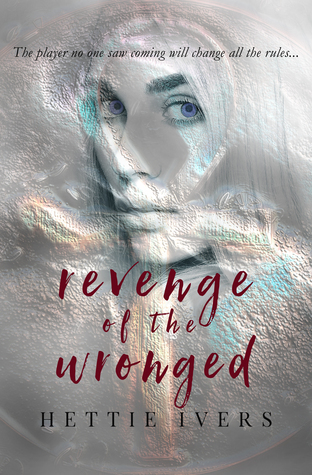 Oracles foretold that the ascension of the next vessel would unleash enough discord and controversy to incite a vicious feud between the strongest of the werelock species—but that it would be the untimely death of a guilty innocent caught between two rival packs that ultimately sparked a great war between those opposing factions.
An unforgivable sacrifice—destined to unearth a wrath so black as to obliterate light. Ushering forth the war of the century, the rise of a blind warrior, and the dawn of a decade without light.
In a game of survival amid conniving, bloodthirsty supernatural opponents, it's the player no one saw coming who will change all the rules …
Romance Paranormal [Author Self-Published, On Sale: October 11, 2016, e-Book ]
Hettie Ivers engages in legal battles by day and smut storytelling by night. Hettie favors stories in which realistic, relatable characters must navigate fantastical, larger-than-life circumstances. She's a sucker for sexy antiheroes, underdogs, and flawed protagonists, and she enjoys fresh spins on classic tropes with a sprinkling of satire.
Other books in the Werelock Evolution Series