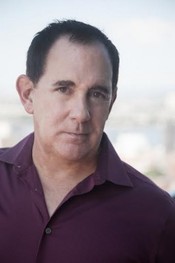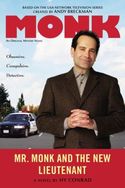 When a ballplayer retires, that's the time to make a final review of his stats, adding up his career runs, his strikeouts, his RBI's and analyzing his more controversial plays.  So that's what I find myself doing with my old friend Adrian Monk.  After 125 episodes, and nineteen novels, it looks like the man's fabled career is coming to an end.  After this last novel, there will be no more Mr. Monk mysteries.  And I feel enormously lucky to have been part of it from beginning to end.
Monk's first "on-base" happened in the late 1990s, when producer David Hoberman saw the movie As Good as It Gets and thought, "Hmm, could that annoying guy with OCD (Jack Nicholson) be a police detective?  Would that make good TV?"  He took his questions to comedy giant Andy Breckman who answered yes and yes and wrote the pilot.
After several years in development hell, Monk came to bat in 2002 and made an immediate hit, one of the first basic cable series to have any real impact.  It was so successful that ABC, then in a ratings slump, showed our reruns in prime time.  The following year, NBC did the same, filling in their slot after Sunday night football.  To my knowledge, Monk was the only cable show ever to have its reruns played in prime time on two major networks.
During its screen life, Monk won eight Emmy Awards, three for our brilliant Tony Shalhoub, two for guest stars and three, oddly enough, for best songs.
Along the way, the show changed very little.  Of our four stars, three stayed for the entire run.  When Stanley Camel died midway through season seven, leaving Monk without a therapist, we did our best to make the new therapist very similar.  Of the original writers from season one, all four – including me – stayed around for the entire run.  Like Monk himself, we weren't fond of change.  Even our air time remained unchanged: Friday at nine p.m. for eight years.
Each one of the writers has a favorite Monk accolade.  Andy Breckman keeps a New Yorker review that makes him sound like a re-born Shakespeare.  Joe Toplyn loved the Mad Magazine spoof that featured a Joe Toplyn look-alike.  And I keep a yellowing copy of a Boston Globe article listing the ten great television events of the decade.  Those include the coverage of 9/11, The Sopranos, a royal wedding and, smack in the middle, our little basic cable show.
Somewhere during season four, the writers approached about expanding Monk's universe and putting the Monk characters into novels.  We loved the idea, but none of us had time.  So we asked Lee Goldberg if he would take on the challenge.  He succeeded masterfully, turning out two books a year until greater fame and fortune lured him away and I, having just left the writer's room at White Collar, was asked to continue the legacy.
When I signed on to write the books, I immediately called Andy.  He was excited to hear it.  "You're keeping our boy alive," he told me.  "You're the only one left."  And now, unfortunately, I'm leaving, too.
It seems like a lifetime since Andy first asked me to come to work for him.  At the time, I was living in Tampa and honestly didn't think it would be a big deal, a quirky show that might last a season and then be forgotten in the TV mist.  But that's not the way it turned out.  Somewhere around the world, someone is always watching a Monk re-run, and someone else is always reading a Monk novel.
So I guess Adrian Monk, our defective detective, isn't really retiring after all.  My mistake.
About MR. MONK AND THE NEW LIEUTENANT
An all-new story starring Adrian Monk by Edgar® Award–nominated Monk screenwriter and coexecutive producer Hy Conrad.
It's compulsive, page-turning fun.
Monk and Natalie have finally settled into a new office routine. Now they just need to work things out with their neighbors—a print shop run by hippies whose music leaks through the walls, driving Monk nuts. But the detectives soon have a more serious conflict to deal with: Captain Stottlemeyer's new lieutenant, A.J. Cartledge—a man of limited skills whom Monk finds insufferable.
Even the presence of Lieutenant Cartledge won't keep Monk and Natalie from attending the funeral of Judge Oberlin, and it's a good thing. In typical fashion, Monk examines the body in the casket—and finds evidence of poison. The judge was murdered.
While there are no traces of the poison at the judge's house, Monk detects that there had been an intruder. The next rainy day, when Captain Stottlemeyer begins to show the same symptoms, Monk deduces that there's a diabolical killer at work, someone who wanted both the judge and the captain dead. Monk and Natalie turn to the captain's ex-lieutenant in Summit, New Jersey for help, but even that might not be enough to solve this crime. With his friend in danger and an enemy close, Monk will have to put his reservations aside to crack the case in time.