Welcome to Fresh Fiction, Ian! Please introduce yourself and tell us about your latest sci-fi novel, ALIEN SECRETS.
Well, I'm Ian Douglas, also known as William H. Keith, H. Jay Riker, and a few other names.
Alien Secrets is the first book in the Solar Warden series.  Solar Warden, in real life, is a conspiracy theory about a top secret US government program of the same name, involving our government back-engineering crashed flying saucers, trading abductees for advanced technology, working with various alien species, and keeping it all hidden from the public.
This is the first book in your new series, Solar Warden. What do you enjoy about starting a new series? What will readers find within the world you've built in ALIEN SECRETS?
Unlike much of my SF writing, the Solar Warden series is set pretty much in the present day. While I get to imagine the various alien technologies available, I can also reference recent world events without having the characters think of them as ancient history.   
There's quite a bit of history throughout ALIEN SECRETS. Did you initially intend for this? Where did the idea come from?
I'm a history buff anyway, and much of the current conspiracy theory thinking includes these factual pieces of history and the aliens-are-already-here interpretation of them. I just built the book around the history by weaving a more-or-less plausible narrative into real life, and the snippets of historical background opening each chapter were intended from the beginning.   
Between the history as well as space travel and the existence of aliens, I suspect your research for this novel was varied and fascinating! What was one of the more surprising things you learned about while working on this novel?
Georgio Tsoukalos's hair has its own fan club page on Facebook.  
What is your journey into publishing? What has changed since you first started? What has stayed the same?
Used to be, most authors started out by selling a short story to a magazine, and they would write a story before marketing it to publishers. I got in the back door; I was working in the gaming industry as an artist when they needed someone to write something involving spaceships and aliens, and I wrote it.  Eventually that grew from writing game modules to writing game novels, and I discovered I could make more money writing about spaceships than by drawing them. Based on those books, I got a contract to write a series for Berkley books, I got an agent, I got a contract for a series from Harper books, and I've pretty much been writing to contract since, instead of writing on spec. (In 1999 I finally got to the industry-standard starting point of publishing a short story in Asimov's Science Fiction Magazine.)
Publishing is changing rapidly, and the newer ways of e-publishing, self-publishing, print on demand, and blogging have replaced a lot of the traditional publishing. What's stayed the same is the dedication to actually being a writer (as opposed to "wanting to be a writer"): apply seat of pants to seat of chair and write. Oh, and the need for a good proofreader and a good editor. I'm blessed with both, and even then an error will creep in every once in a while. Every piece of writing beyond a grocery list needs a second set of eyes to check it over.
What can readers expect from you next?
Beyond the next Solar Warden books? I have no idea where my imagination will take me next, much less what my editors and publishers think will sell. I've been wondering about a series that crosses a historical interest in the Roman Empire with galaxy-ranging space opera, and getting into the decline and fall of the Galactic Empire. Yes, Asimov already did that in his Foundation series… but I think I can bring something new to the table. I have no idea whether or not I can sell it. And yes, I'm a mercenary; I like to eat and pay my electric bill, and I never forget that, as a storyteller on paper, I am an entertainer, first and foremost.
Solar Warden #1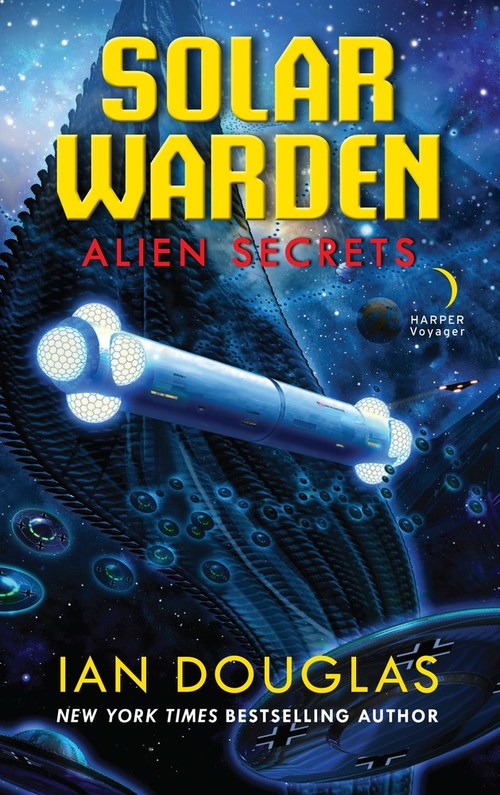 In the first novel in New York Times bestselling author Ian Douglas' Solar Warden series, government conspiracy theories, UFO history, and thrilling space combat come together in an unforgettable interstellar military science fiction adventure.

THE TRUTH HAS ALWAYS BEEN HERE
In the final days of World War II, the Allies ransacked Berlin. Third Reich scientists were highly sought- out prizes for Americans and Russians desperate to possess the Nazi knowledge of nuclear firepower. But they failed to capture one of the most vital members of Adolf Hitler's inner circle: SS Obergruppenfuhrer Hans Kammler. One of the engineers of Auschwitz, Kammler was also a liaison with the Nazis' silent partners whose technological wonders nearly helped the Axis win the war—the alien species the Germans called the Eidechse.
More than seven decades later, U. S. Navy SEAL Lieutenant Commander Mark Hunter has witnessed the impossible. On a mission in North Korea, an unidentified flying object destroyed a compound developing weapons of mass destruction. Now, he has been recruited to join a government agency that has been harboring a secret alliance with extraterrestrials since 1947. Selected to lead an elite force of soldiers, Hunter will travel across the stars to help humanity stake its claim among greater intelligent life in the universe.
But the aliens who have infiltrated Earth and guided war mongering nations since the twentieth century have their own agendas…
Science Fiction [Harper Voyager, On Sale: June 30, 2020, Mass Market Paperback / e-Book, ISBN: 9780062825384 / eISBN: 9780062825391]
Ian Douglas is one of the many pseudonyms for writer William H. Keith, New York Times bestselling author of the popular military science fiction series The Heritage Trilogy, The Legacy Trilogy, The Inheritance Trilogy, The Star Corpsman series, The Star Carrier series, and The Andromedan Dark series. A former Navy Hospital Corpsman, he lives in Pennsylvania.