Instead of trying to find your perfect match in a dating app, we bring you the "Author-Reader Match" where we introduce you to authors as a reader you may fall in love with. It's our great pleasure to present Renee Dahlia!
Writes:
Renee writes romances featuring women who seek personal success and stumble across love. Some of her books are historical, some are contemporary, and nearly all of them feature LGBTIQ+ characters. In Her Lady's Honor, WWI veterinarian Nell agrees to deliver her boss's horse to his home in Wales because she doesn't know what else to do with her life now the war is over. When her boss's wife dies in mysterious circumstances, she stays to help her boss's daughter, Beatrice, figure out what happened. Beatrice has a big heart and reminds Nell about what is important. Love, family, and that money can't solve all your problems, although it certainly helps.
About:
Book loving author, who is really just a reader who writes to satisfy her creativity, seeks other readers who want to squeal about their favourite authors, argue over why secret baby is the worst trope (or is it misunderstandings/miscommunication?), and who love a little mystery with their romance. It's all about the emotional highs and lows. Coffee for mornings, bourbon for evenings. Books, always.
What I'm looking for in my ideal reader match:
Wants to fight the patriarchy by seeing women love and succeed despite the world trying to stop them
Will be charmed by the old lady in the Devil's Bridge myth
Reads the content warnings before diving in
Loves a prickly heroine who falls hard and must examine all her class biases
Adores a loving heroine who puts her family first, even when they don't deserve it
What to expect if we're compatible:
Emotional pull between characters
Plenty of dialogue; awkward, intense, sexy, and occasionally funny
Plots that touch on weighty issues, plus a sprinkling of science
Random social media posts, and a free book in my newsletter
The war might be over, but the battle for love has just begun.
When Lady Eleanor "Nell" St. George arrives in Wales after serving as a veterinarian in the Great War, she doesn't come alone. With her is her former captain's beloved warhorse, which she promised to return to him—and a series of recurring nightmares that torment both her heart and her soul. She wants only to complete her task, then find refuge with her family, but when Nell meets the captain's eldest daughter, all that changes.
Beatrice Hughes is resigned to life as the dutiful daughter. Her mother grieves for the sons she lost to war; the care of the household and remaining siblings falls to Beatrice, and she manages it with a practical efficiency. But when a beautiful stranger shows up with her father's horse, practicality is the last thing on her mind.
Despite the differences in their social standing, Beatrice and Nell give in to their unlikely attraction, finding love where they least expect it. But not everything in the captain's house is as it seems. When Beatrice's mother disappears under mysterious circumstances, Nell must overcome her preconceptions to help Beatrice, however she's able. Together they must find out what really happened that stormy night in the village, before everything Beatrice loves is lost—including Nell.
Romance Suspense | Romance LGBTQ | Romance Historical [Carina Press, On Sale: June 22, 2020, e-Book, ISBN: 9781488077012 / eISBN: 9781488077012]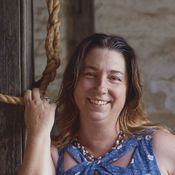 Renee Dahlia is an unabashed romance reader who loves feisty women and strong, clever men. Her books reflect this, with a sidenote of dark humour. Renee has a science degree in physics. When not distracted by the characters fighting for attention in her brain, she works in the horse-racing industry doing data analysis and writing magazine articles. When she isn't reading or writing, Renee spends her time with her partner and four children, volunteers on the local cricket club committee, and is the Secretary of Romance Writers Australia.