As frost immobilizes the ground and chill winds blow, I think of cold castles and harsh rulers—which brings to mind the medieval period, and one of my favorite historical characters. In an era where women were chattels disposed of by fathers and husbands, to use wits and beauty and sheer drive to carve out a place of power and prominence is truly amazing, and Alienor (Eleanor) of Aquitaine did just that. Heiress to the wealthiest duchy in France, wife of two kings, mother of two more, loved, betrayed, and imprisoned by Henry for treason, her life would be considered romantic hyperbole—if it weren't true.
Beginning with the most recent novel, one full of "intimate" detail, we have
BELOVED ENEMY: THE PASSIONS OF ELEANOR OF ACQUITAINE (QUEENS OF LOVE AND WAR BOOK 2) by Ellen Jones. Beginning the tale in 1130, with an eight-year-old Alienor dealing with the death of her mother and brother, it moves forward to June 1137, when her father dies, leaving her Duchess of Aquitaine and Countess of Poitou. Swept into an unhappy marriage with King Louis VII of France, eventually an annulment is procured, allowing her to wed her lover and love of her life, Henry of Anjou, Duke of Normandy. Henry triumphs in his battle for the throne, and together they make a magnificent King and Queen of England. But as years pass and children are born, difficulties arise over Henry's bastard son Geoffrey and with his former friend Thomas Becket, who takes his responsibilities as newly-appointed Archbishop of Canterbury very seriously. Sustained by her love for the man who treats her as queen and equal, Alienor stands by Henry in his trials, until, wearied by it all, she retreats at the end of this novel to Aquitaine.
Jones concludes her story in GILDED CAGES: THE TRIAL OF ELEANOR OF AQUITANE (QUEENS OF LOVE AND WAR BOOK 3.) As Henry wrestles with the opposition of Thomas Becket and scandal ensues, Alienor continues to love and support her husband. But when she discovers he has betrayed her in an affair with a beautiful younger woman—a woman he admits he loves—her broken heart and wounded pride lead her to support her sons and oppose her husband.
Two veteran historical novelists also give us views of Alienor. Elizabeth Chadwick's THE SUMMER QUEEN: A NOVEL OF ELEANOR OF AQUITAINE also begins her story with Alienor as a young girl, catapulted by the death of her father at age thirteen into the most prized heiress in Christendom. Sent to Paris to marry a prince who soon becomes King, she must adapt and survive in the treacherous, scandalous world of the French Court. A disaffected husband, rumors of being barren, a journey to the Second Crusade all lead to the end of the marriage—and the arrival of the young, fascinating Henri of Anjou.
Chadwick continues Alienor's story in A WINTER CROWN: A NOVEL OF ELEANOR OF AQUITAINE. In this volume we find the familiar and tragic story of THE LION IN WINTER—the Queen who demands to share power with her husband…the woman whose love is destroyed by scandal and infidelity. Embittered and increasingly distanced from her royal husband, Alienor seeks to band with her sons to recover power and influence…with devastating results.
The last book of Chadwick's trilogy, THE AUTUMN THRONE, deals with her life after the death of Henry. Maneuvering behind the throne, she secures a bride for her favored son Richard, seeks to block the traitorous plots of his brother John, and positions the kingdom she has ruled for so long for greatness and prosperity in the future.
Acclaimed historical novelist Sharon Kay Penman also gifts us with a trilogy about this period. Although she does describe the early years of Henry and Alienor in the first volume, WHEN CHRIST AND HIS SAINTS SLEPT, that book mostly focuses on the battle between Maud and her cousin Stephen for the throne of England. It is her second volume, TIME AND CHANCE, that brings us into the heart of the marriage between Henry and Alienor, beginning after the birth of their five sons and three daughters. If dissention in Wales, struggles with her first husband Louis VII, and the epic battle between the power of church and state that pits Henry against former good friend Thomas Becket, now Archbishop of Canterbury, weren't enough to destabilize their relationship and the throne, the beginning of Henry's affair with baron's daughter Rosamund Clifford signals the end of both the love story and the partnership.
The third book of her trilogy, DEVIL'S BROOD, carries the tumultuous relationship into the final years, when Alienor bands with her sons against her husband. While her husband seeks to subdue Ireland, Alienor takes over the governing of Aquitaine and the upbringing of her family. With Hal crowned as King in his father's absence, her favorite Richard designated as future Duke of Aquitaine, her son Geoffrey marrying a woman of ambition and cunning, Alienor must balance the demands of being mother and queen as she tries to guide England into the next generation.
Finally, for a very different take on Alienor as Queen and patroness of the arts, we have SONG AT DAWN: 1150 IN PROVENCE (TROUBADOUR QUARTET BOOK 1) by Jean Gill. Although the other books in this series follow the further adventures of its heroine, Estela, a gifted musician whose talent wins her a place at the court of the Queen of France, the first gives us an expanded view of the pre-Henry Alienor. In her quest to establish herself as the foremost lady of Europe and promoter of the cult of "Courtly Love," Alienor brings her musician with her on a visit to Ermengarde, Viscomtesse of Narbonne, where heroine Estela meets her hero, knight and troubadour Dragonetz. Before they set off on their adventures, the reader is treated to a fascinating picture of the rivalry between these two powerful historical rulers, each of whom must deal with jealous courtiers, misogynist church officials, and the problems created by weak and inept husbands.
(For those who become fascinated by Estela, Gill continues her story in BLADESONG: 1151 IN THE HOLY LAND and PLAINT FOR PROVENCE: 1152 LES BAUX; one assumes there will be another volume forthcoming to complete the quartet.)
Ready to settle into a chair with a warm drink and immerse yourself in the lives and loves of this fascinating lady? What better time than the cold midwinter?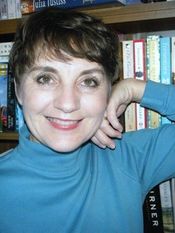 Real, intense, passionate historical romance
After twelve years as a vagabond Navy wife, an adventure that took her from Virginia Beach, VA, to Monterrey, CA, to Tunis, Tunisia to Oslo, Norway and back, Julia Justiss followed her husband to his family's East Texas homeland. On a hill above a pond with a view of pasture land, they built an English Georgian-style home. Sitting at her desk there, if she ignores the summer heat, she can almost imagine herself in Jane Austen's Regency England.
In between teaching high school French and making jaunts to visit her three children (a Seabee in Gulfport, MS, a clothing buyer in Houston and a mechanical engineer in Austin, TX) she pursues her first love—writing historical fiction.
Series: Regency Silk & Scandal | Hadley's Hellions | Ransleigh Rogues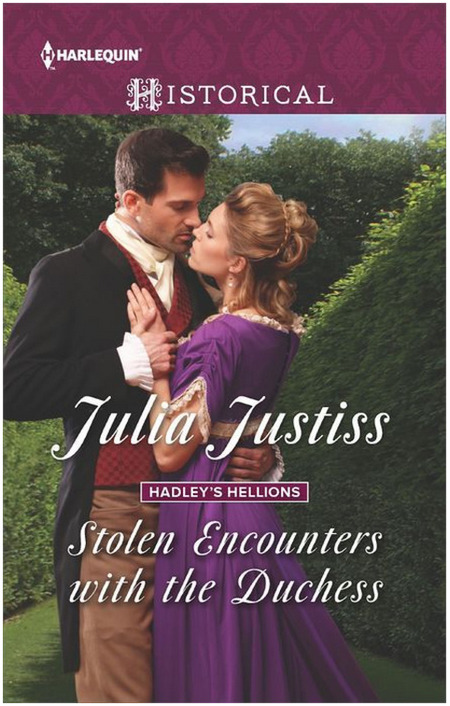 She would rather burn in his presence than pine in his absence
Faith Wellingford Evers, Duchess of Ashedon, is tired of society's endless gossiping about her failings and her late husband's infidelities. Seeking escape one night, she's attacked by ruffians, but is saved by an unlikely figure from her past!
Having risen from penniless orphan to Member of Parliament, David Tanner Smith is no longer the quiet boy Faith once knew. With the first spine-tingling kiss, their old friendship is transformed. And in its place is an explosive mix of illicit encounters and forbidden desire…
Romance Historical [Harlequin Historical Romance, On Sale: August 23, 2016, Paperback / e-Book, ISBN: 9780373298969 / eISBN: 9781488004339]