Anna Bradley debuted her new Sutherlands series with LADY ELEANOR'S SEVENTH SUITOR on September 5th. She stopped by Fresh Fiction to talk with Miranda Owen about the new book, starting a fresh series, and what to expect from her next.
In LADY ELEANOR'S SEVENTH SUITOR, Lady Eleanor and Camden have a somewhat adversarial relationship for much of the story. Normally I prefer the hero and heroine to be on the same side, facing an outside threat. What makes this romance work for me, is that the reader is able to get inside their heads and see what they're feeling and thinking. Which type of romance do you find easier or more enjoyable to write – one in which the hero and heroine start out with a prickly relationship, or one in which they like each other right
away?
I admit to being a big fan of the "enemies to lovers" trope, so when my stories open, the characters do tend to be at odds with each other. That's not to say I don't like a story where the hero and heroine are on the same page, but I've always been drawn (as a reader and a writer) to the kind of stories where the characters have a great deal to overcome before they get (or deserve!) their HEAs. One of my favorite things about Cam and Ellie's story is that as readers we really wonder if they're ever going to be able to overcome their differences and get their happy ending, and I like the tension of that. With these two characters, I really wanted part of their story to be as much about discovering who they are (and aren't!) through their love for each other.
I love Eleanor. I always cheer for an intelligent heroine, but I often feel like many female characters are written as very reactionary and sometimes easily manipulated. What I love so much about Eleanor is that she is intelligent and nobody's fool. Like the Stephanie Laurens' characters I adore – both male and female – she sees a situation from every angle and stops to reflect before acting. Are there certain traits that you try to endow all your heroines with – inner strength, intelligence, etc. – while still making each one different? Who are some of your favorite fictional heroines?
Thank you—I love Eleanor, too! Her character unfolded pretty easily on the page, in part because I'd set her up as a clever, strategic thinker in the previous two Sutherland novels. I had so much fun writing her—I really love writing intelligent, determined heroines, and a sharp tongue never hurts when a heroine is dealing with a bullheaded hero! I do try to make my heroines strong, grounded characters, but they can be strong in different ways, and I don't think "strong" necessarily means "fearless." For example, we see a different kind of strength with Lily Somerset from A SEASON OF RUIN than we do with Charlotte Sutherland, from LADY CHARLOTTE'S FIRST LOVE. Both heroines harbor secret fears and regrets, and both are determined to survive and thrive despite them, but they have different strengths and weaknesses.
I have so many favorite fictional heroines it's hard to limit it to just a few, but I've always loved Loretta Chase's Jessica Trent from LORD OF SCOUNDRELS. Another of my favorites is Lily Bart, from Edith Wharton's HOUSE OF MIRTH. Her tragic ending breaks my heart every time!
LADY ELEANOR'S SEVENTH SUITOR has a wonderful amount of sizzling sexual tension, and I was wondering if that's a difficult element to keep up as you're writing a book. What are your favorite scenes to write?
It can be difficult, yes! It's something I have to think consciously about. I keep a long list of revision notes for every book I write, and I always have one note that says "Make it hotter!" By "hot" I'm not necessarily referring just to sex scenes because I also love writing scenes that are sensual and sexy that don't necessarily include sex. I'm a big fan of the "slow burn."
I have two favorite "sizzling sexual tension" scenes in LADY ELEANOR'S SEVENTH SUITOR. The first is the scene at the garden party where Cam and Ellie are watching Amelia make daisy chains, and Cam comes up behind Ellie and whispers in her ear. They're still very much at odds in this scene, but the sexual attraction is undeniable. The second scene is the one that takes place in the hallway after Cam has tea with Ellie' mother, where Cam is kissing Ellie's hand and wrist. Both of them know they can be caught at any second, but they're so overwhelmed with desire they can hardly control themselves. As Cam discovers in that scene, hands can be so sexy!
I love how you describe Camden as "a villain with a hero's scruples". What inspired you to write such a hero? Which are your favorite characters to write – heroes, antiheroes, or villains? Is there any line you wouldn't have your heroes cross? Who are some of your favorite fictional heroes?
I love this question because I thought a lot about who I wanted Cam to be before I started writing the book. I was interested in writing a hero who commits a dishonorable act, but who isn't a dishonorable person. I wanted to show through Cam that one bad act doesn't necessarily define who a person is. I like the idea of playing with the idea of the "good villain," or the villain who's really the hero once the layers are peeled away. There are times in the book where we get really angry with Cam, but as unfair as he is to Ellie, Cam does have a moral center. He knows he's doing the wrong thing, but he believes he's doing it for the right reason—to protect Amelia. Ellie forgives him because she feels the same way about Charlotte—she'll protect her at all costs.
Forgiveness is a recurring theme in the book, and LADY CHARLOTTE'S FIRST LOVE has a similar underlying theme, though that book is more about self-forgiveness. That said, there are lines I would never have a hero cross because I do think there are some acts a true hero would never commit, no matter how conflicted he is.
One of my all-time favorite heroes is Professor Snape in HARRY POTTER AND THE DEATHLY HALLOWS. He's a heartbreaking example of the hero/villain, and I think we see a milder version of that same dynamic at work with Mr. Darcy, the quintessential romantic hero.
I've read your previous book, but not your first book set in the world of the Sutherlands. As a reader, I always find it helpful to have the author talk about their characters in their own words. For readers who might be new to your books, how would you differentiate the heroes from your first three books – Alec Sutherland, Robyn Sutherland, and the wonderfully complex Camden West? Is there anything you can reveal about the heroes in your next two books – Julian West and Ethan Fortescue?
Another great question! Alec from A WICKED WAY TO WIN AN EARL, which is the first book in the series, and his brother Robyn, from A SEASON OF RUIN, have some demons to deal with, just as Camden West does, and their stories are in part about how they struggle with that. My heroes all tend to be strong alphas like Cam, and I would say Alec is probably the most like Cam in that he's fiercely protective of his family, though his efforts on their behalf, like Cam's, are somewhat misguided! Robyn is a much more playful character, but he's a rake, and he's hiding debilitating pain under the guise of the reckless debaucher, so he's very different from Alec and Cam.
Of all my heroes so far, I think Julian West is the one who struggles the most. He returns from Waterloo with what would today be diagnosed as PTSD—all of his illusions have been shattered, and he doesn't recognize or trust himself anymore. He has demons just as Alec, Robyn, and Cam do, but his most challenging demon is himself—he has to struggle to become the man he used to be before he went to war. Ethan Fortescue—Lord Devon (or Lord Demon, depending on who you ask!) is a bit of a villain/hero like Cam. He's an honorable man, but all of London believes him to be a murderer, and he has some painful ghosts to lay to rest before he can find his HEA. Fortunately for Ethan, he has a strong, determined heroine in Thea Sheridan!
How much time passes between the end of LADY ELEANOR'S SEVENTH SUITOR and Charlotte's book? What can you tell readers about LADY CHARLOTTE'S FIRST LOVE?
A little over a year passes between the two stories. At the end of LADY ELEANOR'S SEVENTH SUITOR, we see Julian West—Cam's cousin and Charlotte Sutherland's lover —leaving London, his heart broken by the disastrous end of his love affair with Charlotte. The story picks up again after the battle of Waterloo, where Julian has distinguished himself with his heroic actions against Napoleon's army. He returns to London as a conquering hero, but he doesn't feel heroic—he feels like a failure and a fraud.
Charlotte, meanwhile, is also struggling with PTSD. Her husband has died under tragic circumstances, and she's become one of a quartet of notoriously wicked widows who are shocking London with their outrageous scandals. Both Julian and Charlotte are trying to run away from themselves, but of course, they have unfinished business between them, and within days of Julian's return they become inextricably tangled up in each other's lives again. With their relationship, we get some of the enemies-to-lovers trope, but also a strong element of the second-chance-at-love trope, too.
What are you currently working on?
I'm just finishing up the second book in the Somerset Sisters series, which is a three book series featuring the youngest Somerset sisters, Iris, Violet, and Hyacinth. I'm currently writing Violet Somerset's story, and I'm completely in love with her as my heroine! She's the first bluestocking heroine I've written, and she's on an unusual quest for knowledge. I'm having a great time running her and her hero, Nicholas Balfour, Lord Dare from one dark alleyway to the next as they take a peek into the mysterious side of 19th century London.
Anna Bradley has been an avid reader, writer and book fondler since childhood, when she pilfered her first romance novel and stole away to her bedroom to devour it. This insatiable love of the written word persisted throughout her childhood in Maine, where it led to a master's degree in English Literature.
Before she became a writer, Anna worked with a rare books library featuring works by British women writers from the 1600s through the Regency period. Here she indulged in her love of stories, fondled smooth, leather-bound volumes to her heart's content and dreamed of becoming a writer.
Anna writes steamy historical romance (think garters, fops and riding crops) and squeezes in a career as a writing and literature professor on the side. She lives with her husband and two children in Portland, OR, where people are delightfully weird and love to read.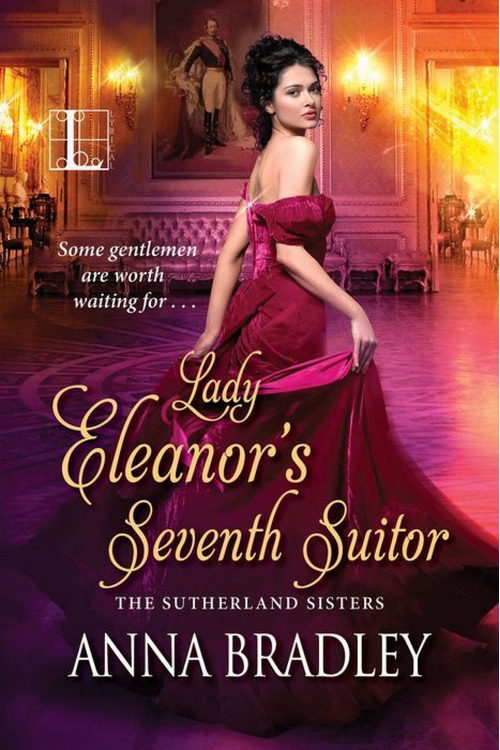 Two sought-after sisters, a slew of suitors-and a vow to hold out for true love. How many proposals will it take to get to "I do"-especially when the stakes are high . . .
There have been six suitors so far, all vying for the attention-and generous dowry-of the beautiful, elusive Eleanor Sutherland. What does this woman really want? Who has what it takes to melt the heart of the so-called Lady Ice? These are the questions Camden West keeps asking himself. But rather than wait for answers, Cam takes matters into his own hands . . . for he has a secret weapon.
Cam knows that Ellie's sister, Charlotte, harbors a scandalous secret-one that could bring ruin to the Sutherland name. If Ellie marries him, Cam promises to keep mum. But is she willing to sacrifice her own happiness for her sister's reputation?
To Ellie's surprise, it becomes clear that Cam doesn't need her money, nor is he interested in her status. Soon, what begins as a sham engagement transforms into something deeper, and more passionate, than Ellie could have imagined. Is it possible that all Cam truly wanted was her? And is that reason enough to say yes-or is handsome Cam hiding something else? Even for a lady in love, only the truth will do . . .
Romance Historical [Lyrical Press, On Sale: September 5, 2017, e-Book, ISBN: 9781516105168 / eISBN: 9781516105168]

A thrilling and sensual romance that should be a must-read for historical romance fans!