Sharon's Cozy Corner
All about the cozy mysteries: interviews, reviews, books
I've always been a curvy-kind of girl, and proud of it! God blessed this Irish gal with an abundant figure, and I learned long ago to accept them for better or worse!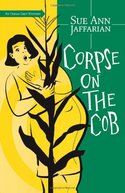 So I was delighted to learn about Sue Ann Jaffarian's mystery series which featured a big, beautiful amateur sleuth, Odelia Grey! Odelia is a paralegal from California, and seems to have a knack for stumbling into murder after murder. Confident, sassy and smart, Odelia is a charming lady that readers are sure to love and admire.
Sue Ann has written four delightful mysteries involving Odelia (TOO BIG TO MISS, THE CURSE OF THE HOLY PAIL, THUGS AND KISSES and BOOBY TRAP,) with the fifth in the series, CORPSE ON THE COB, due out in February.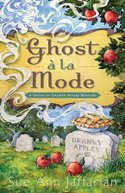 She also has another series, The Ghost of Granny Apples, with the first book, GHOST ALA MODE debuting in September 2009, and another one on the way.
And if Sue Ann wasn't busy enough, she is working on a third series, with an adorable vampire couple as the main characters!
This is one productive gal! So I was happy that she could spare some time to answer a few questions about her hectic writing career.
Sharon: At what age did you know that you wanted to be a writer?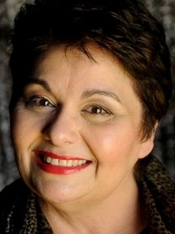 Sue: It was as young as 11 or 12. I remember reading books and thinking "I want to write a book when I grow up." I also used to go to the library and find where my name would go in the card catalogue (remember those?) and separate the cards where my name and books would one day be.
Sharon: How did you get interested in writing "cozy" mysteries?
Sue: I really didn't realize I was writing a "cozy" until after TOO BIG TO MISS was written. Although I'd read mysteries, when I first started writing TOO BIG TO MISS, my first Odelia Grey mystery, I had no idea they were separated into sub-genres. I just wrote the book I wanted to write.
Sharon: What inspired the theme of your series, and is Odelia based on anyone you know?
Sue: Odelia is loosely (very very loosely) based on me, even though there are a lot of differences. Like Odelia, I am a middle-aged plus size paralegal, so I decided to write a mystery based on what I already knew. The whole idea of the series was simply me thinking what would happen if someone similar to me started stumbling over bodies and solving crimes.
Sharon: What appealed to you about the genre of cozy mysteries as opposed to hardcore mysteries or suspense stories?
Sue: As I said, I never realized I was writing a "cozy" but I knew I didn't want to write graphic violence or a police procedural. And since Odelia is an amateur sleuth and the series humorous, I guess I sort of backed into the whole cozy-soft boiled thing.
Sharon: How do you come up with the various plotlines for each book, and do you ever take any from "real" life?
Sue: So far I've never taken any plots from real life, and especially from situations that have happened in my work place. The plots just sort of come to me after I decide I want to use something specific in a book. For example, in THE CURSE OF THE HOLY PAIL, I wanted to feature a vintage lunch box. And in CORPSE ON THE COB, coming out in the next few weeks, I wanted the murder to occur in a corn maze. Although in THUGS AND KISSES, the plot did come first. After attending one of my own high school reunions, I knew I wanted to write a book about someone nasty from Odelia's past being murdered at a reunion. Not that anyone at my reunion annoyed me that much, but I remember sitting there thinking what a wonderful plot it could be.
Sharon: With more and more series coming out in the cozy genre, do you see the competition for readership becoming more fierce? What do you do to keep your readers coming back for more?
Sue: I believe there are plenty of readers for all of our books. What decides who reads what is really personal taste more than competition. There are books out there that appeal to just about every fancy. Someone may like culinary mysteries, but not knitting mysteries. Another may read animal mysteries but would never touch ghost mysteries. There's something for everyone. As for enticing readers to come back for more, the only way to do that is to provide them with well defined characters, a solid plot, quality writing, and entertainment value for their consumer dollar. I strive to hit all of those with each book.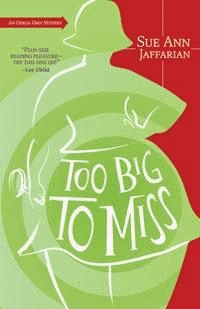 Sharon: The cover art on your books is just charming – very eye- catching! Who does the artwork for each book, and are you consulted as to how it will look?
Sue: Thank you! I'm rather fond of my covers. So far all of the covers for all of my series have been created by Ellen Dahl at Midnight Ink/Llewellyn Worldwide. Usually my editor asks if I have any suggestions. Then down the line I'm sent a draft and asked for comments. Ellen has hit the nail on the head with every single cover.
Sharon: Who are some of your favorite authors? Who inspires you?
Sue: Everyone inspires me! My favorite reads include Walter Mosely, Jan Burke, John Morgan Wilson, Lisa Scottoline, Terry McMillan, Naomi Hirahara, Lee Child, Amy Tan. But if I had to pinpoint one author whose books set me on the path to write humorous mysteries, that would be the late Anne George.
Sharon: What do you have coming up in the future?
Sue: Lots of exciting stuff! A new series and a change in my release schedule. CORPSE ON THE COB, the 5th book in the Odelia Grey series is coming out February 1, 2010. After this book, the next Odelia Grey novel will be released June 2011. GHOST IN THE POLKA DOT BIKINI, the 2nd book in The Ghost of Granny Apples series will be out February 2011. But the big news is I have a new series coming out September 2010. It's a vampire mystery series and the first book is titled MURDER IN VEIN.
Sharon: What advice would you have for anyone wanting to break into the "cozy mystery" genre?
Sue: Have a "hook" or something that makes your book stand out from the others. That's what grabs a publisher's attention. Don't try to write like anyone else. Write like yourself. Follow your own voice. As for trends, be mindful that if you are writing a book that falls under a currently hot trend, that trend might very well be cooled off by the time you finish your manuscript and find a publisher for it. So have something else to offer in your story other than it's hot right now.
Many thanks to Sue Ann Jaffarian for taking time to chat with us about her writing. Be sure to come back in February, when I'll be chatting with Joanne Fluke about her Hannah Swensen mysteries. Until then, cozy reading, ya'll!
A short review of CORPSE ON THE COB:
In Sue Ann Jaffarian's fifth cozy mystery featuring Odelia Grey, CORPSE ON THE COB, Odelia sets out to find her estranged mother, not bargaining for the shock of finding her elderly mother bent over a dead body in the middle of a corn maze! As the police arrive, Odelia finds that the chief of police and another of the officers are actually her half-brothers! Will the surprises ever stop? Not when Odelia is involved!

As she noses around, attempting to find out what's going on in the small Massachusetts town and how her mother is involved, Odelia may find herself well over her head as she tries to clear her mother's name. With help from her dear friend Willie and her loving husband Greg, the threesome roam the countryside turning up clues and harvesting a good crop of suspects.

Suspenseful and thrilling, with just the right dash of humor and romance, CORPSE ON THE COB is a charming entertaining mystery. In bookstores February 2010.
---
Sharon Chance has been a freelance entertainment journalist for the past fourteen years. As a regular contributor to the Wichita Falls Times Record News, she has written well over 1,600 articles covering everything from concert and movie reviews to museum openings to interviewing some of the top musicians performing today, including members of Bon Jovi and Guns and Roses.
But her true love lies in the world of books. A voracious reader from a young age, Sharon began reviewing books at the urging of her sister-in-law, who was a big fan of the Oprah Winfrey Book Club. What began as a simple fun attempt at sharing her views of books she enjoyed has developed into a work of passion for Sharon. In addition to being a senior book reviewer for the Times Record News, Sharon is also a regular guest contributor for the Las Vegas Review Journal's Book Nook, as well as having written for several other publications.
A distant relative of the great Edgar Allan Poe, Sharon has a fondness for mysteries, especially those of the cozy kind. In her new column, Sharon's Cozy Corner, Sharon hopes to bring news of the latest in the cozy mystery genre, as well as insightful interviews with the authors who write them.