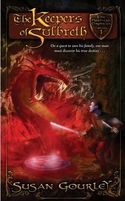 Probably one of the most common questions I hear as an author is the source or inspiration for the names I use in my novels. I admit some of them are purely pulled from the tangled and packed neurons firing away inside my brain. Others do actually have a specific meaning.
Some are purely my attempt to make a play on words. In my very first published romance novel, The Greater Good by Susan Kelley, the hero is named Juston Steele. His friends call him Just. Get it. Just Steele. As you can deduce from his moniker he's a pretty impressive sword slinger but the name also fits his personality. Until the heroine gets a hold of him that is. Even the name of that particular series, The Chronicles of Solonia, is a play on words. The name of the colony featured in this futuristic romance series is Solonia as in solo. This colony has lost its entire male population and now all the women are solo. Simple and perhaps a bit silly.
To read more of THE FAME IN THE NAME please click here.