Thanks so much for inviting me to visit your blog today. I'm thrilled to be here and to talk a little about writing THE CAKES OF MONTE CRISTO.
The story takes place around The Belle Lune Ball, an annual high-society event sponsored by the Crescent City Vintage Clothing Society, and for which Rita and the crew at Zydeco Cakes are contracted. Not only is Zydeco obligated to make the cake for the event, but Rita—who is a trained chef—has agreed to cater the event, as well. That's a first for the staff at Zydeco, but Rita believes they're up to the task.
Evangeline Delahunt, who is in charge of the ball, is difficult to please, but finally approves a menu and a proposal to create five (yes, five) cakes that look like vintage dress cakes. With just a few weeks until the ball, and it's all hands on deck to get the work done. But a mystery novel wouldn't be a mystery novel without something to throw a kink into the works, and in The Cakes of Monte Cristo, that something is an accident and the discovery of a hidden treasure at Zydeco.
That hidden treasure comes along with rumors of an old curse, which lends excitement to the adventure. As usual, the staff at Zydeco is split between those who believe in the curse and those who don't. We meet a few new characters, including Estelle's niece, Zoey, and reporter Carlo Mancini, who proves to be a thorn in Rita's side. But the biggest thorn just might be her mother-in-law and business partner, Miss Frankie.
I had a lot of fun researching vintage clothing and cake artists who have created some amazing works of dress-form cake art. Some of the cakes I found are breathtaking. I don't have permission to share the images, but for a few examples click here … and here … and here … and here.
The art department at Berkley Prime Crime did a terrific job interpreting the cakes I described in the book on the cover. I couldn't be more pleased with it.
Thanks so much for having me. I hope you and your readers enjoy the book.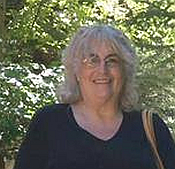 Jacklyn Brady is a pseudonym of award-winning, national bestselling author Sherry Lewis who writes across several genres. Along with her writing career, she has been teaching writing workshops for more than 20 years through Dancing on Coals Workshops for Fiction Writers.
Jacklyn writes the bestselling Piece of Cake mystery series set in New Orleans and featuring cake artist Rita Lucero. As Sammi Carter she writes the Candy Shop mystery series set in Paradise, Colorado featuring candy maker Abby Shaw, and as Sherry Lewis, she writes the Fred Vickery mystery series, as well as numerous contemporary and time travel romance novels.
Originally from Montana, Jacklyn spent several years living at the base of Utah's Wasatch Mountains. She now lives a block from the beach along Florida's Emerald Coast. Yes, it's a rough gig, but Jacklyn is determined to endure.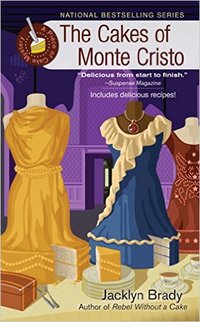 In the fresh new Piece of Cake Mystery from the national bestselling author of Rebel Without a Cake, a pastry chef becomes embroiled in a suspicious death as a mysterious curse casts a pall over an annual New Orleans ball.
Rita Lucero, co-owner of New Orleans's Zydeco Cakes, is thrilled to be catering an annual ball held at the Monte Cristo Hotel. Designing the high-end desserts is her priority—until she stumbles upon a mystery long-buried at her shop. It's an ornate ruby necklace, hidden underneath her staircase and rumored to be cursed.
After the gem's appraiser suddenly drops dead and Rita herself is targeted by a menacing stranger, she's no longer laughing at local superstition. Now with five cakes on order and an investigation into the necklace's past revealing layers of unsettling clues, Rita has reason to keep looking over her shoulder while she's frosting. Because any way you slice it, the next victim of the legendary curse could be her.