To celebrate the ninth installment in the White House Chef Mystery series, I've come up with nine all-new trivia questions. Test your knowledge about Ollie and the gang for fun and bragging rights (answers below).
Martha Stewart
Laurel Anne Braun
Julia Child
Buckminster (Bucky) Reed
New readers don't believe that an underground bunker exists in the White House
New readers think that Marcel's gingerbread White House is too big
New readers have an issue with (fictional) President Campbell
New readers don't immediately realize that Ollie is female
her brother and father
her mother and nana
her sister and cousin
her twin nephews
Ollie's cell phone
Ollie's diary
Ollie's house keys
Bucky's favorite knife
Doug, Sargeant's cousin
Ferdinand, Sargeant's dog
Milton, Sargeant's nephew
Frank, Sargeant's son
Ollie investigated a personal matter
The story opened in Chicago
Ollie took some vacation time
All of the above
It's the first book of mine to feature the words "New York Times Bestselling Author"
It's mostly red
There are four words in the title
It's a different size
Plate of the Union
War and Peas
Need to know Basil
Star Spangled Banana
White House Dressing
A Bombe in Nation
Bread of State
A Salt on Freedom
ANSWERS:
Thank you so much for your interest in Ollie and the gang! I truly appreciate all your wonderful support over the years.
As you may know by now, FOREIGN ECLAIRS, the ninth White House Chef Mystery, will be the last one in the series that I write. Whether the series continues without me is anyone's guess, but if you're curious as to why I'm stepping away, I invite you to visit my blog
Best always,
Julie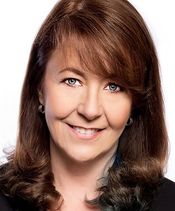 Julie Hyzy's first experience with food included flipping burgers and chopping onions at a neighborhood hot dog stand. She traded that experience for a job as a singing waitress at Farrell's Ice Cream Parlour — but gave that up when she started college (and because she couldn't carry a tune).
Over the years, she's acted in community theater productions, appeared in television commercials, and crashed a previously all-male fraternity to become one of the first female brothers in Loyola University's Chapter of Delta Sigma Pi.
Julie had dreams of becoming a writer, but family, friends, and frat brothers convinced her otherwise. Having held positions as junior officer at a downtown bank, office manager at an architectural firm, and financial advisor at a prestigious wealth management company, she realizes that the business degree was probably a good choice — but fiction is truly her passion. Now, with some well-earned life experience behind her, she's delighted to finally be able to make writing a priority in her life.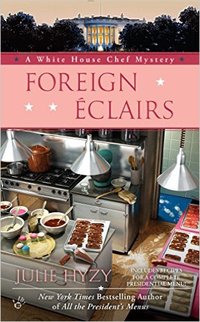 White House executive chef Ollie Paras has served plenty of meals to foreign dignitaries from around the world. But someone is ready to serve her an ice-cold dish of revenge. . .
Things are about to really heat up for Ollie. News of a bombing and attempted breakout at a federal prison reveals that the brother of a terrorist she helped defeat is back with a vengeance. And after she gets mugged on her way home from work, the Secret Service won't leave her side, fearing that she is now a target.
When a White House staff member is murdered, officials rush into action over a possible security breach. It may be time for Ollie to trade in her apron for a bullet-proof vest as she becomes part of a bold strategy to make sure this terrorist gets his just desserts. . .