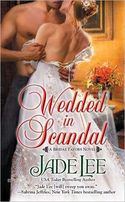 Raise your hand if you're in the midst of prom season! I have two daughters who started going to prom when they were freshmen in high school. Yup, I had 8 years of gowns and make up and hair. When the youngest girl went off the college, I breathed a huge sigh of relief as spring came around and I had no daughter at home to spend my money. Who wants to do all that shopping? Who can listen to the giddy laughter of teenage girls or hear the breathless sigh of delight when the boy finally asks her to the prom? One year, a boy actually serenaded my daughter. He wrote a song asking her to the prom.
Oh wow, I miss it. I miss my girls, I miss the pictures and the tuxes, I miss the excitement and specialness of it all. And frankly, that's a bit of a surprise because I was never a very girly girl. And yes, I went to my prom, but back then it was not nearly as elaborate as it is today.
I think it was in a fit of longing for my daughters that I created a series set in a bridal salon in Regency London. Every book has a wedding in it, so I got to revel in the wedding fun as much as I wanted. But don't get the wrong idea! The wedding isn't the primary story! No, the novels ended up being about the ladies who run the salon. Strong women-all four of them–fighting to run a business when women simply didn't. They didn't manage money, they didn't own their own businesses, and they weren't supposed to go to the docks (for example) to buy fabric or other supplies in bulk. It was the women who fascinated me in these tales. That I set their stories in a bridal salon was so that my sappy side, the happily ever after bridal side would be satisfied too.
But what about the men? you ask. Honestly, it's the heros who make a good romance for me. Arrogant lords, powerful men, guys that make your jaw drop and your eyes sparkle. Those are the guys for me. I didn't go for my usual dark, tortured hero. No, this time I had to reach for my lighter side. Witty banter, fun situations, but still with a core of seriousness because, honestly, these ladies had to be serious about their livelihoods.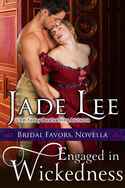 So now I've given you the overview. You now get the chance to tell me if I struck the right notes. You can pick up the prequel novella for free here And then, if you like it, check out the first novel Wedded in Scandal here It's got an excerpt there that I think is very fun. Plus some of the excellent reviews including Publisher's Weekly that called it "a highly entertaining read."
To comment on Jade Lee's blog please click here.