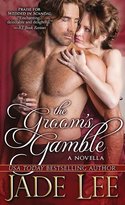 My new e-novella releases on Jan 7th. It's a sexy story of a housekeeper who finds love and lust with her employer, a Scottish earl. Love those guys in kilts! Here's the link to an excerpt and buy buttons. Oh, and here's the cover. Isn't he hot?
Yup, that's Harvey Stables on my cover and he's not only a nice guy, he's great fun to look at. So I thought-since he's great fun and all-that I'd let you all vote on which of his covers you like the best. So here you go: a short Harvey Stables retrospective! Oh, and by the way, one lucky commentor will get signed copies of the earlier Bridal Favors novels. That's three books, by the way: WEDDED IN SCANDAL, WEDDED IN SIN, and WHAT THE BRIDE WORE. I'm afraid you'll have to wait until next month to get WHAT THE GROOM WANTS. That's the fourth and possibly final book. Excerpt and preorder links here.

The Groom's Gamble
#3.5
January 7, 2014

An original novella linked to Jade Lee's hot new Regency bride series, a prequel to What the Groom Wants.

Caroline Lyncott, great grandaughter of the Duke of Bucklynde, has a secret. Years ago she was attacked and still bears the terrible scars. To escape the scandal and the reminders, she left everything behind to become housekeeper to a Scottish brother and sister.

Gregory Murray, the Earl Of Hartfell, has a secret as well – he harbors a deep attraction to his housekeeper, Mrs. Lyncott. He knows she has a past, but doesn't know how to fix the pain that still haunts her. His investigation leads him to the darkest London gaming hell and a villain too powerful to destroy.

Can his love overcome her desperate past? Can she risk her heart despite the evil that still haunts her nightmares?
And now…here's HARVEY! (plus above)
Jade Lee / Kathy Lyons
www.JadeLeeAuthor.com / www.KathyLyons.com
THE GROOM'S GAMBLE by Jade Lee – Jan 2014
WHAT THE GROOM WANTS by Jade Lee – Feb 2014
To comment on Jade Lee's blog please click here.