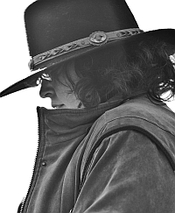 When I was a child reading my grandmother's Louis L'Amour books, I was always impressed by the author's note that said if there was a stream mentioned in the book, that stream was really there. When I started writing books of my own, I realized that, while it was one thing to write about a geographical landmark or historical saloon, it was another to write about modern businesses that changed hands or names or even disappeared in the time it took to write a chapter. It was still another to write about unsavory characters doing unsavory things in real-life establishments owned by actual people who might sue you. And what if the place you need to write about doesn't actually exist—but for the sake of the story, ought to?
My detective, Jared McKean, operates in and around Nashville, Tennessee, and if I need him to go to a place that exists in the real world, all I need to do to describe it accurately is go there and look around. In A CUP FULL OF MIDNIGHT, the second book in the series, I needed a place for Jared to take a woman in whom he has a romantic interest. I sent him to La Hacienda, a Mexican restaurant my husband and I have patronized for a decade.
A mustached waiter led us to a table near the big screen televi­sion and seated us beneath a super-sized mural of Carlos Santana. Flames billowed from the neck of his guitar and mingled with loops and swirls that represented sound waves. Elisha peeled off her coat, draped it and her purse over the back of her chair, and then slid into the seat. Beneath the coat, she was wearing a royal blue sweater and black pants. A chunky lapis and gold bohemian necklace dangled between her breasts; gold gypsy earrings peeked out from a torrent of molasses-colored hair.
Maybe I should have stuck with the tan jacket.
"I wasn't sure you'd call," she said.
"I had it on good authority that I'd be crazy not to."
She laughed. "That's gratifying, I suppose." She brushed a hand lightly on the wall beneath the mural. "Nice."
If you go to La Hacienda, you can sit where Jared and Elisha sat, by the mural of Carlos Santana. I felt comfortable using this setting because it's represented in a positive light and it seemed a fitting homage to a place that has given me encouragement and support—not to mention some delicious fajitas—over the years. Had I needed some criminal activity to take place there, I would have invented a restaurant or at least left myself some plausible deniability.
There are times when a setting is based, loosely or closely, on a real place that no longer exists. A biker bar a few miles from my home was the inspiration for the First Edition Bar & Grill, where Jared meets a woman who will change his life—and not for the better. I went there on a weekday afternoon and scribbled down detailed descriptions of the bar, which I later blended with my own ideas of what a bar with a newspaper-themed name should be.
The First Edition was originally conceived as a retreat for journalists and reporters—cozy and intimate, with a clientele who wore tweed jackets with suede patches on the elbows. It had changed hands several times since then and had finally evolved into a cramped sports bar catering primarily to good ol' boys and bikers, but the decor retained vestiges of its past. Ancient printing presses and yellowing early editions of The Tennessean and The Nashville Banner shared shelf space with NASCAR photos and neon Bud Light signs. A Jeff Gordon ball cap hung from the half-empty potato chip rack, a rubber arm jutting from beneath it.
Finally, there are places, like The Masquerade, a vampire-themed club, that exist only in Jared's Nashville. I placed it in a real-life neighborhood, where if we did have such a club, it would not be out of place. The other landmarks in the area are very much real, making The Masquerade more believable, even to locals, who often ask if it really exists. In the end, what matters is making Jared's Nashville real as real to readers as it is to him. I hope I've done that.
One commenter will win his or her choice of either RACING THE DEVIL or A CUP FULL OF MIDNIGHT.
Jaden Terrell is the author of the Jared McKean mysteries and a contributor to Now Write! Mysteries, a collection of exercises published by Tarcher/Penguin for writers of crime fiction. Terrell is the executive director of the Killer Nashville Thriller, Mystery, and Crime Literature Conference and a recipient of the 2009 Magnolia Award for service to the Southeastern Chapter of Mystery Writers of America. Learn more at http://www.jadenterrell.com.
To comment on Jaden Terrell's blog please click here.