This is Frank "Boss" Knight.  And his nickname says it all.  He's the man, the head hancho, the big Kahuna.  And at Black Knights Inc., the custom motorcycle shop that provides the cover for his clandestine government defense firm, the buck stops with him – much to our heroine Becky's intense chagrin.  A former Navy SEAL, Frank may spend his days as a simple motorcycle mechanic, but his nights are filled with the kind of missions too hot for Uncle Sam to handle.  With the help of his wickedly sharp KA-Bar knife and his custom-made Harley – appropriately named Boss Hog – he's not the type of guy you want to cross.  Gruff, tough, and built like an Abram's tank, Frank is all man.  But in the arms of our heroine, his hardened exterior softens to reveal a sweet and tender heart.

If you asked Frank why he takes the jobs no one else would touch with a ten foot pole, he'd mutter, in that booming base of his, "Because somebody's gotta do 'em."  And if it's not obvious from the hard line of his jaw, the scars on his face, and the grit in his eye, he's done more than his fair share.  Frank lives in a world that asks for guts and gives no glory, but he wouldn't have it any other way.  He doesn't need the spotlight, medals, or accolades.  All he cares about are the men who work for him and accomplishing the mission at hand so he can get back home to sharpen his knives, take a ride or two out on the open road, and keep a wary eye on Becky – the woman who's both the bane of his existence and all his fantasies come to life.
So check out IN RIDES TROUBLE and watch our spunky heroine bring this ultra-tough guy to his knees!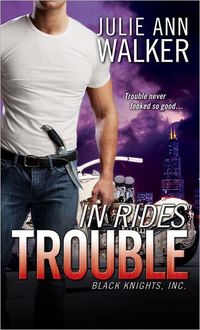 IN RIDES TROUBLE BY JULIE ANN WALKER – IN STORES SEPTEMBER 2012
Black Knights Inc.—Behind the facade of their tricked–out motorcycle shop is an elite special ops team assigned the jobs too hot for anyone else to handle.
Rebel With A Cause…
Becky "Rebel" Reichert never actually goes looking for trouble. It just has a tendency to find her. Like the day Frank Knight showed up at her door, wanting to use her motorcycle shop as a cover for his elite special ops team. But Becky prides herself on being able to hang with the big boys – she can weld, drive, and shoot just as well as any of them.
Man With A Mission…
Munitions, missiles, and mayhem are Frank's way of life. The last thing the ex-SEAL wants if for one brash blonde to come within fifty feet of anything that goes boom. Yet it's just his rotten luck when she ends up in a hostage situation at sea. Come hell or high water, he will get her back – whether she says she needs him or not.
ABOUT THE AUTHOR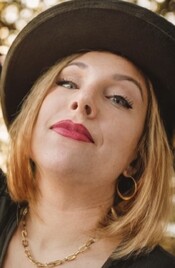 Deep in the heart of the Windy City, three things can be found at Julie Ann Walker's fingertips: a keyboard, a carafe of coffee, and a sleepy yellow Labrador retriever.  They, along with her ever-patient husband, keep her grounded as her imagination flies high. Look for the first and third books in her fast-paced series: HELL ON WHEELS (August 2012) and REV IT UP (October 2012). For more information, please visit www.julieannwalker.com or follow her on Facebook www.facebook.com/jawalkerauthor or Twitter @JAWalkerAuthor.
NOTE: (All photos in this post I own outright or purchased the right to use through Dreamstime Stock Photos)
To comment on Julie Ann Walker's blog please click here.