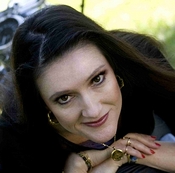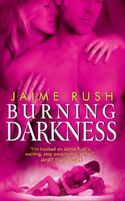 Fonda Raine lives for one thing: killing Eric Aruda for slaying her lover. But she'll have to be careful–Eric can set fires with his mind. Seconds from plunging a knife into his heart, an assassin tries to take them both out. Now, she must choose: join forces with the man who's burning through her defenses or go down in flames.
I didn't intend to write a story about two enemies who fall in love, but as my series evolved, I knew that there was no better heroine for my bad boy Eric Aruda than the feisty woman whom he wronged so badly. Not only do these two believe the other is the bad guy, Eric murdered her lover in a most horrendous manner. So how could I possibly, and realistically, bring these two together? It could not be love at first sight, even if their bodies betray them with their reactions to the other's physicality.
Once the idea of these two popped into my head, I loved it. Mostly, I loved the challenge from the writer's point of view. Of course, it has to happen slowly. On the other hand, they can't hate each other for a lot of the book either. Who wants to read about two people blaming and bickering and arguing? For Burning Darkness, I tempered Eric's anger. He was tired of being in combat mode all the time, thinking the danger is finally over. Next thing he knows, this chick who seduced him into going to her motel room is about to kill him. So even when he gets the upper hand, and should kill her, he can't bring himself to do it. That scares him, because he's killed before and even secretly enjoyed it. So why can't he kill this woman who clearly hates him?
Most fun for me was forcing these two to work together when they suddenly face an even bigger enemy gunning for both of them. What could be worse than having to eat and sleep and spend every minute with someone who you wanted to kill, or who wanted to kill you? Then the slow realization for Eric that he gave her a good reason to kill him, that he never considered that she was a witness to that murder of a man she thought she loved. More painful for her is that Eric isn't the cold killing machine she believed him to be, that he, in fact, had good reason to kill her former lover.
What's the appeal of the enemies to lovers theme? Being enemies is one of the ultimate romantic conflicts because the characters have to change so much before they can find love. That might include admitting they were wrong. Or duped.
I asked my buds on the Dangerous Hero Addict Support Group on Goodreads what appealed to them about this theme? One reader said, "I think it's that thin line between hating and yet at same [time] wanting the other person that draws you into the story. It happens through no fault of their own that the h/h (hero/heroine) end up on opposing sides whether it be a murder, family ties, or both. I also like how h/h come together to resolve/solve the underlining issue/conflict to discover a newfound awareness of the other that IMO should build slowly/given time to evolve."
Another reader couldn't explain why, but she loved it.
One reader had a different view: "To me, enemies to lovers = I'm deeply in love with you, but I don't know how to tell you, so I'm going to fight you. The fight occurs, because someone or both parties want the strong magnetic pull to go away, but at the same time, they don't want it to go away."
"I always like these types of stories because the h/h have to overcome their preconceived notions of each other," another reader posted. "To me this makes for an even deeper connection and love because it's so much harder won, and because it's truly based on KNOWING the person instead of liking a few things about a person."
As a writer, I love the intense emotions the conflict creates, and watching those emotions flare into something deeply romantic. For romance, that's as hot as it gets.
I'm celebrating the release of BURNING DARKNESS with my Kick Butt First Line contest. Shocking, suspenseful…make us want more! Cash prizes! Contest runs from Feb 1 through March 1, 2011. For aspiring authors, it's a chance to get your name out there and add a "win" to your bio. For readers, it's a chance to play at being a writer. Even if you're not inclined to write a line, check out the entries—they're a lot of fun! For details, go to www.JaimeRush.com and click on the Contest link.
QUESTION: What do you consider an "unforgivable" act committed by a hero or heroine?
PRIZE: A copy of BURNING DARKNESS. Signed bookplate can be sent to the winner upon request.
Cheers,
Tina Wainscott
Writing under Jaime Rush
BURNING DARKNESS (Out Jan 25th!)
RT, The Romance Reviews,
and Night Owl Romance Top Picks!
www.jaimerush.com Where X-Files meets Lost
To comment on Jaime Rush's blog please click here.