The Reluctant Rake – excerpt
Sir Richard Beckwith emerged from his elegant town house on a chilly spring evening wearing a black silk domino over his dark gray pantaloons and long-tailed coat of dark blue superfine. Any one of his friends would have been astonished to see him in this guise, still more to see him out of evening dress at nine o'clock. Had they known that a pocket of the domino held a black mask, they would have been dumbfounded.
None of Sir Richard's exclusive circle was likely to see him tonight, however. When he hailed a hackney cab and climbed in, he directed it to a part of London little frequented by the haut ton. If certain of its men from time to time made their way through these unsavory streets, they did not mention such excursions in polite society.
A cold mist rose from the greasy cobblestones, enlivened here and there by hoarse laughter and singing as the hack rattled past some gin mill or bawdy house. One victim of blue ruin went so far as to grab for the cab, hoping to jerk its occupant into an alleyway and fleece him. He missed his target, however, and fell flat in the garbage-filled gutter with a curse.
Through the ride, Sir Richard sat impassive, his regular features immovable as stone, his gray eyes cold. If his goal was amusement of the type his class usually sought in this neighborhood, he went about it with an odd implacability.
The hack pulled up before a broad, soot-stained building that turned a blank facade to the street. Its windows were obscured with bars outside and heavy draperies within. Wooden double doors, firmly closed, revealed only a carved peephole at eye level.
"You sure of that h'address, guv?" wondered the driver.
"Yes." Beckwith handed him a small coin, allowing him to see one of larger denomination in his hand. "Wait for me nearby. I'll call when I want you. There's a guinea for you if you come when I call."
The man stared at the money, greed warring with his desire to return to safer streets. "Right," he said finally.
Beckwith pulled up the hood of the domino and put on his mask, then knocked sharply on the wooden door with the head of his cane and waited.
The peephole opened, and a bloodshot blue eye surveyed him with suspicion. Abruptly, the hole closed, and the bolts were shot back, allowing the door to open a crack.
"I am here for the meeting," Sir Richard declared.
"Password," came a hiss from the dimness.
"Chaos," he answered, in a tone that suggested he found the word offensive.
The door swung open. Inside was a sharp contrast to the dirty street. A rich, red Turkey carpet covered the floor, and the narrow hallway boasted French wallpaper and gilt sconces. Though the individual in charge of the door was distinctly rough-hewn, the footman who indicated that Sir Richard should follow him would not have looked out of place in Grosvenor Square.
He ushered Sir Richard into a large room at the back of the building. It was furnished with the armchairs and side tables of a gentleman's club, but the inhabitants were not so familiar. Many wore domino and mask, like Sir Richard. Others had clearly cast off these disguises with their third or fourth brandies and were loud with the effects of drink. The buxom young women who served them endured their fondling and leers with good-humored impertinence, and a sharp eye for the banknotes that were continually being folded and thrust lingeringly into bodices.
The din was significant, and the air was heavy with the fumes of alcohol and candlewax and the clashing scents of pomades and cheap perfume.
Sir Richard found a vacant chair in a dim corner and sat down. When one of the serving girls came up to him, he ordered brandy, but he spoke to no one else. He had come with a purpose, his demeanor said, and he would allow nothing to distract him from it.
At last, there was a stir at the back of the room, and one of the other masked guests stepped from a chair to a tabletop there. "Gentlemen," he cried above the din. "Gentlemen!"
The volume of sound decreased somewhat.
"Gentlemen," said the man again. "We have a rare treat for you this evening. Indeed, I think I may safely say we have a unique entertainment in store. Its like hasn't occurred in our time, at least. I couldn't vouch for our grandfathers."
This elicited a roar of laughter and vulgar sallies from the crowd, which was beginning to gather around the table. Beckwith joined them; he had recognized the voice of the speaker, and his lips were drawn tight in a thin line.
"May I present to you," continued the self- appointed master of ceremonies, "Bess Malone." He jumped lightly down from the table and offered a hand to someone. In the next instant, a slender girl had stepped from chair to table and stood facing the audience.
***
Excerpted from The Reluctant Rake by Jane Ashford. © 1987, 2019 by Jane LeCompte. Used with permission of the publisher, Sourcebooks Casablanca, an imprint of Sourcebooks, Inc. All rights reserved.
How to Beguile a Baron – excerpt
"It really does look splendid, does it not?" said eighteen- year- old Susan Wyndham, turning before the long glass to admire the flowing line of her pale green ball gown.
"Splendid," agreed her second cousin Georgina Goring, her twinkling gray eyes the only sign that this was at least the sixth time she had done so.
"I told you the ruffle at the hem would become me." Susan whirled to make the skirt bell out. "I am so glad I convinced the dressmaker to copy that pattern from La Belle Assemblée, in spite of her ridiculous objections. I do want to look stunning for my first ball."
Georgina, her expression wry as she thought of the turnup with the dressmaker, admitted to herself that Susan could hardly have looked ill. Her much younger cousin was exquisitely pretty, and had been since Georgina first met her at the age of six. Her hair was glowing red and her eyes sparkling green. She had the delicate figure of a Dresden shepherdess and the endurance of a navvy. If only, thought Georgina, her character was as perfect as her face, I shouldn't worry for a moment. She sighed softly. For Georgina, at the relatively young age of twenty- nine, had been put in charge of Susan's debut in society. Susan's mother was fully occupied at home with a brood of younger children— the result of her second marriage— and though there was great love between Anabel and her spirited daughter, the former was a confirmed country dweller and only too glad to delegate her responsibility. Susan's grandmother, Lady Sybil Goring, had happily taken it on, inviting the girl to her London town house and promising a variety of treats, but she had not been well lately, and a short visit by Georgina had been prolonged to allow Lady Goring to recover before resuming her social duties.
Georgina sighed again. Aunt Sybil believed herself within a few days of robust health, but the doctor's opinion was far different. It had been clear to Georgina for some time that she would be Susan's chief guide through the shoals of the opening Season. And this was doubly ironic—first because Georgina's own debut had been far from auspicious, and second because she was not at all certain she could control her young cousin, or even influence her.
Almost from birth, Susan Wyndham had been possessed of a lightning- quick temper. This had made her a difficult child, and it showed small sign of moderation, in Georgina's opinion, with the passage of years. The trouble with the dressmaker was only one example. Georgina had mediated a series of disputes since the girl's arrival less than two weeks ago.
In all other ways, Susan was charming, and her anger dissipated rapidly and completely, leaving her sheepish and apologetic. But in the first white heat of combat, she was formidable, despite her youth, and Georgina did not relish the prospect of chaperoning her among the haut ton.
There were many who would delight in rousing Susan, once her character was known, to discover how far she would go when angry, and Georgina shuddered to think of the consequences. Thus, her responsibility weighed heavily on her, obscuring any enjoyment she might have anticipated from the Season.
Of course, she expected little in any case. Georgina was more at home in a country town than in a drawing room. She had learned something of the ton's rituals during her own come-out ten years before, but her performance of them had been no more than adequate. She had arrived in London a bookish, overplump, and somewhat sullen young girl, resentful of the necessity to "come out," and though she had changed a great deal during those weeks, and even more in the years that followed, she was no more fond of town life. She wished, as she had many times in the last few days, that she could return to her quiet home. Though Papa had died four years ago, and she missed him, Georgina was content with her novels, her household tasks, and the round of visits and entertainments of country neighbors. That was the sort of society she loved, and in which she shone—a close-knit group of friends who shared both interests and experiences. Faced with Susan Wyndham, Georgina felt alarmingly like her clumsy young self, helpless in the grip of events and nearly certain the outcome would be disaster.
"Georgina," said Susan, her tone making it clear that she had spoken more than once. "What is the matter with you?"
Her cousin looked up, startled. "Nothing."
Susan surveyed her with pursed lips, deploring yet again Georgina's woolly-headedness. She did not understand how Georgina managed to get through a day without falling into the fire or walking in front of a moving carriage. Half the time when one spoke to her, she didn't hear, and when she did, the answers she gave were usually nonsensical. Only yesterday, as they'd been walking along Bond Street among the smartest shops, Susan had pointed out a ravishing bonnet and Georgina had answered, "She is his sister, I think, not his wife." It had turned out she was talking about a pair of complete strangers and paying no heed to Susan at all. Indeed, she often seemed oblivious of Susan, a trait which she found downright insulting. How unfortunate it was that Grandmama should be ill just now, Susan thought, not for the first time: for her own sake, of course, and also for Susan's. Georgina was a far less promising chaperone. Grandmama knew everyone and could have pointed out the notables and told their histories. Georgina would know hardly anyone. It was vastly irritating, and it might even, she worried, interfere with Susan's unwavering ambition to become a celebrated belle. Lady Goring was the picture of fashionable elegance and widely respected; all would notice her cherished granddaughter. But Georgina was unfashionable; there could be no two opinions about that.
There was nothing actually wrong with her appearance. She was of medium height, taller than Susan, and had a pleasing fine-boned frame. Her hair was a delicate pale blond and curled naturally into tendrils about her head, though it was not dressed in the latest mode, Susan thought. Her thickly lashed gray eyes were very striking, dominating an oval face with a straight nose and beautifully etched mouth above a determined chin. Susan freely admitted that Georgina had a way of moving, or turning her head slowly, that took one suddenly aback and revised one's opinion of her abruptly. At such times, there was an immense dignity and elegance in her carriage. If only she would make a push, lamented Susan silently, she could be quite fashionable. But no hint of Susan's seemed to reach her. Georgina went on wearing sadly simple gowns in the dullest colors. Her ball gown was a glaring example; it was of a washed- out rose and devoid of the simplest trim—not a ruffle or a knot of ribbon embellished its flow to the tips of Georgina's kid slippers. How could she expect to be distinguished in a garment such as that? wondered Susan with irritation.
She raised her eyes, met Georgina's gray ones, and had the uneasy feeling that her cousin knew exactly what she had been thinking. That was another trouble with Georgina. She saw through one in a way that Grandmama never did.
The corners of Georgina's mouth turned up a little, but she suppressed her smile. She was indeed fully aware of Susan's opinion of her clothes. But she disliked disputes, particularly with hot- tempered opponents, and she was too kind to point out that Susan's idea of elegance was rudimentary. Georgina prided herself on her taste, but the effect was too subtle for a girl fresh from the schoolroom and of a radically different temperament and coloring.
"We should be going," said Georgina. "The carriage is probably waiting."
"Oh yes," answered Susan, forgetting all else in her excitement over the coming ball. "I'm ready."
Smiling, Georgina indicated her wrap, and the two walked downstairs side by side, contemplating the evening ahead with rather different emotions.
***
Excerpted from How to Beguile a Baron by Jane Ashford. © 1985, 2019 by Jane LeCompte. Used with permission of the publisher, Sourcebooks Casablanca, an imprint of Sourcebooks, Inc. All rights reserved.
—
Comment to win a copy of THE RELUCTANT RAKE! If you could live in a different time period, which would you choose and why? 
—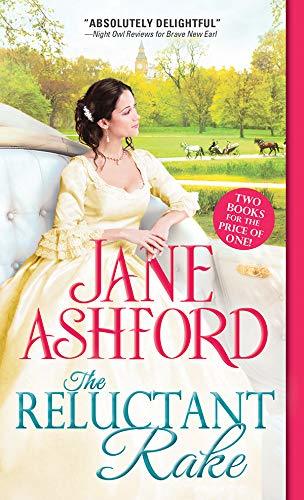 The Reluctant Rake
Proper, elegant Miss Julia Devere is shocked when she spies her fiancé in the arms of another woman. She awakens to the fact that the game of love can be played by very different rules than her own. And unless she can beat this new mistress at her own game, Julia stands to lose all that she suddenly realizes she wants.
How to Beguile a Baron
Miss Susan Wyndham's and Miss Marianne MacClain's debut at the first ball of the season is ruined when they realize they're wearing the same gown—and enamored of the same gentleman. Randal Kenyon, Baron Ellerton, is the most eligible lord in London. And far from making peace, he sparks a battle between the pair of dazzling young beauties who now want only him.
Romance Historical [Sourcebooks, On Sale: October 29, 2019, Mass Market Paperback / e-Book, ISBN: 9781492697930 / ]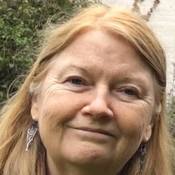 Jane Ashford discovered Georgette Heyer in junior high school and was entranced by the glittering world and witty language of Regency England. That delight was part of what led her to study English literature and travel widely in Britain and Europe. Born in Ohio, she has lived in New York, Boston and LA, her writing life punctuated by breaks where the fates intervened and swept her off in different directions.
Jane has written historical and contemporary romances. Her books have been published in Sweden, Italy, England, Denmark, France, Russia, Latvia and Spain, as well as the U.S. She has been nominated for a Career Achievement Award by Romantic Times Magazine.