Welcome to Fresh Fiction, Kate! Can you tell us a little bit about yourself, and your new book, THIS EARL OF MINE?
Hello and thank you for having me! I write historical romance as both Kate Bateman and K.C. Bateman. I'm originally from England, but now live in the USA, and I'm a complete history geek!
Before I started writing romance, I spent fifteen years as a fine art & antiques appraiser in the UK, running my own auction house, and I still have a not-so-secret double life as a TV antiques expert/appraiser on several British antiques TV shows. In 2011 my husband's job moved us to the USA and I decided to try my hand at writing historical romance, (I was already an avid reader.) Now I get my history fix by sneaking real historical facts into my plots.
My latest release, This Earl Of Mine, is a marriage-of-convenience with a twist. It features my favorite kind of independent-minded heroine and a sexy, snarky, Bow Street Runner who turns out to be her nemesis/perfect match. There's lots of flirty banter, unresolved sexual tension, and a true historical plot to rescue Napoleon from exile on the island of St Helena via submarine!
Georgiana Caversteed is an heiress trying to avoid getting married – the only people interested in her are fortune hunters, and she's sick of it! So she comes up with a wild plan to avoid getting married. . . by actually getting married. . . to a condemned criminal. . . so she can immediately become a widow (of course, fate has other plans). I loved Georgie's tenacity and drive toward independence! What were your favorite things about creating her?
I love writing 'badasses in bodices': heroines who are intelligent, witty, and stubbornly rebellious. Women have, historically, been constrained by society, but there are always those who refuse to accept the status-quo, and Georgie is one of those women. She's confident in her own abilities and determined to challenge the role that society has set out for her. Of course, things never go to plan, and there's nothing better than setting a clever woman at odds with an equally clever man—and watching the sparks fly!
Georgiana thinks she's found the perfect man for her plan – Benedict Wylde, who is actually undercover at Newgate Prison. Suddenly Georgiana's marriage of convenience is incredibly inconvenient! Ben wants to actually try to make their marriage work, but Georgie is hesitant. What will readers love most about Benedict?
Benedict is an experienced soldier-turned Bow-Street Runner, and he's as good at bending the rules as Georgie is. He's wickedly funny, ridiculously good-looking, and more than willing to trade scandalous quips with Georgie. He's also pragmatic, loyal, and fiercely protective of those lucky enough to be called his friends. Prepare for a new book boyfriend!
Georgiana is a great historical romance heroine – she strives for independence and knows she can survive on her own, but because of the historical setting, she's limited in how far she can actually go. How did you find a balance between what could be construed as "modern sensibilities" and how they fit in the regency time period? Any interesting historical facts you discovered during your research?
As an author, I'm always aware that I tread a fine line between complete historical authenticity and writing a book that people actually want to read, and characters they can relate to. While I try to stick as closely as possible to the feel and social rules of the era in which I'm writing, I never forget that I'm creating historical fiction for a modern audience. It is, above all, an escape, a historically-flavored fantasy, and I think readers are happy to suspend their disbelief to a certain extent in order to be entertained. We all know there weren't hundreds of young, physically attractive dukes in the Regency–most of them were old, gout-ridden disasters–but we never seem to tire of them as heroes!
Plot-wise, I love watching my heroes and heroines struggling against the rules set for them by society. It sets up all kinds of interesting possibilities for drama and disaster! As to historical facts, the sub-plot of This Earl Of Mine is based on the discovery of a real Regency-era submarine. I'd had no idea that submarines had even been invented and used in warfare in 1816, but when researching I found an intriguing report of an American inventor named Robert Fulton who did just that. I incorporated ideas from that true event into the story – with a little artistic license of course!
Tomorrow is Halloween! Are you dressing up? If not, what would you dress up if you had a fabulous Halloween party to attend?
I'm definitely dressing up! I have three little monsters that will demand to go trick or treating. Last year I was Red Riding Hood, since Monster #1 was a werewolf, but this year I think I'm going to wear the 18th-century ballgown I had made recently and go as Marie Antoinette! Where can I find an outrageously large wig. . ?
What can readers expect from you next?
Book #2 in the Bow Street Bachelors Series is called To Catch an Earl and features another of my Bow Street heroes and an audacious jewel-thief heroine. It's an enemies-to-lovers, cat-and-mouse, forbidden-love flirt fest and I can't wait for everyone to read it!
In keeping with my theme of sneaking real historical events into my stories, To Catch an Earl has at its heart the true story of the theft of the French Crown Jewels from Paris in 1792. I love playing the author game of 'what if…' and wondering what happened to all those jewels, who stole them, and how they ended up where they did. In my version, some of them were stolen and hidden for the glory of France by a mysterious thief known only as the Nightjar . . .
(To Catch An Earl will be out in June next year – 2020).
Rapid Fire Random Questions
Favorite Romance Trope: Enemies to lovers, definitely. Give me snark-filled, flirting-as-fighting, matching wits protagonists and I will love you forever. My favorite examples from TV and film are: Elizabeth Bennett & Darcy from Pride & Prejudice (team McFadyen!), Indiana Jones and Marion Ravenwood, Han Solo and Princes Leia, Beatrice and Benedick from Much Ado About Nothing, Romancing The Stone, The Cutting Edge, Sally Thorn's The Hating Game, Loretta Chase's Jessica and Dain from Lord Of Scoundrels . . . I could go on.
Go to mani/pedi nail polish color: Rouge-Noir by Chanel. It's the perfect vampy dark red that makes you feel like a total badass femme fatale, even when you've just spilt coffee down your shirt and realize you're wearing odd shoes.
Do you dog-ear or use a bookmark in your books?: I try not to turn the corners down on books if I can help it, so I use whatever is nearby as a bookmark, which often includes drinks coasters, ticket stubs, and my kids' unfinshed homework.
Pancakes or waffles?: I'd have to say pancakes, but definitely the thin French crepe-style ones, not the thick American ones. With lemon and sugar please.
Favorite book from childhood: Goodnight Moon.
Morning person or night owl: Morning person.
First thing you'd splurge on if you won the lottery: A weekly massage. That would be glorious.
A song that will always cheer you up: Say A Little Prayer by Aretha Franklin
Favorite season: Summer. I love being warm. A cold Kate is a grumpy Kate. Just ask my husband.
You have a totally free afternoon – no deadlines, no obligations, no Twitter notifications! What do you do?: I'd catch up on my enormous TBR pile. A whole afternoon of uninterrupted reading, with a cup of tea and some chocolate sounds like heaven!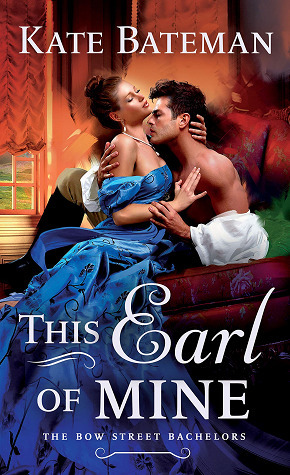 Introducing the Bow Street Bachelors–men who work undercover for London's first official police force–and the women they serve to protect. . . and wed?
WILL A FALSE MARRIAGE
Shipping heiress Georgiana Caversteed is done with men who covet her purse more than her person. Even worse than the ton's lecherous fortune hunters, however, is the cruel cousin determined to force Georgie into marriage. If only she could find a way to be . . . widowed? Georgie hatches a madcap scheme to wed a condemned criminal before he's set to be executed. All she has to do is find an eligible bachelor in prison to marry her, and she'll be free. What could possibly go wrong?
LEAD TO TRUE AND LASTING LOVE?
Benedict William Henry Wylde, scapegrace second son of the late Earl of Morcott and well-known rake, is in Newgate prison undercover, working for Bow Street. Georgie doesn't realize who he is when she marries him–and she most certainly never expects to bump into her very-much-alive, and very handsome, husband of convenience at a society gathering weeks later. Soon Wylde finds himself courting his own wife, hoping to win her heart since he already has her hand. But how can this seductive rogue convince brazen, beautiful Georgie that he wants to be together. . . until actual death do they part?
Romance Historical [St. Martin's Paperbacks, On Sale: October 29, 2019, Mass Market Paperback / e-Book, ISBN: 9781250305954 / eISBN: 9781250305954]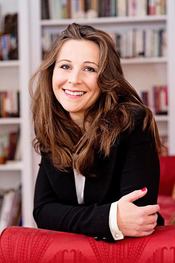 Kate Bateman, (also writing as K. C. Bateman), is the #1 bestselling author of Regency, Victorian, and Renaissance historical romances, including the Secrets & Spies series: To Steal a Heart, A Raven's Heart and A Counterfeit Heart. All her books feature her favorite feisty, intelligent heroines (badasses in bodices!), wickedly inappropriate banter, and sexy, snarky heroes you want to both strangle and kiss. Kate wrote her first historical romance in response to a $1 bet with her husband who rashly claimed she'd 'never finish the thing.' She gleefully proved him wrong. When not traveling to exotic locations 'for research', she leads a not-so-secret double life as a fine art appraiser and on-screen antiques expert for several TV shows in the UK, each of which has up to 2.5 million viewers. She splits her time between Illinois and her native England, and writes despite three inexhaustible children and that number-loving husband who still owes her that dollar.