A USEFUL WOMAN, A Rosalind Thorne Mystery by Darcie Wilde, the title caught my attention immediately—I had to swallow the affront that stuck in my throat. The audacity to say a woman is 'useful." The cover image of a historical era ballroom, however, explains the slight toward the female sex—the nineteenth century did not belong to us. And the author's name, Darcie Wilde, immediately brought a smile to my face as I thought of a famous Mr. Darcy created by Jane Austen.
Could there be a connection? Yes, ma'am. Darcie Wilde, or Sarah Zettel to those of us in the cozy world, has created a brilliant new series that embraces not only a historical mystery, but the style and romance of a Jane Austen novel. I absolutely loved this book and cannot imagine a better title.
I also had to interview the very useful woman who wrote this impressive new mystery. 🙂
Kym: Hi Sarah! Welcome to the Cozy Corner!
Sarah: Thanks so much for inviting me! I'm really excited to be here.
Kym: I love your new pseudonym, Darcie Wilde. Can you tell our readers how it came to be?
Sarah: It started out as a pseudonym for some new historical romances I was writing (Lord of the Rakes, An Accidental Abduction). Since I love a touch of humor and the satirical in my writing I decided to attach myself to the family of Oscar Wilde (I'm sure Oscar wouldn't mine), and the Darcie, is a nod to Jane Austen's Mr. Darcy.
Kym: You have a fascinating new release A USEFUL WOMAN, A Rosalind Thorne Mystery, that I absolutely loved! How would you describe Rosalind's life and her skills at sleuthing?
Sarah: Rosalind is, as the phrase of the time went "in reduced circumstances." She makes a kind of livelihood for herself organizing the lives and events for wealthy women who either aren't as good at it, or who don't want the bother. As a result, she's in and out of everybody's houses, knows all the people who make things actually happen and how the social world of London really functions, so when something goes very wrong, she knows how to track it to its source.
Kym: This series is set in nineteenth century London. What drew you to that time period.
Sarah: I am a fan of Jane Austen, of course, and I admit I love Regency Romances, especially the great Georgette Heyer, and, as I've said I write Regencies myself. All this led me to do a lot of research on the time period, which in turn led me to the phenomenon of "silver fork novels," which were a genre that got really popular around 1825. I started reading them, and found them a gold mine of cool ideas that were just waiting to be turned into novels.
Kym: I really enjoyed how you gave hints to the mystery, but kept Rosalind's suspicions close to her chest. The reader unravels your heroine's life as the mystery is revealed. Was this something you did on purpose, or was it just the way Rosalind developed on the page.
Sarah: A bit of both. I don't draft, per se, I pile and I layer. I really wanted the internal and external conflicts to run close together from the beginning, so as I was working out the external plots and motivations, I was able to go back in and layer more internal detail and motivation, and then rearrange everything to make sure that the pacing and the revelations (hopefully) flowed well together.
Kym: In A Useful Woman, Rosalind is trapped between the fairy tale romance she's always dreamed of, and a real romance with a very deserving man below her station. Do you see her choosing between the two, or do you see fate choosing for her?
Sarah: That would be telling.
Kym: LOL, you can't blame me for trying;) At the end of A USEFUL WOMAN, you hint toward Rosalind's next mystery. Can you divulge a bit more?
Sarah: Actually, I just finished it. A PURELY PRIVATE MATTER is pulled from a famous-in-its-time "criminal conversation" case involving the poet, Caroline Norton. We get money, revenge, privilege, blackmail and a look at the inner workings of the 19th century coroner's court…
Kym: I fell in love with your writing with the releases of TASTE OF THE NIGHTLIFE and LET THEM EAT STAKE, A Vampire Chef Mystery Series. And I admit, I adored Anatole, he was what I would currently describe as a Russian version of the television character, Lucifer. Is that how you pictured him when you wrote him?
Sarah: Ah, Anatole. When he was human, he was an oprichnik, one of Tsar Ivan the Terrible's secret police, and may be the only guy who mellowed out and left behind a lower body count after he was turned. Now he only has to be a monster when he chooses.
Kym: I was heartbroken when a third book didn't follow and I'm not the only fan who has begged for more. On your website, you've hinted that there might be plans to revisit Charlotte Caine and New York's undead community, can you tell us if they will be coming back to life in a third release?
Sarah: I will spare you the whole, "baseball insider" version of the situation, but some unforeseen and difficult circumstances surround the rights to the Vampire Chef books that have not been able to be worked out. I have tried all the avenues I can find, but unfortunately there's been no luck. This is not the fault of the great folks at PRH, or my fantastic editor, Jess Wade, it is just one of those unfortunate kinks in the sometimes complicated game of publishing. I am still looking for a way to make it happen, but I'm afraid that unless something new opens up, it will not be for awhile.
Kym: This is the perfect example of contracts taking a bite out of a great series, but I understand the complicated details. We will keep our fingers crossed! I'm glad you have so many other great series for readers to turn to, like your YA Historical series, Palace of Spies, set in King George I's court. Please tell our readers more about the series.
Sarah: Palace of Spies is the adventures of Peggy Fitzroy, who when the book opens is a penniless orphan about to be forced into a loveless marriage. She goes from there to meeting a pair of mysterious gentlemen (who probably aren't gentlemen) to impersonating a maid of honor at court, to ending up on the track of a secret letter that might (or might not) change the fate of the United Kingdoms…oh, I had fun with these.
Kym: I love the premise for your American Fairy series, a bi-racial young woman who also happens to be half-fae set during the dustbowl in early 1900s America. What was the biggest challenge you faced writing this series?
Sarah: Reality. No, seriously. Every time I thought I had the plot sorted out, I'd turn up some new bit of historical research that made me have to tear it apart and do it over. The biggest one came when I was researching Kansas City in the first book. Now, I make heavy use of jazz in the books, and the fae absolutely love the music and tend to kidnap or co-opt the musicians. And I found out (and I swear to Heaven above I am not making this up), that in the Thirties in Kansas City, one of the most sought after gigs for a jazz musician was an outdoor amusement park called…wait for it…Fairyland. Had to rewrite the entire last quarter of the book, because you do not let something like that slide.
Kym: Having lived in Kansas City for decades—I'm ashamed I didn't know that! I'll definitely have to revisit the Jazz Hall of Fame at 18th and Vine;) Which do you find more difficult to write, American Historicals, English Historicals, or the combination with paranormal elements?
Sarah: Every book presents a unique challenge. There's a truism that you don't learn how to write books, you learn how to write this book, and you learn to write it as you go. I will say that the first job of a writer, whether you're working in reality or next door to reality, is to create worlds that are consistent, thought through and rich, both internally and externally. That remains the same whatever the genre.
Kym: Can you tell our readers where they can find you on social media?
Sarah: Darcie Wilde is on Facebook, and Twitter (@Darcie_Wilde) and has a website . Sarah Zettel is also on FB and Twitter (@sarah_zettel) and her website is here. And, if anybody out there is a reader of paranormal cat cozies, they might check out A FAMILIAR TAIL by Delia James
Kym: Thank you for joining us at the Cozy Corner!
Sarah: Thank you so much for inviting me! This has been a lot of fun.
Until next time, get cozy and read on!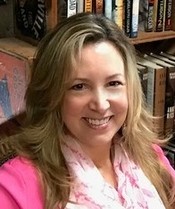 Kym
Roberts, author of DEAD
MAN'S CARVE, A Tickled to Death Mystery, DEAD ON ARRIVAL, A Malia
Fern Mystery, and DEAD RIGHT THERE, A Malia Fern Mystery—Coming 2016, is a
retired detective sergeant who looks for passion, mystery and suspense in every
book she reads and writes.
Website | Twitter | Facebook | Goodreads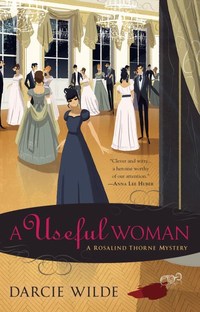 Inspired by the novels of Jane Austen, this new mystery
series set in 19th-century London introduces the charming
and resourceful Rosalind Thorne, a woman privy to the
secrets of high society—including who among the ton
is capable of murder…
The daughter of a baronet and minor heiress, Rosalind Thorne
was nearly ruined after her father abandoned the family. To
survive in the only world she knew, she began to manage the
affairs of some of London society's most influential women,
who have come to rely on her wit and discretion.
So, when artistocratic wastrel Jasper Aimesworth is found
dead in London's most exclusive ballroom, Almack's, Rosalind
must use her skills and connections to uncover the killer
from a list of suspects that includes Almack's powerful
patronesses and her former suitor Devon Winterbourne, now
Lord Casselmaine.
Torn between her old love and a growing attraction to a
compelling Bow Street runner, Rosalind must not only unravel
the mysteries surrounding Jasper's death, but the mysteries
of her own heart as well…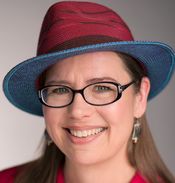 A longtime resident of the Great Lakes State, Darcie Wilde writes her sizzling-hot romances in Ann Arbor, Michigan. When not actually writing, she lives out her own happily-ever-afters with her husband of fifteen years, one rapidly growing son, one cat, and one writer's group of infinite patience.