Welcome back to Fresh Fiction! Can you tell us about your latest release, ONE MORE RIVER TO CROSS?
It's the story of a little-known wagon train trying to find religious freedom in Alta California and their remarkable survival in a terrible winter (in the same place in the Sierra Nevadas that the Donner party encountered two years later – with very different results).
It's incredible to know that ONE MORE RIVER TO CROSS was inspired by a true story. Where did you find out about this piece of history and what brought about writing an entire book about it? 
While researching another book I found a footnote that said, "Here's the cabin wherein 1844-45 8 women, 17 children, and James Miller spent the winter in the Sierra Nevadas."  Hmm, were they on a vacation?
There's a group of women in this novel who have to survive the unthinkable while taking care of children and keeping them all alive in harsh conditions. Their strength and resilience are inspiring. What sort of research did you do about survival tactics? Did you learn anything about the actual women who went through this journey? 
Sheltering each other, collaborating and keeping a focus on what really mattered were the primary survival attitudes that I think mattered more than even rationing food. Pine needle soup is not a good idea in the Sierras I learned. And being generous with tiny morsels makes us stronger than hoarding. And yes, I learned that Sarah Montgomery, wife of the gunsmith who stayed behind to guard his guns, was a quilter and was illiterate. But she later learned to read, and she held the first quilting Bee in Sacramento in 1847. Mary Sullivan traveled with her three brothers. She was Irish Canadian, and she was listed as being on the journey, wasn't listed as arriving with the rest of the party, but married a man who worked at Sutter's Fort so there is a mystery that gave me room to speculate. Ellen Murphy was a "raving beauty" and went on to help found Stockton, CA with her husband. Two Murphy wine gave birth along the way, imagine that! And the wife of the doctor got healthier by the end of the journey.
You've written throughout so many different historical time periods throughout your long career as an author! Is there a time in history you'd like to tackle that you haven't yet? 
Medieval. I traveled to Italy where all those old walls exist, and I started dreaming of life back then.
Summer is winding down. . . what was a fun memory from this summer you can share with us? Any big plans for the Autumn? 
A lovely family reunion in Wisconsin, a wedding in Minnesota, a memorial that my cousin wanted a rock band to play at and my husband (89 years old and with 13 crushed vertebra) felt good enough to dance. Two dances.  Slow.  Very slow but precious. Plans for autumn? Talking about my new book in Portland, Denver, San Antonio, and Houston. And getting ready to head to California for the winter – something we've never done before. Going to the hot desert rather than living in the high desert of Central Oregon. Feels good to not be too old to try new things.
We love book recommendations from authors! What's something you recently read and loved?
I recently read Yours Truly, Thomas (Revell) by Rachel Ford Beckham that made me want to write about the goodness of a small town with big hearts. News of the World by Paulette Jiles was a National Book Award finalist. I loved that book set after the Civil War in Texas about an old man and a little girl. The Faith of Elizabeth II by Dudley Delffs I got to read for endorsement. It's an inspiring read. Sooo many more!
What can we expect from you next? 
I just finished a book with a working title Something Worth Doing. It spans 40 years based on a remarkable woman Abigail Scott Duniway.  She married at 18, was a mom of 6 kids, her husband was loving and disabled, she wrote 22 novels, ran a school and a millinery, operated her own newspaper extolling women and women's rights for 17 years and gave 1700 speeches about the value of women being able to vote.  Oh, and she managed six campaigns in Oregon to get that vote!  Her biggest rival was her brother who was the editor of the competing newspaper. I wanted to explore what price she paid to become such a passionate voice for women. I'm also writing a chapter about her for a book called Eminent Oregonians. They'll both be out next year.
Rapid Fire Random Questions
Favorite animal: Dog. Sadly we had to put one of our dogs down this year. But we still have a Cavalier King Charles Spaniel named Caesar! He owns us.
Coffee or tea: Tea, unless it's a latte.
Favorite book to re-read: English Creek by Ivan Doig and The Hearts of Horses by Molly Gloss
Beach or mountains: Beach (though I live in the mountains so of course, I like heading to sand and water!)
When you were younger, what did you want to be when you grew up?: A missionary, a journalist and a secretary.  I wrote that when I was 13.
Dream vacation: Back to Italy. . .
Aside from reading and writing, what are your hobbies?: Walking the dog. Binge-watching on Netflix. Working on behalf of the Batwa of Burundi, a partnership with these indigenous people, African Road, and First Presbyterian Church.
Five people you'd invite to your book club (dead, alive, fictional, etc.!): The dog in Racing with the Rain; Eleanor Roosevelt; Abigail Scott Duniway (my subject for the next book); the women of the wagon train in One More River To Cross to ask them if I captured their stories true.
Favorite movie: Mrs. Doubtfire.
You have a totally free afternoon – no deadlines, no obligations, no Twitter notifications!  What do you do?: Go to Pilates then sit in the sun/shade and drink an almond milk latte and watch the geese at Mirror Pond/ Drake Park in beautiful downtown Bend, Oregon and express my gratitude for the gifts of my life.
In 1844, two years before the Donner Party, the Stevens-Murphy company left Missouri to be the first wagons into California through the Sierra Nevada Mountains. Mostly Irish Catholics, the party sought religious freedom and education in the mission-dominated land and enjoyed a safe journey–until October, when a heavy snowstorm forced difficult decisions. The first of many for young Mary Sullivan, newlywed Sarah Montgomery, the widow Ellen Murphy, and her pregnant sister-in-law Maolisa.
When the party separates in three directions, each risks losing those they loved and faces the prospect of learning that adversity can destroy or redefine. Two women and four men go overland around Lake Tahoe, three men stay to guard the heaviest wagons–and the rest of the party, including eight women and seventeen children, huddle in a makeshift cabin at the headwaters of the Yuba River waiting for rescue . . . or their deaths.
Award-winning author Jane Kirkpatrick plunges you deep into a landscape of challenge where fear and courage go hand in hand for a story of friendship, family, and hope that will remind you of what truly matters in times of trial.
Inspirational Historical | Romance Historical [Revell, On Sale: September 3, 2019, Paperback / e-Book, ISBN: 9780800727024 / eISBN: 9781493419494]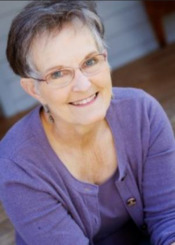 A New York Times Bestselling author, Jane Kirkpatrick's works have appeared in more than 50 national publications including The Oregonian, Private Pilot and Daily Guideposts. With more than 1.5 million books in print, her 30 novels and non-fiction titles draw readers from all ages and genders. Most are historical novels based on the lives of actual historical women often about ordinary women who lived extraordinary lives. Her works have won numerous national awards including the WILLA Literary Award, the Carol Award, USABestBooks.com, Will Roger's Medallion Award and in 1996, her first novel, A Sweetness to the Soul, won the prestigious Wrangler Award from the Western Heritage and National Cowboy Museum. Her novels have also been finalists for the Spur Award, the Oregon Book Award, the Christy, Reader's Choice and the WILLA in both fiction and non-fiction. Several titles have been Literary Guild and Book of the Month choices and been on the bestsellers list for independent bookstores across the country, in the Pacific Northwest and the Christian Booksellers Association. Her books have been translated into German, Dutch, Finnish, and Chinese.
***
Fresh Fiction Editorial Manager Danielle Dresser is an avid reader, lackluster-yet-mighty crafter, and accomplished TV binge-watcher. Once upon a time, she was a publisher publicist and continues to cultivate her love of books and reading by chatting with the best authors in the business. She lives in Chicagoland with her very own romance hero husband, darling daughter, and two tempestuous cats. Follow her on Twitter and Instagram, @dj_dresser.