Leah Rachel came to Hollywood ready to make a name for herself, but she quickly discovered that her true love wasn't always with performing but with writing and crafting her characters. With multiple shows in development and a new dramatic series with Netflix available now, Rachel is ready for readers to laugh along with her stories of love and woe in her new memoir LOVE STREET. Rachel stopped by Fresh Fiction to chat with us about LOVE STREET, the power of Instagram, and her favorite classic Hollywood films.
Hi Leah. Thank you so much for your time! Your new book, LOVE STREET, is full of essays about the ups and downs in your love life. Before we jump into the book, can you tell me a little bit about yourself, what inspired you to become a professional writer?
Basically, I came to Los Angeles Neely O'Hara style with no money and a vague dream of "making movies" when I was just out of high school. At first I wanted to be an actress, but quickly learned I liked writing so much more, instead. I was working as waitress when I wrote my first script, and a through a series of strange and wonderful events, that script got into the right hands and sold to HBO. Since then, I've written movies, TV shows, and now, a book! I never wrote when I was young, unless you count extensive diaries and notes — which actually, yeah, those totally count! So I guess I was always a secret little writer…
The book is structured a lot like a magazine with quizzes, essays, and stunning (vintage!) photography. What inspired you to go in that direction?
I've always been drawn to vintage pulp and old erotica magazines. I don't know why, maybe it's the colors or the trashiness or the nudity? But there was always one thing missing from all that — a female POV. Especially in regards to anything involving sexuality, the mags were always geared toward men's eyes and liking, so I wanted to sort of re-vamp a vintage men's magazine but for women. Trashy stories, erotica, bright colors and all, but for us this time. 
So many readers know you from your Instagram page and have been hungry for this book, how did you find the balance between putting in new content for your long-time readers versus the familiar content that you made your name creating?
Really the book is just an expansion of the Instagram. On Instagram, you get one picture and only a few words, which is great and challenging, but I got to expand upon all these thoughts and broaden the visual storytelling in the book. Sometimes as the stories opened up they got way darker than I initially thought. Goes to show we cover painful situations with humor, so it was a nice exploration and slap in the face that way. 
I know it's like picking a child but talk about some of your favorite photos in the LOVE STREET and why they were important to the book.
The cover photo is my dear friend Nesta Cooper, and it's obviously one of my favorites. She's wearing a vintage Victoria Secret bathing suit I bought at a flea market for two bucks, and the photo was taken on a disposable FujiFilm camera. We were just fooling around and I didn't think anything of it — and next thing you know it's the cover of my book! I also love the photos taken in and around Laurel Canyon, which is where I live. It's such an inspiring place to me and being able to photograph my friends in such a natural space felt special and pure. 
Let's jump into my favorite word — feminism — and how you have positioned yourself as a (cheekily) "bad feminist." What does that mean to you and how can other women be "bad feminists?"
It mean just do whatever the fuck you want and fight for other women. You can be a housewife and be a feminist. You can be a stripper and be a feminist. You can be president of a company and be a feminist. It means that being a feminist isn't about being perfect or having it all or even being 100% politically correct all the time — because that's unattainable and not real. Just do you and pull a woman up sometimes if you see her struggling. And love your titties and your brain. That's all. 
The first essay in LOVE STREET introduces George, a hot surfer with an unknown living situation. He charmed you and also brought you a sense of peace during your romance, but in the end, his unconventional spirit lead to your relationship fizzling out. Can you talk about picking this story first, because I really felt like it did such a great job of introducing your journey with relationships (and yourself), the dizzy feeling love gives us in our 20s, and what you learned you wanted in future relationships?
I told that story first because I think it really presents how eager I was in that period of my life to fall in love. How I would selectively see and hear things and my subconscious would block out any red flags to get me into the love bubble faster. Luckily, George was kind and touched my life in a weird way that taught me every lover leaves some sort of lesson that gets you closer to finding the right one. George possessed a "here'ness" and a freedom that was refreshing and wild. He had lost the instinct to fit into societal norms, and I think there's some sort of weird wish fulfillment in that…
What do you want readers to walk away with after finishing LOVE STREET?
I hope they feel less alone. And realize that we're all a bit of a mess on the inside, but also maybe that's the key to feeling genuinely alive. 
When you are not writing scripts and books, what are you watching, reading, and listening to right now that you would like to recommend?
I'm watching a bunch of old movies right now for research, so I just watched "Klute" and "3 Women." (I also watch "90 Day Fiancee" religiously.) Book-wise, I became recently obsessed with Eve Babitz and read "Slow Days, Fast Company" and "Sex and Rage" — which are both stellar. And in the ears? Dolly Parton and crime podcasts, baby. 
How can readers find out more about you and stay in touch with you?
I'm on Instagram as @TheYellowHairedGirl and love to converse with my readers. I also have a series out on Netflix right now starring Uma Thurman called CHAMBERS if you want to see some of my other (more spooky) work. 
Best,
LEAH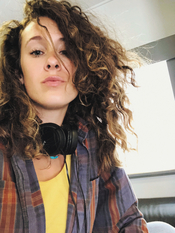 Leah Rachel lives in Laurel Canyon, CA. She spends her days writing, fantasizing, and messing up her relationships. She written movies and television shows for Universal, Lionsgate, Amazon, and HBO. She is currently working on the Netflix series "Chambers" starring Uma Thurman, which she created and wrote. In addition to all that name-dropping Hollywood f*ckery, Leah's alter-ego, @TheYellowHairedGirl has become one of her most honest and fulfilling artistic expressions.