1–What's the name of your latest release? 
The Library of Legends
2–What is it about? 
The story begins in 1937 when China and Japan are at war. The main character, Lian, must follow her university when they evacuate, before they get bombed out. The students, professors and staff begin a thousand-mile walk to safety, carrying their belongings, school supplies, even kitchenware. And they also carry the Library of Legends, a priceless ancient collection of Chinese myths.  
It turns out the mythical creatures described in the Library of Legends are also on the move, and that a celestial being travels with the students. As for Lian, she finds friendships and possibly romance. But family secrets make her a victim of political manipulation and she must distance herself from her classmates. Especially when one of them is found murdered.
3–What word best describes your main character(s)? 
Cautious. Because of her family's past, she is careful who she associates with.
4–What makes your story relatable? 
Readers are telling me that right now, the story echoes their own feelings about living in uncertain times.
5–Who are the people your main characters turn to when they need help? 
Their classmates, who are their community.
6–What do you love about the setting of your book? 
That it's set during a chapter of history – the evacuation of Chinese universities during the war – virtually unknown to the West, so it's fresh and interesting to readers.
7–Are you a plotter (follow an outline) or a pantster (write by the seat of your pants)?
I have good intentions of being a plotter but you have to listen to your inner writer sometimes and go into pantser mode when the plot just isn't working for you.
8–What is an ideal writing day for you? 
Two cups of coffee to get started. Close door to writing den. No interruptions. Get a ready-made lunch out of the fridge. Close door to writing den. No interruptions. Eat dinner that husband has made. Close door to writing den. No interruptions. Write until 2 am because it's going so well. You did say 'ideal'.
9–Do you listen to music while you write, need total silence, or do you have the TV on?
I listen to classical music on the radio. 
10– How do you approach research? 
I've read that historical novelists generally spend six months on research and I would say that's on the light side once you add up all the 'incidental' research you do once the writing is underway because something always comes up.
You always begin with the big picture research of that period in history and any people and events. Thank goodness for the Internet and Wikipedia because the references in Wikipedia articles lead you to books, papers, and authors cited in the article. I subscribe to JSTOR, a site that lets you access academic books and papers. Then finally, you end up having to actually buy books, the kind of reference texts and non-fiction you'll need to consult while writing.
11–What is your publishing journey story? 
One I wish I'd started 20 years sooner when this industry wasn't as tough! After university, I spent 20+ years in the high tech industry and really enjoyed it. But I also didn't want to end up 95 years old thinking 'why didn't I try harder to write a book?' – so I applied for and was accepted to a 1-year creative writing program and wrote about 75% of my first novel while taking the course. I met my first agent at a writing conference. A beta reader, who was an eminent Canadian author, bugged her editor to read my manuscript, and her editor ended up making an offer on my first novel.
12–Do you have critique partners/writing groups you want to give a shout-out to? 
Actually I don't because I'm too embarrassed to show my work to anyone except my agent and editors, and that's only because it's unavoidable. But with The Library of Legends, I did ask author Kate Quinn to read the first few chapters because those opening chapters have to do the big job of pulling readers in.
13–What're the most frustrating things about being an author? 
The business side of the industry.
14–What's your favorite scent?
Freesia.
15–What movie will you watch no matter what if it's on TV? 
The Lion in Winter. The first production starring Katherine Hepburn and Peter O'Toole.
16–Do you like breakfast, lunch, or dinner best? 
Dinner.
17–What's one thing you wish you knew more about? 
First Aid.
18–What's the silliest thing you've recently done?
Before going into isolation, some of my girlfriends decided to learn how to play mah-jong. We had a potluck lunch and it was a hoot.
19–What can readers expect from you next? 
More historical fiction with Chinese characters, but not necessarily set in China.
20–How can readers reach you?
Website: www.janiechang.com
Twitter, Instagram: janiechang33
Facebook: www.facebook.com/JanieChangWriter/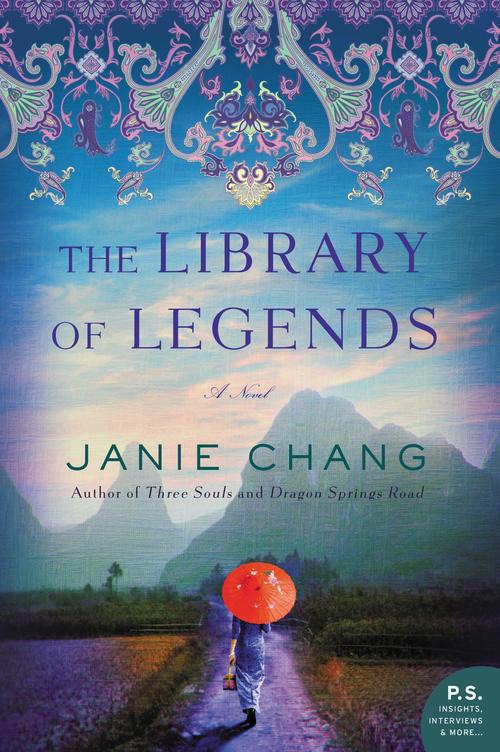 From the author of Three Souls and Dragon Springs Road comes a captivating historical novel—the third in a loosely-connected trilogy—in which a young woman travels across China with a convoy of student refugees, fleeing the hostilities of a brutal war with Japan.
"Myths are the darkest and brightest incarnations of who we are…"
China, 1937: When Japanese bombs begin falling on the city of Nanking, nineteen-year-old Hu Lian and her classmates at Minghua University are ordered to flee. Lian and a convoy of more than a hundred students, faculty, and staff must walk a thousand miles to the safety of China's western provinces, a journey marred by hunger, cold, and the constant threat of aerial attack. And it is not just the student refugees who are at risk: Lian and her classmates have been entrusted with a priceless treasure, a 500-year-old collection of myths and folklore known as the Library of Legends.
Her family's past has made Lian wary of forming attachments, but the students' common duty to safeguard the Library of Legends forms unexpected bonds. Lian finds friendship and a cautious romance with the handsome and wealthy Liu Shaoming. But after one classmate is murdered and another arrested, Lian realizes she must escape from the convoy before a family secret puts her in danger. Accompanied by Shao and the enigmatic maidservant Sparrow, Lian makes her way to Shanghai, hoping to reunite with her mother.
On the journey, Lian learns of the connection between her two companions and a tale from the Library of Legends, The Willow Star and the Prince. Learning Shao and Sparrow's true identities compels Lian to confront her feelings for Shao. But there are broader consequences too, for as the ancient books travel across China, they awaken immortals and guardian spirits to embark on an exodus of their own, one that changes the country's fate forever.
Based on true events, rich in Chinese history and lore, The Library of Legends is both an illuminating exploration of China's recent past and an evocative tale of love, sacrifice, and the extraordinary power of storytelling.
Historical | Multicultural Asian | Multicultural Historical [William Morrow Paperbacks, On Sale: May 12, 2020, Paperback / e-Book, ISBN: 9780062851505 / eISBN: 9780062851512]