1. I love how the setting is so important to your books – the neighborhoods, restaurants, cities, and homes all feel real. What made you choose LA as the setting for The Proposal? Are any of the places in the book based on real places?I knew THE PROPOSAL was about Carlos, and I knew Carlos grew up in LA and had a strong connection with the city and that his family was there, so the book had to be set there too! And probably about half of the places in the book are based on real places; I did some scouting trips to LA while I wrote the book, and I have a bunch of friends in LA who helped me a lot! The bookstore, in particular, is a great bookstore in LA: Skylight Books.
2. Family, both biological and found, are important support systems for your main characters, Nik and Carlos. How do their friends and family shape some of the decisions they make throughout the novel?
Friends and family are very important to both Nik and Carlos; for both of them, once someone is in their inner circle, they'll drop everything to help them no matter what, they pay attention and learn from them, and they take their advice, even when they don't like it. Just from the beginning, the way Carlos jumps in to rescue Nik from the camera crew by pretending they're long lost friends is something he learned from a story his cousin Jessica told him.
3. THE. FOOD. in this novel is absolutely wonderful! Between Carlos loving to cook, especially for Nik, as well as Courtney's cupcake shop, I felt like I had to get a snack every other page (not that I'm complaining). Do you like cooking and/or baking when you're not writing? Any recent recipes you'd care to share?
I love cooking when I'm not writing (and sometimes when I'm supposed to be writing). It's a great stress reliever for me, and I frequently have baked goods t give away to family, friends, and coworkers, since I don't actually have that big of a sweet tooth! I send out a recipe almost every week in my newsletter, and here's one for my favorite chocolate cake that I sent out recently. (Adapted a little from this recipe)
Double Chocolate Layer Cake
Ingredients
For cake layers
3 ounces semisweet chocolate
1 1/2 cups hot brewed coffee
3 cups sugar
2 1/2 cups all-purpose flour
1 1/2 cups unsweetened cocoa powder (not Dutch process)
2 teaspoons baking soda
3/4 teaspoon baking powder
1 1/4 teaspoons salt
3 large eggs
3/4 cup vegetable oil
1 1/2 cups well-shaken buttermilk
3/4 teaspoon vanilla
For ganache frosting
2 pounds semisweet chocolate
2 cups heavy cream
4 tablespoons sugar
4 tablespoons light corn syrup
1 stick (1/2 cup) unsalted butter
Equipment: two 10- by 2-inch round cake pans or three 8 by 2 inch round cake pans or cupcake pans and liners
For cake layers:
1. Preheat oven to 300 F and grease pans. Line the bottoms with rounds of parchment paper. Chop the chocolate (I always use a bread knife to do this) and and combine it in a bowl with hot coffee. Let the mixture stand, stirring occasionally, until chocolate is melted and mixture is smooth.
2. Into a large bowl sift together sugar, flour, cocoa powder, baking soda, baking powder, and salt. In another large bowl with an electric mixer beat eggs until thickened slightly and lemon colored (about 3 minutes with a standing mixer or 5 minutes with a hand-held mixer). Slowly add oil, buttermilk, vanilla, and melted chocolate mixture to eggs, beating until combined well. Add sugar mixture and beat on medium speed until just combined well. Divide batter between pans and bake in middle of oven until a tester inserted in center comes out clean, 1 hour to 1 hour and 10 minutes.
3. Cool layers completely in pans on racks. Run a thin knife around edges of pans and invert layers onto racks. Carefully remove parchment paper and cool layers completely. Cake layers may be made 1 day ahead and kept, wrapped well in plastic wrap, at room temperature. (Or, if you're doing something fancy to decorate it after, put them in the freezer: Smitten Kitchen has a lot of great tips about cake decoratinghere!).
For the frosting:
1. Finely chop chocolate. In a medium to large saucepan, bring cream, sugar, and corn syrup to a boil over medium-low heat, whisking until sugar is dissolved (you can also do this in the microwave, just do it on 50% power, and for about 30 seconds at a time). Remove pan from heat and add chocolate, whisking until chocolate is melted. Cut butter into pieces and add to frosting, whisking until smooth. Transfer frosting to a bowl and cool, stirring occasionally, until spreadable; it's much easier to do this by putting the bowl in the fridge, and taking it out to stir every 10-15 minutes until it's at the right consistency. Spread frosting between cake layers and over the top and sides. Enjoy!

4. Nik and Carlos are both reluctant to jump into a relationship, and also want to avoid placing a label on all the time they're spending together. Even though it's pretty clear to readers, our hero and heroine take their time accepting their feelings. I thought this was actually very realistic to dating in real life. Did you have this in mind from the start, or was it more of an organic development as the characters came to life?
It was definitely more of an organic development as the characters came to life. I had a sort of different plan for the way their relationship would develop when I sat down to write this book, but as I realized who each of them was and what their backgrounds and priorities both were, this progression of their relationship was what made the most sense to me.
5. You're currently on a book tour for the release of The Proposal. How exciting! What's been the best part about traveling the country and meeting readers?
I'm not sure if I can express how wonderful it is to meet people who have read and enjoyed my books! It's really incredible when people tell me they saw a part of themselves in my characters, or when something in one of my characters' lives resonates with their own life. I'm so grateful for everyone who had read my books!
6. I follow you on social media and I am always SO impressed by your lipstick. What are a few of your favorite brands and colors?
Oh, I have so many. I had a hard time narrowing down which lipsticks to bring along with me, let me tell you, so the ones I brought are some of my recent favorites: Fenty Stunna in Uncensored, Stila Stay All Day in Beso, YSL Lip Stain in 1, and Pat McGrath in Pink Ultraness.
7. What's next for you? Anything you can share about your next book?!!???
I'm hard at work at the next book right now! It's about two familiar characters from THE WEDDING DATE, and a big secret they're keeping from their friend. Look out for THE WEDDING PARTY next summer!
RAPID FIRE QUESTIONS:
Favorite way to be kind to yourself: Getting into the bathtub with a book
Best compliment you recently gave to someone: "I loved your book so much!"
Favorite flower: I love so many! Gerber daisies, roses, dahlias, and peonies!
Best vacation you've ever taken: A trip to Hawaii with a bestie a few years ago
Earliest celebrity crush: Michael Jackson
Cake or pie: I love both, but pie.
Last book you read that you really LOVED: I'm in the middle of reading FUMBLED, the upcoming book by Alexa Martin, who wrote INTERCEPTED, and I'm loving it so much!
You have a totally free afternoon – no deadlines, no obligations, no Twitter notifications! What do you do?: Go to the beach with a book!
A big thanks to Jasmine for joining us today! Check out the Fresh Fiction review of The Proposal here!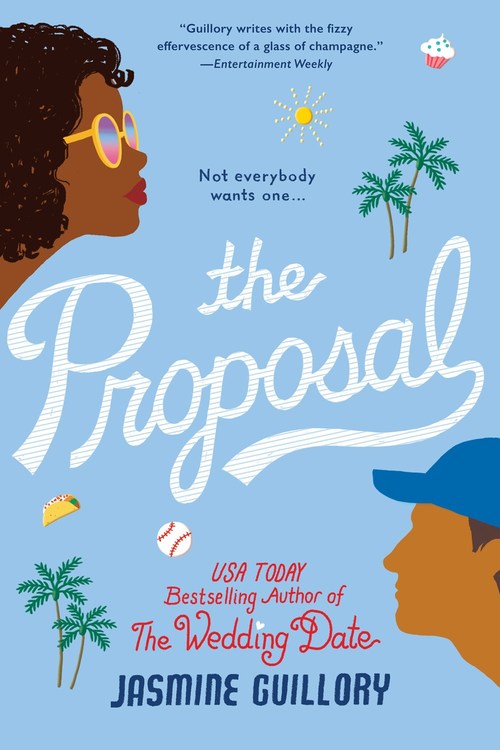 When freelance writer Nikole Paterson goes to a Dodgers game with her actor boyfriend, his man bun, and his bros, the last thing she expects is a scoreboard proposal. Saying no isn't the hard part–they've only been dating for five months, and he can't even spell her name correctly. The hard part is having to face a stadium full of disappointed fans…
At the game with his sister, Carlos Ibarra comes to Nik's rescue and rushes her away from a camera crew. He's even there for her when the video goes viral and Nik's social media blows up–in a bad way. Nik knows that in the wilds of LA, a handsome doctor like Carlos can't be looking for anything serious, so she embarks on an epic rebound with him, filled with food, fun, and fantastic sex. But when
their glorified hookups start breaking the rules, one of them has to be smart enough to put on the brakes…
Multicultural | Romance [Berkley, On Sale: October 30, 2018, Trade Size / e-Book, ISBN: 9780399587689 / eISBN: 9780399587696]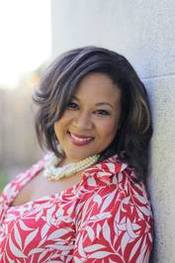 Jasmine Guillory is a graduate of Wellesley College and Stanford Law School. She is a Bay Area native who has towering stacks of books in her living room, a cake recipe for every occasion, and upwards of 50 lipsticks.