(This article is dedicated to my sister-in-law, who for the past ten years single-handedly prepared the traditional Seven Fishes of Christmas Eve for her husband and his family, cleaned her house top to bottom, worked full-time and did all the Christmas shopping while being a super mom to her twins. This year, she is going out to eat. Buon Natale, Lisa!)
Some people are just so organized. Bless their hearts! I found this out while I was trying to decide what to write about for Fresh Fiction. So many authors write about their books or writing—and that's fine. But, I'm thinking—it's close to the holidays! Who's got time to think about books when there are meals to be prepared and houses to clean and most of all, guests coming to your home? Seriously. Even now, your family may be preparing to descend upon you and yours, like D-Day, only with in-laws and cousins.  The most wonderful time of the year? For who?
Apparently, it can be that way for you. Do you know, not everyone is up until 2:00 am the night before Thanksgiving, Christmas Eve and Christmas Day? (I know! It's shocking.) There are some things which can be done ahead of time. Weeks ahead of time, in fact. And here they are:
Five Things You Can Do NOW to Avoid Christmas Craziness Later
1. Plan your family photo. Since you're going to have the gang around on Thanksgiving (if you're American, at least), it would be a perfect time to stage and take that pic for your Christmas card. Chances are, you'll be sending Uncle Ernie a card; you are assured he'll actually look at the expensive, professionally produced thing if he's on it. Win-win!
2. Get your ornaments and tangled strings of lights out now, before there's a tree in sight. Go through them—pick out the broken ones, lay aside the special ones. And untangle and check those lights for loose bulbs and blown fuses. This way, if you realize you need new sets of lights, you can do it at an unhurried pace, without worrying that Christmas will end before you have a chance to set up the tree.
3. Get those gift cards for teachers, the mail carrier, your hairstylist and all those other people you always forget about because you're too busy getting gifts for the children (whose lists grow each day). Tuck them in your wallet, ready to pull out at a moment's notice. You'll look like a hero (and no one will know that you actually forgot all about them in the chaos). NOTE: these don't expire, so if you forget to give them this year, you're covered for next. 😉 
4. Start cleaning. NOW. This is a lifesaver! Doing a fifteen minute quick clean of a bad area from now until the holiday will save you time and energy later. Trust me. If your floor is sort of clean on the big day, no one will know that you just ran a damp mop over it about an hour before company arrived. Added bonus: picking up and decluttering your hot spots every few days will give  you a clean space and place now, causing far less stress later.
5a. Bake your cookies! Seriously. Do a batch a night. It takes an hour or so (including clean up). You can cool them, toss them in freezer bags and containers, freeze them—and defrost them later. (An hour or so should do it.) Bam! Instant addition to the office holiday potluck, made way ahead of time. Class party? Whoot, there it is. (Sue me, I'm old.) And you will be revered for providing home-baked goods instead of store-made crap. Trust me—I've made dozens of cookies for Christmas, and this is how it happened.
5b. Go to my website at www.marnieblue.com and sign up for my newsletter for a cookie recipe my entire family loves. It's easy to make and freezes really well!) Then go buy my book, Mistletoe Kisses, where ever ebooks are sold. Make yourself a beverage, grab one of those (thawed out) cookies, and read a book under the tree.
I hope these ideas help make your holiday less stressful. My sister-in-law walked like a zombie through the holiday because she was exhausted from doing everything at the zero hour—not because she had to, but because she just wasn't the kind of person to plan ahead. Don't be my sister-in-law! Do things now to save yourself some stress later.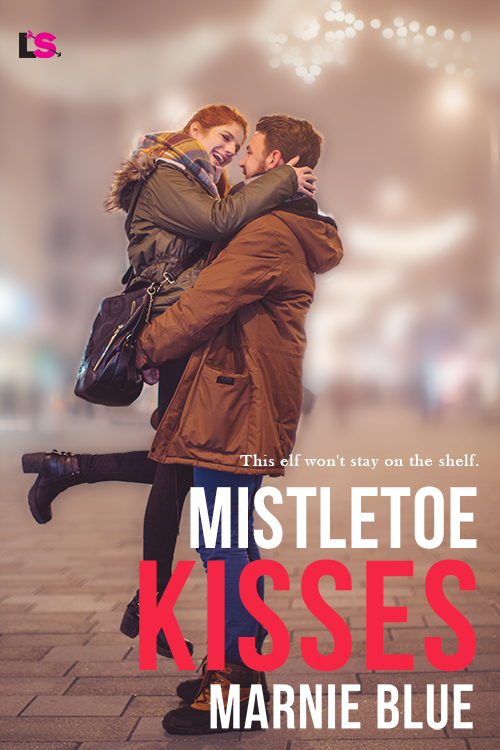 For Officer Justin Weaver, Christmas is the most hideous time of the
year. To improve his "holiday cheer," he's been put on Officer Kringle
duty, collecting toys for the Ho-Ho-Patrol.
It's a week in holiday hell.
Worse, it comes with an elf—his little sister's gorgeous best friend—
but Lilly Maddox isn't so little anymore. And as an annoyingly festive
reporter looking to make her mark, she's there to document his every
move.
Justin's always had a thing for Lilly, but he refuses to go there with her.
Ever. Not after watching what his mom went through as a cop's wife.
But now that they're trapped in his squad car, avoiding her just got a lot
more complicated…
Romance Contemporary [Entangled Lovestruck, On Sale: October 22, 2018, e-Book, ISBN: 9781640637115 / ]
Marnie hates having her picture taken; thus she looks like a deer in the headlights in most photos.
When she's not hiding from the camera, she's cooking keto meals for her law enforcement officer husband and three kids, or scaling the mountain of laundry her family continually creates.
Basically, she's a regular trapped-at-home mom, except she's got other people living in her head, demanding she let them out and tell their stories. This is where her enjoyment of the snarky, sarcastic '50's housewife memes began; she only wishes she could be so glamorous when acting as a slave to her home.
Marnie enjoys lonely walks on the RI beaches (when she can get to them–it's a Rhode Island thing), gardening (but not weeding) and coffee. Lots and lots (and lots!) of coffee.
She loves to hear from her readers and will even follow or write back. (And please, don't forget to subscribe to her newsletter!)