As I was reading one of Jeaniene Frost's "Night Huntress" books, I started thinking about another great vampire-themed love story – the one between vampire Michael Cyprien and the formidable Dr. Alexandra "Alex" Keller in Lynn Viehl's "Darkyn" series. Each series has a different vampire mythology and a lot of other wildly different components, but both also have some important things in common – including strong female characters and kick-ass vampire love stories. In the "Night Huntress" series the villains are usually megalomaniac paranormal or government types, and in the "Darkyn" series the villains are usually the sadistic and completely twisted quasi-religious group called the Brethren.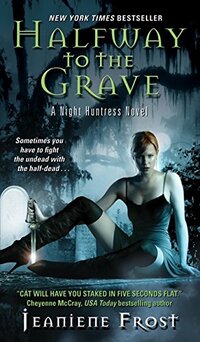 Night Huntress series
I didn't immediately warm to Jeaniene Frost's Cat Crawfield and Lynn Viehl's Alexandra Keller when I was first introduced to them. However, by the second book and upon re-reads of book 1, I think I grew to love them for the same things that got on my nerves the first time around. Both woman have a backbone of steel, are very blunt, and have a wry wit. While their actions and words can sometimes appear very tactless, I grew to appreciate their straightforwardness and find it extremely refreshing. Although they are both women with very different backgrounds – Cat grew up as a half-vampire turned vampire slayer, and Alex started out as a human doctor before turning blood-sucker – they are both fighters in their own way, not easily manipulated or pushed around, and first-class heroines.
"Bones left me in the dust when it came to inner strength, daring to show his deepest vulnerabilities without fear, safety net, or rationalization."
"No matter what happens, you will never lose me," he whispered. "I am forever yours, Kitten, in this life or the next."
From THIS SIDE OF THE GRAVE by Jeaniene Frost
I got into the "Night Huntress" series after hearing rave reviews in my online reading groups – specifically about how great Bones is. I decided to check it out for myself. I am not normally a fan of having a lot of action in a romance, but there is just something irresistible about the "Night Huntress" series that pulls you in. There is so much that happens in the first book in the series, HALFWAY TO THE GRAVE, and the descriptions by Jeaniene Frost are so detailed and vivid that it's like watching a movie unfold. The eroticism in the "Night Huntress" series is a heady thing, but what makes it so powerful is the strong emotional bond between Cat and Bones. The sometimes prickly initial relationship they have in HALFWAY TO THE GRAVE evolves into something much more as Cat begins to trust Bones. The sense that they can trust each other, work as a team, and have each other's back when it counts, is one of the things I love most about them as a couple.
Bones shattered all my preconceptions while reading HALFWAY TO THE GRAVE. I was reading about a new kind of paranormal hero. Even though I love paranormal romance, many of the heroes I read about were kind of like the villain in DESTINED FOR AN EARLY GRAVE – autocratic, condescending, and obsessed with maintaining control and power. When reading DESTINED FOR AN EARLY GRAVE, I couldn't help wondering if Gregor was Jeaniene Frost's commentary on the average paranormal hero. Bones is a wonderful contrast to the traditional alpha male gothic paranormal hero – yes, he is an incredible sexy, confident , and powerful vampire, but he is also an incredibly sensitive guy who allows himself to be emotionally vulnerable and totally put himself out there for the woman he loves. Maybe it's because of his human past when he knew hardship and tragedy, but he often displays empathy for those weaker than himself who are in trouble. These finer qualities make him even more attractive than his sexy swagger and his British accent.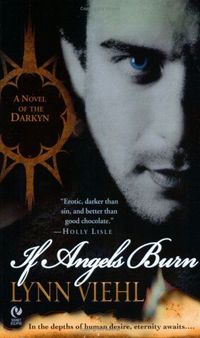 Templar Knights, a creepy religious order called the Brethren, hot vampires who release floral scents, and Robin Hood are some of the things that make the "Drakyn" series stand out. What I really love is that, with this series, you can expect the unexpected. Lynn Viehl always goes against convention and genre stereotypes. Some things that are guaranteed in this "Darkyn" series are inventive story-telling, a wide variety of strong female characters, and one or two fascinating anti-heroes. Each book in the series features a different couple. However, the main couple from the first book – Michael and Alex – act as the secondary romance throughout the series. Fans either love this or hate this. I happen to love it because I love Michael and Alex, but also because Lynn Viehl doesn't just throw in the secondary romance as a gimmick or for continuity, but actually has the relationship between Michael and Alex evolve, grow, and stay relevant with each book. As the series progresses, the couple learns more about each other and the bond between them gets stronger and more beautiful. NIGHT LOST and EVERMORE are particular favorites of mine which showcase the strength and depth of the relationship.
"I was afraid that the only reason we were together was because of the bond thing. That it was making us love each other. But it wasn't. It isn't."
"The bond is very strong", he admitted, kissing the top of her head, "but it cannot create love where there is none."
Alex and Michael – EVERMORE by Lynn Viehl
The first book in Lynn Viehl's "Darkyn" series is very action-packed and full of violence. For readers who find the first book – IF ANGELS BURN – to be too intense to enjoy, I recommend giving book 2 a try. Because IF ANGELS BURN is the first book in the series, there is a lot of ground that's covered to establish who the major players in the series are, and just how evil the bad guys can be. I think that in succeeding books, the action and violence is more balanced with the character-driven scenes and romance. The "Darkyn" series is worth sticking with for many reasons. The PRIDE AND PREJUDICE vampire dream sequence in PRIVATE DEMON is a highlight of the series.
The major reason the "Darkyn" series is one of the most dynamic paranormal series I've read is because of Dr. Alexandra Keller. Like Cat, Alex is a strong woman who is not afraid to speak her mind and call people out when they're behaving badly. I love that her reaction to finding herself as the object of desire of a vampire is a more realistic and more normal than some heroines in a paranormal romance. As a result, the initial relationship between Alex and Michael is characterized by a very uneasy yet compelling attraction with the pace and mood of an Alfred Hitchcock film. By the end of the series I can say that Alex is my hero and one of my favorite female characters of all time. Whenever I find myself reading a romance in which the heroine is very malleable and easily led, I find myself wishing she had a friend like Alex to get her on track.
If you enjoy stories about vampires, and love strong female characters – you have to check out the "Night Huntress" series by Jeaniene Frost and the "Darkyn" series by Lynn Viehl. The writing is phenomenal, the characters are complex and easy to fall in love with, and the love stories are epic and to die for.