One of the early reviews of THE ARROWS OF THE HEART notes that the heroine, Karyn—while appearing to have been the meek and obedient daughter—has actually always been a square peg in a round hole. When I asked my fan group on Facebook (Jeffe's Closet) what they'd like me to talk about, one reader suggested Karyn's unconventional upbringing.
It's true that, in my fantasy world society known for its oppressive conventions, especially regarding the role of women, Karyn af Hardie has grown up in an unusual way. On the surface—especially when she appears in earlier books in the series—Karyn has always seemed like a conventional Dasnarian woman. Her rank in the Dasnarian Empire is very important to her. She clings to her arranged marriage with tenacity because, for a Dasnarian woman, her husband is everything. Since women in this culture cannot handle money, and usually aren't taught to read or count, having a husband, or father or brothers, to protect and care for them is critical. It's a matter of survival.
Also, like all women of her station and upbringing, Karyn has been carefully taught to defer to men in every way. Defiance is not an option. See again: a matter of survival.
But, Karyn has grown up in a looser environment that many women in Dasnaria. Her family is wealthy and their realm provides critical resources to the empire. They have the might to keep themselves and their people safe. With this relative isolation, the Hardie women enjoy a fair amount of freedom. They keep to a seraglio, as is traditional for the empire, but retire to it mainly at night, rather than living in it 24/7 as most of the women do at the Imperial Palace.
They're also insulated from the strict customs of the Imperial Palace, and Karyn's marriage provides her with more than rank. Because her marriage is in name only, it seems certain that she'll live forever on her family estates and will never need to leave. So, her parents give her more freedom than most girls. She runs around with her brothers, climbing trees in their vast orchards and learning to shoot a bow. Her father even arranges for Karyn to learn some rudimentary counting and reading since she of all his children will be the most likely to stay on the estates for her entire life.
Karyn says at one point in the story that her parents loved her and wanted her as happy as they could arrange for, given her strange marriage. In that way, too, perhaps she's unusual. Though—through extraordinary circumstances—Karyn ends up leaving Dasnaria entirely, it's partly because of this love that she makes that choice and sticks with it. Her parents helped her form the strength of will and character to survive.
From that, Karyn discovers her own ability to leave the rules behind and become her own person.
The Uncharted Realms #4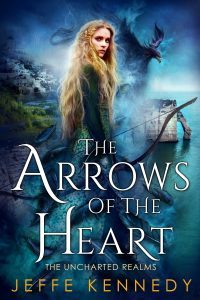 Karyn af Hardie is on her own, for the first time in her life. While all around her brace for war with Karyn's former homeland, the Empire of Dasnaria, all Karyn really wants is to find a husband who will care for her. After all, she gave up everything for the chance at a normal
family life with love and children. She has no way of supporting herself and the only thing of value she has to offer is her virginity. The last thing she'll do is squander that on the flirtatious shapeshifter Zyr.
Zyr is fascinated by the golden-haired and exotic Karyn— but not enough to put up with all of her mossback rules. She'd be considerably happier, in his opinion for some good bouts of healthy sex. Still, that's not his problem and he has plenty that is. His sister Zynda has disappeared, possibly never to return, leaving him with a
mission to use the mysterious map-sticks to find ancient n'Andana and recruit help for a war they seem doomed to lose to otherwise.
Suspected as a Dasnarian spy, Karyn can't stay in Annfwn while the defense is planned—so she's sent with Zyr to assist on his desperate quest. If they can keep from killing each other, Karyn and Zyr might just discover they hold more than a map to saving the world.
Fantasy | Romance Paranormal [Brightlynx Publishing, On Sale: October 9, 2018, e-Book, / ]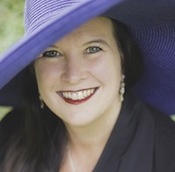 Jeffe Kennedy is an award-winning author whose works include novels, non-fiction, poetry, and short fiction. She has been a Ucross Foundation Fellow, received the Wyoming Arts Council Fellowship for Poetry, and was awarded a Frank Nelson Doubleday Memorial Award.
Her award-winning fantasy romance trilogy The Twelve Kingdoms hit the shelves starting in May 2014. Book 1, The Mark of the Tala, received a starred Library Journal review and was nominated for the RT Book of the Year while the sequel, The Tears of the Rose received a Top Pick Gold and was nominated for the RT Reviewers' Choice Best Fantasy Romance of 2014. The third book, The Talon of the Hawk, won the RT Reviewers' Choice Best Fantasy Romance of 2015. Two more books followed in this world, beginning the spin-off series The Uncharted Realms. Book one in that series, The Pages of the Mind, has also been nominated for the RT Reviewer's Choice Best Fantasy Romance of 2016 and is a finalist for RWA's RITA Award. The second book, The Edge of the Blade, released December 27, 2016.
She also introduced a new fantasy romance series, Sorcerous Moons, which includes Lonen's War, Oria's Gambit, The Tides of Bàra, and The Forests of Dru. With Last Dance, Jeffe is introducing a new contemporary erotic romance series, Missed Connections.
Her other works include a number of fiction series: the fantasy romance novels of A Covenant of Thorns; the contemporary BDSM novellas of the Facets of Passion; an erotic contemporary serial novel, Master of the Opera; and the erotic romance trilogy, Falling Under, which includes Going Under, Under His Touch and Under Contract.
She lives in Santa Fe, New Mexico, with two Maine coon cats, plentiful free-range lizards and a very handsome Doctor of Oriental Medicine.