Music is a powerful thing. It can bring up deep emotions, make you feel happy, or sad, or instantly bring back a memory of another time. But it can also help you write. And I've found that the music that I listen to makes a difference in the way that I write.
I know a lot of writers that listen to particular music for certain books, whether it be love songs or rock ballads, some even creating whole soundtracks for their books. I can't do that. I can listen to certain sounds when I'm plotting, sounds that set the tone or the feel for the story. But when I'm actually writing, I like it to either be quiet or to have music that is only instrumental, otherwise I get caught up listening to the lyrics instead of my own internal flow of words.
The last year, I have changed my writing routine. In order to increase my production, I have plotted more heavily, and I participate in writing sprints with a few other authors. We set a timer for 30 or 40 minutes, then commit to write with no distractions for that time, then report our word count numbers. We often meet at Panera to sprint, and on those days, I wear noise cancelling headphones and play music. And I've noticed an interesting dynamic. The slower the music, the fewer words that I write.
I originally used a Pandora list of guitar instrumental or piano instrumental, but when I changed my playlist to a more upbeat tempo, my word count almost doubled. What is this secret speedy music that I write to? Instrumental bluegrass. That's right! When the banjo's are a pickin' and a grinnin', my fingers are flying. The upbeat sounds of the fiddle, banjo, and guitar create a rhythm that my fingers automatically try to keep up with.
So, if you're trying to write faster, and you already have the story in your head, try a little bluegrass and see if it doesn't get your fingers moving and your word count higher.
In my latest book, ROMANCING THE RANGER, Reese Hudson is a city girl that finds herself in a bit of pickle when she accidentally burns down the outhouse in a state park, and a judge sentences her to rebuild it under the supervision of hunky park ranger, Wade Baker. Reese and Wade make their own kind of music, but it's too bad they don't get along outside of the bedroom as well as they do in it.
ROMANCING THE RANGER releases March 14 and I'm so thankful for Fresh Fiction's support of my release. To keep on top of all my news, including sales and new releases, please visit www.jenniemarts.com to sign up for my newsletter and I would love to invite you to join my street team, Jennie's Page Turners
I would love to hear how you think music changes your productivity, whether it's writing or cleaning house, or working out.
Thanks again and I hope you love the new book. Happy Reading!
Jennie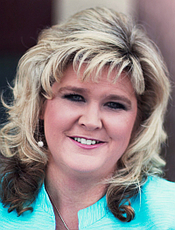 USA TODAY Best-selling author Jennie Marts loves to make readers laugh as she weaves stories filled with love, friendship and intrigue. She writes for Entangled Publishing and reviewers call her books "laugh out loud" funny and full of great characters that are "endearing and relatable."
She is living her own happily ever after in the mountains of Colorado with her husband, two sons, two dogs and a parakeet that loves to tweet to the oldies. She's addicted to Diet Coke, adores Cheetos, and believes you can't have too many books, shoes, or friends.
Her books include the contemporary western romance Hearts of Montana series, the romantic comedy/ cozy mysteries of The Page Turners series, the hunky men in the Bannister family in the Bannister Brothers Books, and the small town romantic comedies in her upcoming Lovestruck series of Cotton Creek Romances.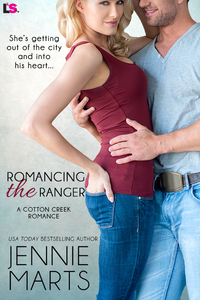 She's getting out of the city and into his heart
Reese Hudson meant to destroy mementos from her last failed relationship, not burn down an outhouse and incur the wrath of a sexy park ranger. When the judge rejects her offer to pay for the structure and sentences her to rebuild it—with the hot ranger supervising—she embraces the challenge to take control of her life.
Park ranger Wade Baker wants nothing to do with the rich city girl, no matter how tempting he finds her lush curves. She's too much like his ex-fiancée, and if he's learned anything, it's that women like Reese don't fit into his world. And he sure as hell wants no part of her big city life.
Reese may not know a hammer from a screwdriver, but she's working hard to prove she's not just some pampered princess to be toyed with. And damn it if Wade doesn't admire her tenacious spirit. If only they got along half as well outside the bedroom as they do in it, there might be a chance for them after all…