Thanks so much for having me back on Fresh Fiction to celebrate the release of HOW TO HANDLE A SCANDAL, the second book in my Scandalous Sisters series. It's the story of Miss Elizabeth Tarryton, whom readers first met when she was a gorgeous, rebellious teenager in THE BEAUTIFUL ONE.
Elizabeth is a little too beautiful for her own good, and she definitely likes to make a splash. When she goes to London for her first season, she's in girls-just-want-to-have-fun mode and, well, she's a bit of a scandal. So she's the perfect person to offer some tips on How to Survive a London Season:
Don't go swimming in fountains in the presence of gentlemen and wearing an evening gown. Or at least, don't get caught in the Regency version of a wet t-shirt.
Eliza's beloved guardian, Viscount Grandville, has warned her about the damage she might cause her reputation if she doesn't tone down her behavior, but she's having the time of her life, and she just can't seem to resist fun, which in Eliza's case is usually spelled t-r-o-u-b-l-e.
Don't kiss gentlemen in public, stand on the streets of London serenading a man through his window, or sneak out your own window to meet gentlemen at night.
Eliza's outrageousness is one of the things her friend Tommy Halifax likes about her, though he's not too happy about the way it attracts the attention of other men. Tommy is a handsome, adventurous guy as well as being the viscount's brother, and when HOW TO HANDLE A SCANDAL starts, he's in love with Eliza, but she doesn't know it.
Don't be in a rush to get married (unless you have to).
With a generous dowry assured her from the viscount and a difficult year behind her, Eliza sees her first London Season as her first chance in a long time to do exactly as she likes. Unlike most debutantes, in London that year, she has no interest in marrying any time soon—why put an end to all the fun?
Do expect the unexpected and keep your composure at all times.
When Tommy proposes to Eliza in front of a packed ballroom, she's shocked, and she makes a terrible mistake: she laughs at him. He's furious and heartbroken, and she's terribly remorseful. He promptly leaves England for India, and six years will pass before they meet again.
Do keep your friends and family close.
Since Eliza was orphaned at fifteen, Viscount Grandville and his family have become her only family. She adores them, and she'd never want to disappoint them—but she fears that the disaster of Tommy's proposal will make them reject her.
Don't be afraid to reinvent yourself. Hoping to make up for causing Tommy to leave the country, Eliza decides to make herself over into a respectable, virtuous woman. Does it work? When Tommy comes home after six years away, he doesn't believe she's changed. And maybe he's not entirely wrong, because after one absolutely scandalous night at a very surprising place, they have to get married. Neither one of them is happy about this.
Be ready for adventure.
Hoping to avoid the prying eyes of society, the acrimonious newlyweds leave town for Tommy's newly purchased but extremely disreputable estate by the sea. There, they intend to play out the clock until Tommy returns to India. But the close quarters are making them remember how much they once liked each other…and making them wonder how much more they might want to discover.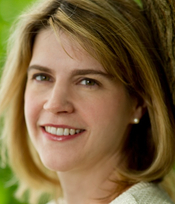 Emily Greenwood worked for a number of years as a writer, crafting newsletters and fundraising brochures, but she far prefers writing playful love stories set in Regency England, and she thinks romance novels are the chocolate of literature. A Golden Heart finalist, she lives in Maryland with her husband and two daughters.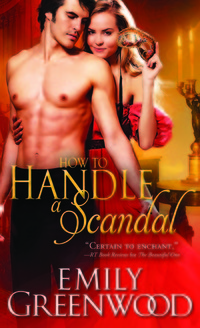 They thought the debutante was scandalous
Miss Elizabeth Tarryton was the toast of the London Season the year she was seventeen and spurned young Tommy Halifax. A careless flirt who didn't know what she wanted, she was startled into laughter by his public proposal of marriage. Furious and heartbroken, Tommy promptly left home for a life of adventure in India.
If they only knew about the widow
Seven years later, Elizabeth has much to make up for, but the methods she chooses for doing good are as shocking as her earlier wanton behavior—should the ton ever find out. Tommy returns to England a hero, with no intention of allowing himself to be hurt by a woman ever again, but he's fascinated nonetheless by Elizabeth, now widowed and more alluring than ever.