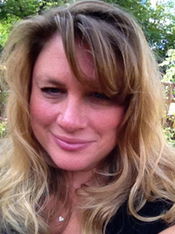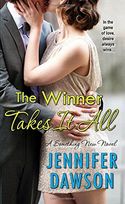 The Something New series was never intended to be a series at all. My original idea was a runaway bride walks into a dive bar, hooks up with a hot bartender for one night in her quest for self-discovery, ending with her continuing on her journey a wiser, more sexually awakened woman.  My projected word count was 15,000.
But, then, Maddie sat down at the bar and Mitch walked up to her and 15,000 words later they were still sitting at the bar and wouldn't shut up.  It didn't matter what I tried to write, they pretty much refused to be contained to a few short words.  I conceded, and agreed with them that they deserved a full length, fully fleshed out story.  However, I still didn't intend to write a series.
A lot has changed since that initial writing.  Other than her wedding dress, and a few key facts, the story doesn't remotely resemble those first scenes. And the more I wrote Mitch and Maddie, the more complex their stories became, and characters just started showing up as I was writing.  It started very organically.  I'd sit down to write X and come away with entirely new information, including friends, families, and histories.
The more I wrote, the more intrigued I became with the Donovan family.  I started to think about what might happen to a strong family after a tragedy.  How each member of that family would respond and react differently as a result of that one event.  How life is sometimes defined by a before and after, but a person's response is dependent on their personality.  I started to wonder how it would change their outlook on the world. And how it might affect their lives and relationships in different ways.
And that's the long story of how the Something New series was born.  Below is an excerpt TAKE A CHANCE ON ME which is what started it all. And don't forget to check out Shane Donovan's story, THE WINNER TAKES IT ALL, which just hit shelves!
Excerpt
She could do this. She'd already done the impossible.

She took one hobbled lurch, then another, until she was finally right where she wanted to be.

With a weary sigh, she plopped onto the round, cushioned stool. A slow hiss of air leaked from the seat as it took her weight. She closed her eyes. Heaven. She might never move again. An air-conditioned breeze brushed her overheated skin, and she just about groaned in sheer pleasure. Dropping her head into her open palms, she luxuriated in the pure joy of sitting.

She'd made it. The pressure on her feet eased to an insistent ache. She was safe. For the first time since her car had died, she allowed the fear to sink in. She wanted to lay her cheek on the cool laminate counter and weep in relief.

"What can I get for you, Princess?" a low, deep voice rumbled.

Maddie's head shot up and a man blinked into focus. Her mouth dropped open. In front of her stood the most gorgeous man she'd ever seen.

Was she hallucinating? Was he a mirage?

She blinked again. Nope. Still there.

Unusual amber eyes, glimmering with amusement, stared at her from among strong, chiseled features.

She swallowed. Teeth snapping together, she tried to speak. She managed a little squeak before words failed her. A hot flush spread over her chest. Men like this should be illegal.

Unable to resist the temptation pulling her gaze lower, she let it fall. Just when she'd thought nothing could rival that face.

Shoulders, a mile wide, stretched the gray T-shirt clinging to his broad chest. The muscles in his arms flexed as he rested his hands on the counter. A tribal tattoo in black ink rippled across his left bicep. Oh, she liked those. Her fingers twitched with the urge to trace the intricate scroll as moisture slid over her tongue.

For the love of God, she was salivating.

Stop staring. She shouldn't be thinking about this. Not now. Not after today.

It was so, so wrong.

But she couldn't look away.

Stop. She tried again, but it was impossible. He was a work of art.

"You okay there?" The smile curving his full mouth was pure sin.

That low, rumbling voice snapped her out of her stupor, and she squared her shoulders. "Yes, thank you."

His gaze did some roaming of its own and stopped at her dress. One golden brow rose.

Before he could ask any questions, she said, "I'll have three shots of whiskey and a glass of water."

His lips quirked. "Three?"

"Yes, please." With a sharp nod, she ran a finger along the dull, black surface of the bar. "You can line them up right here."