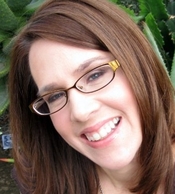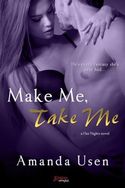 I did things in my wilding days that make me wince and suck in a slow, tight breath of sadder-but-wiser air. The most humiliating among them is this: I let a man put me on my knees. I let him break me. And he did not deserve that piece of my soul.
I was driving through a parking lot when I realized I wanted to put those dark memories into MAKE ME, TAKE ME, and I had to pull over, close my eyes, and go slack in my seat belt until I figured out how to do it. I wanted my heroine to refuse to get anywhere near her knees. The phrase "Not gonna do it" rings through the book. Betsy doesn't trust anyone, not friends and not family. Growing up in a bar as the daughter of a starry-eyed romantic bartender mom who believes Prince Charming might walk in the door any night made Betsy deeply suspicious of happiness not directly under her control. In her observation, every Prince Charming who walked into her mom's life also walked out, leaving devastation in his wake. Betsy isn't ever going to let that happen to her.
You and I both know what has to happen, right? Poor, poor Betsy! I didn't know much when I started writing, but I knew she'd be on her knees before the end of the book. As it turns out, she's on her knees wearing a pink ball gown in filthy alley in the pouring rain at midnight. Why take her so low? So she could get up, like I did, and change her life for the better.
I dove into a second deep, dark well of emotion while writing MAKE ME, TAKE ME, and my big sister, to whom the book is dedicated, may well kill me when she reads it. Last year during a family visit, we had a fight, ugly and honest, the kind of fight where words are knives, and they haven't invented sutures that can close wounds that messy and deep. If you have a sibling, you know what I mean. If you don't…you can have mine. Just kidding! Anyway, we took the gloves off and went there, just like Betsy and Kate do in MAKE ME, TAKE ME. Yes, it's a Brazen romance. MAKE ME, TAKE ME has more sex scenes than any book I've ever written. But it's also a sister book. Family is always at the heart of my stories. Family, and sex, and food—all the necessities. Throw in yoga, booze, and naps, and I'm writing my perfect life. Of course, I switched everything around to protect the guilty, but I poured my heart into those sister scenes. Shared history is a powerful thing, and I hope my sister can see that I turned our fight into a love story, too.
Because if she can't…she's going to kill me. Stay tuned…
Thanks so much for visiting today! To celebrate the release of MAKE ME, TAKE ME, I'm offering print copies of the first two books in the Hot Nights series, INTO THE FIRE and SEDUCING THE PLAYBOY, to one lucky international winner. Let's talk necessities. What can't you live without? Leave a comment below to be entered to win!
To comment on Amanda Usen's blog please click here.