Jen: What inspired you to write Followers, a futuristic novel about an internet-obsessed world?
Megan: The original kernel was me thinking about how my kids and grandkids won't be able to read cursive, and wanting to explore a futuristic story that would be more about those human differences than straight up tech and sci-fi. But as I got further into the book, it became clear to me that social media was the thread that held everything together–I knew I had to push what we have today to its limits, imagine how that could blow up, and sort of clean up the mess that would follow. I wanted to show not just what could happen if social media really ruined us but also who we'd be, as a people, afterwards, and how we'd approach technology again once we'd been burned by it en masse.
The story focuses on the friendship of three women. Let's start by discussing Orla. What challenges does she encounter in the workplace?
Orla wants to be this famous writer, and she's frustrated by the fact that she's stuck writing about celebrities, trying to gin up Internet content about them. She thinks her job is real bottom-feeder stuff. It's not until Floss comes along that Orla realizes that she actually has this peculiar kind of power, where she thinks she's just trying to write any old dramatically-headlined thing about anyone remotely famous to meet a quota, but the result is that she sort of solidifies people's status, and can, in that way, turn people into stars.
As for Floss, what is the driving force behind her desire to become successful?
Floss just has this white-hot ambition to be as famous as she can possibly be. Her entire personality orbits around wanting to be looked at. I don't think there are a lot of people like this in the world, but every once in a while you meet someone who is so devoted to their image, they'll sacrifice everything to promote it. One of the first things I knew about Floss was that she'd be someone who did this thing I used to witness, when I did red carpet reporting–there was talent who would pose in the most insane, cheek-sucking, leg-flaring ways, even though dozens of people were right there looking on, seeing how crazy it looked. They didn't care, because they'd look marginally better, by conventional beauty standards, I guess, in the picture. I always thought, "Wow, I'd be mortified to act like that." But that's the distance between Floss and the vast majority of us.
Finally, there is Marlow. How does her significant following on social media impact the choices she makes?
Unlike the other women, Marlow has been raised in this futuristic sort of fame where she's been conditioned to respect and accommodate her followers almost as if they're familial elders. She has spent thirty-five years automatically catering to them, and so she struggles, throughout the book, to make choices that actually benefit her. It takes her some real stretching to stop hearing the voices in her head, even once she takes off her device and technologically banishes them.
As a debut novelist, what was the most gratifying part of the process?
It was wonderful to sell the book, and watch it turn into a book, and see it get some nice reviews and press, but honestly–I'm most gratified when someone pipes up online and says they loved the book. It's funny how that works–I always thought I would care the most about traditional media responses, but nothing feels as amazing as hearing an everyday reader say, This book showed me a good time.
What's the best way for readers to keep abreast of your latest happenings?
I'm at @meganangelo on Twitter and Instagram. Thanks so much, Jen!
FOUR STARRED REVIEWS!
"SPECTACULAR" —Publishers Weekly
"AN ADDICTIVE TREAT" —Kirkus Reviews
"AN INTRICATE AND BRAVE STORY" —Booklist
"ONE OF THE BEST NOVELS OF 2020" —BookPage
"If anyone is going to explore a future version of our high-tech, internet-obsessed culture, please let it be Megan Angelo. Followers is pure gold." —Abbi Jacobson, bestselling author and cocreator of Broad City
An electrifying story of two ambitious friends, the dark choices they make and the stunning moment that changes the world as we know it forever
Orla Cadden is a budding novelist stuck in a dead-end job, writing clickbait about movie-star hookups and influencer yoga moves. Then Orla meets Floss—a striving, wannabe A-lister—who comes up with a plan for launching them both into the high-profile lives they dream about. So what if Orla and Floss's methods are a little shady—and sometimes people get hurt? Their legions of followers can't be wrong.
Thirty-five years later, in a closed California village where government-appointed celebrities live every moment of the day on camera, a woman named Marlow discovers a shattering secret about her past. Despite her massive popularity—twelve million loyal followers—Marlow dreams of fleeing the corporate sponsors who would do anything to keep her on-screen. When she learns that her whole family history is based on a lie, Marlow finally summons the courage to run in search of the truth, no matter the risks.
Followers traces the paths of Orla, Floss and Marlow as they wind through time toward each other, and toward a cataclysmic event that sends America into lasting upheaval. At turns wry and tender, bleak and hopeful, this darkly funny story reminds us that even if we obsess over famous people we'll never meet, what we really crave is genuine human connection.
Fiction [Graydon House, On Sale: January 14, 2020, Hardcover / e-Book, ISBN: 9781525836268 / eISBN: 9781525836268]
Megan Angelo has written about television, film, women and pop culture, and motherhood for publications including The New York Times (where she helped launch city comedy coverage), Glamour (where she was a contributing editor and wrote a column on women and television), Elle, The Wall Street Journal, Marie Claire, and Slate. She is a native of Quakertown, Pennsylvania and a graduate of Villanova University. She currently lives in Pennsylvania with her family.
***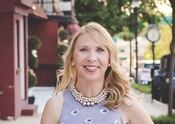 Jennifer Vido is best known for her nationally syndicated Jen's Jewels author interview column. A savvy book blogger she dishes the scoop on the latest happenings in the publishing business. As a national spokesperson for the Arthritis Foundation, she has been featured by Lifetime Television, Redbook, Health Monitor, The New York Times, The Baltimore Sun, Healthguru.com, and Arthritis Today. She is the author of the Piper O'Donnell Mystery series. Currently, she lives in the Baltimore area with her husband and two sons.