Jen: THE ATTIC ON QUEEN STREET is the seventh and final book in the Tradd Street series. How did you arrive at the premise?
Karen: The best part of a series is that it's basically one long book with multiple plot lines that get resolved throughout the series.  Since I knew THE ATTIC ON QUEEN STREET would be the last, I knew that for the first time that loose ends weren't a possibility.  Every single unanswered question, mystery, plot, character arc had to come to a complete resolution.  And, of course, the conclusion of the major cliffhanger at the end of the previous book, THE CHRISTMAS SPIRITS ON TRADD STREET.  This gave me the main guide I needed for this book's premise. 
The second, but equally important guide, was the spin-off series that will follow the Tradd Street Series.  Nola Trenholm will be the main protagonist, as will a new character, Beau Ryan, who is introduced in The Attic on Queen Street.  Beau is from New Orleans which is where the new series will be set, and there is a lot of mystery surrounding him and his family.  This is why at the end of the book, Nola is headed for Tulane University in New Orleans to set up the spin-off!
What's running through Melanie's mind when longtime nemesis Marc Longo comes along with a proposition?
Melanie has come a long way since we first met her in THE HOUSE ON TRADD STREET.  Her life is no longer just all about her.  Now she has a family to think about, and the love of her life, Jack.  Her first instincts are to dismiss Marc's suggestion out of hand—since no good has ever come from any dealings they've had with Marc in the past.  But when Jack—for reasons of his own—wants to work with Marc, Melanie puts her hesitations aside because her main goal is for Jack to get back on his feet career-wise and be happy again.  This shows an amazing growth in her character development, and I'm quite proud of her!  Whether or not this is a good decision by either Jack or Melanie will play out by the end of the book.
What spirits are haunting Melanie in this latest release?
There's always some wandering spirit vying for Melanie's attention, and this book is no different.  The ongoing haunting of friend Veronica's sister, Adrienne, comes to a head when Melanie goes to investigate Adrienne's old college trunk in the attic of Veronica's Queen Street home and is unceremoniously pushed down the stairs by a vengeful spirit who is definitely not Adrienne.
There are also two new presences of a young girl and a dog.  These may be related to the recent excavation of the backyard cistern at Melanie and Jack's house on Tradd Street where the skeletal remains of a dog and personal items related to a young girl from the nineteenth century have been unearthed.
How do the stressors from Melanie's personal and professional life affect her?
Because Melanie is Melanie, she has never really allowed stressors to affect her life.  She's a firm believer in "if I ignore it, it will go away."  Which, she can finally admit to herself, isn't a sound philosophy at all.  She has made leaps and bounds toward facing her problems by the time the 7th book rolls around, but it's something she will always struggle with.  In this book she's trying to get her career back to where it was pre-Jack and pre-children while also attempting to repair her marriage.  It's not easy for her to be the new version of Melanie that she's trying to be, and—because she's Melanie—finds herself falling back into old habits.
How did you feel when you typed the words, The End?
Since it was the 2nd time I've done this in the series (the first after RETURN TO TRADD STREET which was supposed to be the end), I was prepared.  Even though it felt like leaving old friends, I knew it was time to leave Melanie and Jack alone so they could live their lives without me interfering.  I also knew that it wasn't technically THE END because I had already started plotting a spin-off series featuring Nola Trenholm!  Apparently, I have a problem saying goodbye.
Please share with us a sneak peek into the spin-off series!
The first book, THE SHOP ON ROYAL STREET, will be published in March, 2022.  Nola is a young woman of twenty-eight and now living in New Orleans while working as an architecture historian for a civil engineering firm.  She will be joined by Beau Ryan—a new character we meet in THE ATTIC ON QUEEN STREET—who is from New Orleans and whose family owns an antique shop on Royal Street in the French Quarter as well as a historic home in the Garden District.  Like Melanie, Beau can communicate with spirits, something Nola will need to eradicate the restless spirits in her own house in the first book. 
What's the best way for readers to stay connected with you?
My website is karen-white.com.  It contains all of my social media tags—Twitter (@karenwhitewrite), Instagram (@karenwhitewrite), and Facebook (facebook.com/karenwhiteauthor)
I know I speak for many fans when I say…thank you for writing the Tradd Street series. It will always hold a special place in my heart. It's truly a literary gem.
Thank you very much.  I feel so honored to have found readers who love these quirky characters and their stories as much as I do!
Tradd Street Series #7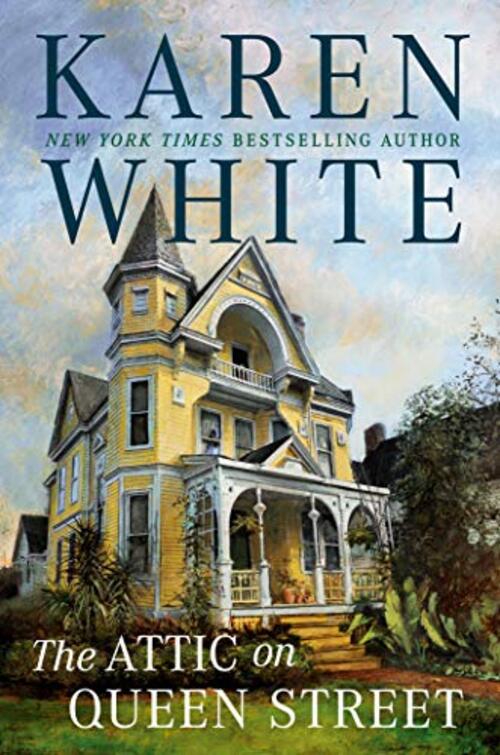 Return to the house on Tradd Street for one last time as the bestselling series featuring psychic medium Melanie Trenholm comes to a hauntingly spectacular finale.
After the devastating events of the past few months, the last thing Melanie Trenholm wants is to think about the future.  Why, when her husband, Jack, has asked for a separation—a separation that might have been her fault?  Nevertheless, with twin toddlers, a stepdaughter leaving for college soon, a real estate career to resume and a historic home that is still being restored, Melanie doesn't have much time to wonder where it all went wrong—but that doesn't stop her from trying to win her husband back.
Their relationship issues are pushed aside, however, when longtime nemesis, Marc Longo, comes to them with a proposition:  allow their Tradd Street house to be used as the filming location for the movie adaptation of Marc's bestselling book, and he will help Jack re-establish his stalled writing career. Despite Melanie's hesitation, Jack jumps at the chance.  But Melanie's doubts soon prove to be well founded when she uncovers ulterior reasons for Marc wanting to be back in their house—reasons that include a hidden gem so brilliant that legend links it to the most infamous jewel of all, the Hope Diamond.
But Melanie has an unexpected ally in protecting the house and its inhabitants—the ghost of a Civil War era girl warns her of increasing threats to her family. But she's not the only spirit who is haunting Melanie.  A malevolent ghost seems determined to stop Melanie from investigating the decades-old murder of a friend's sister, and this spirit will stop at nothing to protect its secrets—even from beyond the grave.
Melanie and Jack must work together to find the answers before evil spirits of past and present destroy everything they love.
Women's Fiction [Berkley, On Sale: November 2, 2021, Hardcover / e-Book, ISBN: 9780451475251 / eISBN: 9780698193024]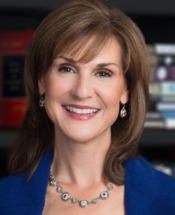 Karen White is the New York Times bestselling author of 28 books, including the Tradd Street series, Dreams of Falling, The Night the Lights Went Out, Flight Patterns, The Sound of Glass, A Long Time Gone, and The Time Between. She is the coauthor of All the Ways We Said Goodbye, The Glass Ocean and The Forgotten Room with New York Times bestselling authors Beatriz Williams and Lauren Willig. She grew up in London but now lives with her husband near Atlanta, Georgia.
***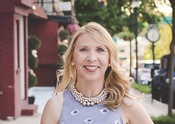 Jennifer Vido is best known for her nationally syndicated Jen's Jewels author interview column. A savvy book blogger she dishes the scoop on the latest happenings in the publishing business. As a national spokesperson for the Arthritis Foundation, she has been featured by Lifetime Television, Redbook, Health Monitor, The New York Times, The Baltimore Sun, Healthguru.com, and Arthritis Today. She is the author of the Piper O'Donnell Mystery series. Currently, she lives in the Baltimore area with her husband and two sons.