Jen: What inspired you to write The House on Fripp Island?
Rebecca: The House on Fripp Island began as a challenge I set for myself to see if I could write something with a straightforward question (as introduced in the prologue), sustain interest in this question for an entire book, and accomplish interesting work with character development inside of this construct. I began with an ensemble cast in which I didn't know whose personal arc would end up taking precedence, or providing the key to the mystery. Attempting something new with plot was really illuminating to me, craft-wise; I learned what aspects of storytelling tend to trip me up or send me spiraling in a wrong direction, and how to rein them in.
Fripp Island is a beautiful place. (My family spent a week there last summer!) Why did you choose to set the story on the island?
It is beautiful – lucky you! My mother-in-law has roots in South Carolina, and an aunt who owned a home on the island. That home is no longer in the family, but Fripp has remained a favorite family destination for her, and into my husband's growing up years as well. We spent a week there as a family several years ago and I was just instantly enamored by the beauty and the biodiversity. And like any resort destination, there is the potential for tension between vacationers and residents, which provides a rich fictional backdrop for suspicion and unease.
Lisa and Scott are having marital issues prior to leaving on vacation. How does being on the island affect their relationship?
Their time on the island brings everything between them to a head. At home, they are able to avoid each other in their daily routines, but while on vacation they are trapped under one roof and forced to engage with one another for all recreational activities, meals, etc. Additionally, they are on display and feeling the need to "perform" for others, which adds stress to the already existing strain, and they are in the company of a very happily married couple, whose relationship they can't help but compare to their own.
Childhood best friends Lisa and Poppy are two women with very different lives. How does each of them feel about the trip, and in particular, spending time with the other's spouse and kids?
As the singular point of connection between two otherwise very different families, Lisa and Poppy both feel great pressure for the group dynamic to succeed. On the other hand, neither one holds the other's spouse (or children, for that matter) in particularly high esteem. So, it becomes a trick for them to convince their own family of the virtues of the other family, and the value of forcing a connection, while not necessarily being convinced of this themselves.
What is the best way for readers to stay connected with you?
 I'm not on social media, but I do have a website (www.rebeccakauffman.net) that I keep current. My personal email address is listed in the "About" section of my website – I take notes from readers seriously and am diligent about responding!
Are you currently working on your next novel? If so, what can you share with us?
I currently have two novels going. I've learned that having multiple works-in-progress keeps me happier because I can step away from a brick wall for a while without feeling like I'm losing or wasting time. Solutions tend to present themselves with a bit of distance from the work, so I love being able to bounce back and forth between two projects as my energy fluctuates. Of the current novels: one takes place in the early 2000s and chronicles an elaborate and ultimately devastating hoax, and the other takes place in the early 1900s and explores the lives of seven tightknit siblings who are navigating the fallout from a teenage pregnancy that has a lasting impact on each of them.
A taut, page-turning novel of secrets and strife. When two families–one rich, one not–vacation together off the coast of South Carolina, little do they know that someone won't be returning home.
Fripp Island, South Carolina is the perfect destination for the wealthy Daly family: Lisa, Scott, and their two girls. For Lisa's childhood friend, Poppy Ford, the resort island is a world away from the one she and Lisa grew up in–and when Lisa invites Poppy's family to join them, how can a working-class woman turn down an all-expenses-paid vacation for her husband and children?
But everyone brings secrets to the island, distorting what should be a convivial, relaxing summer on the beach. Lisa sees danger everywhere–the local handyman can't be allowed near the children, and Lisa suspects Scott is fixated on something, or someone, else. Poppy watches over her husband John and his routines with a sharp eye. It's a summer of change for all of the children: Ryan Ford who prepares for college in the fall, Rae Daly who seethes on the brink of adulthood, and the two youngest, Kimmy Daly and Alex Ford, who are exposed to new ideas and different ways of life as they forge a friendship of their own. Those who return from this vacation will spend the rest of their lives trying to process what they witnessed, the tipping points, moments of violence and tenderness, and the memory of whom they left behind.
Thriller Psychological [Mariner Books, On Sale: June 2, 2020, Hardcover / e-Book, ISBN: 9780358041528 / eISBN: 9780358041535]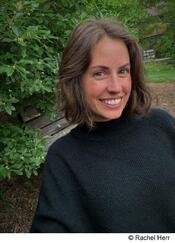 Rebecca Kauffman is originally from rural northeastern Ohio. She received her B.A. from the Manhattan School of Music in Violin Performance, and her M.F.A. in Creative Writing from NYU. She currently lives in the Shenandoah Valley of Virginia.
***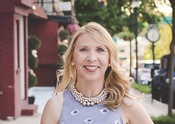 Jennifer Vido is best known for her nationally syndicated Jen's Jewels author interview column. A savvy book blogger she dishes the scoop on the latest happenings in the publishing business. As a national spokesperson for the Arthritis Foundation, she has been featured by Lifetime Television, Redbook, Health Monitor, The New York Times, The Baltimore Sun, Healthguru.com, and Arthritis Today. She is the author of the Piper O'Donnell Mystery series. Currently, she lives in the Baltimore area with her husband and two sons.