Living with a chronic disease presents daily challenges. Whether it is learning to navigate life's obstacles with a physical disability or simply coming to terms emotionally with the harsh realities of an unremitting disease, it's never easy. The best plan of action that I have found is to try to make peace with your situation and put your best foot forward each and every day.
This month's Jen's Jewels Leigh Brill discusses this very topic in her heartfelt new release, A DOG NAMED SLUGGER. Diagnosed with cerebral palsy, she tackles everyday activities with the help of an adorably smart guide dog aptly named Slugger. Through anecdotal tales of encouragement, she offers keen insight into the life of a person struggling with a debilitating chronic disease. Beautifully written from start to finish, her story is a true testament of courage, love, and hope.
As part of this interview, Bell Bridge Books has generously donated five copies for you, my favorite readers, to try to win. So, don't forget to look for the trivia question. And as always, thanks for making Jen's Jewels a part of your fall reading list.
Jen: The challenges that life presents often turn out to be blessings in disguise. A DOG NAMED SLUGGER is the story of your personal journey of self-discovery. So that my readers may have a better understanding of the woman behind the words, please share with us your educational and professional background.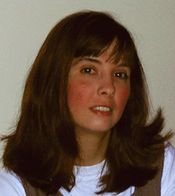 Leigh: After earning my Bachelors degree in psychology, I went on to obtain my Masters and Educational Specialist degrees in Community Agency Counseling. I worked for many years in the mental health/human services field. With my service dog Slugger by my side, I assisted clients who dealt with a wide variety of psychological and physical challenges.
Jen: During your time as a graduate student, your health became a major factor affecting your educational goals. Eventually, you were faced with the decision to explore other options in terms of coping with your disease. First of all, please give us a brief description of cerebral palsy and how it affects your mobility.
Leigh: Cerebral palsy is a broad term that actually encompasses a group of posture and movement disorders. It is related to the brain's ability to control the body, and there are several different classifications of CP (spastic, ataxic, dyskinetic, or mixed). Therefore, one person with CP may deal with very different symptoms compared to another person who has received the same diagnosis. For me, CP means I cannot depend on my own body to do what I want it to do. I have difficulties with my balance, my depth perception and vision, my muscles, and my ability to move and function physically. Walking requires a lot of concentration and energy (and a bit of good luck). Even with all of these, I fall easily. I sometimes need to use my wheelchair. My CP also makes my hands shake and I often drop things. In addition to these functional challenges, I have to deal with a lot of physical pain.
Jen: The use of seeing-eye dogs by the blind is widely well-known; however, companion dogs are not. Please describe for us how their roles differ. And, which breeds work best for each?
Leigh: Like guide dogs, mobility service dogs are trained to assist individuals who deal with disabilities. They can learn more than fifty different tasks that increase the independence and quality of life for their human partners. For example, service dogs are often trained to pick up dropped items, carry small things in their mouths, open heavy doors, and retrieve specific things (like the telephone) for their partners. All working dogs need to be healthy, smart, calm, and eager to please. Various breeds and mixed breed dogs can fill that important role; and I personally know lots of Golden Retrievers and Labrador Retrievers who are service dogs.
Jen: How did the decision to apply for a companion dog affect your perception of your disease? In your mind, how did you make peace with it?
Leigh: When I as a little girl, my grandfather used to tell me that every part of life holds the promise of something good. As a child with CP, I'd thought he was wrong; I could not find anything good about growing up with my disability. But when I met Slugger, I realized something good had found me. My life was shaped by my congenital disability and ultimately re-shaped by my partnership with my service dog. It was Slugger's unconditional love that enabled me to gradually make peace with my CP. My service dog was the single good thing to come out of my disability.
Jen: Briefly describe for us the application process required for obtaining a service dog. What was the most challenging part and why? And, did you select Slugger, or did he select you?
Leigh: The application process I experienced began with a phone call; I called Caring Canine Companions of Virginia and talked to the folks who worked there about my disability and how I hoped a service dog might help me. During this first conversation, I also began to understand some of the assistance tasks service dogs can perform. I was then sent a written application. Once completed, my application was reviewed and approved by the organization's trainers and professionals. A thorough home visit followed. Once my home was approved for a working dog, I settled in to wait until the folks at CCC contacted me to let me know they had found a dog they believed might be suitable for me, my environment, and my physical needs. For me, this wait lasted nine months –and the waiting was the hardest part! Every partnership is a matter of give and take, but in order for the whole service dog bond to work, Slugger had to make it clear he was willing to work with me; that was our vital first step toward becoming a successful working team.
Jen: In terms of Slugger's training, how active were you in his overall instruction? How long did it take? And, please share with us one of your favorite memories.
Leigh: Slugger's training actually began years before I met him. It took nearly two years for him to gain the skills and confidence he would need to work by my side. After he had been trained for that time, he was matched with me and our team training took several months. One of my favorite memories of our training period was when, during our final team test, the instructor with CCC told me that Slugger and I were so well matched that our gaits were identical and our butts wiggled the same way when we walked together.
Jen: With Slugger by your side, your struggle with CP was no longer an individual plight. Rather, it became a team effort. What were his particular strengths? And, in what ways did his constant companionship impact your self- esteem?
Leigh: Slugger was incredibly loyal and steady, and obedient when we worked together. My sweet Labrador also had a sense of humor that helped me keep a balanced perspective about life. Slugger believed in me before I knew how to believe in myself. His unconditional love and assistance gave me a sense of confidence, completeness, and self-worth.
Jen: Your relationship with your future husband, Pranav, also came with its challenges due to your culturally diverse backgrounds. How did your willingness to embrace the diversity directly correlate to having grown up with a chronic disease?
Leigh: My personal experiences growing up with my disability helped me understand the importance of 'seeing beyond the surface' of individuals. This may have helped me be more open-minded in developing relationships as I matured— including my relationship with Pranav. I also think my CP forced me to adapt and be creative in how I handled challenges. That creativity has served me well in all my significant relationships.
Jen: In his later years, Slugger began to suffer from old age. How difficult was it to accept his need to retire? And, how did having a second service dog named Kenda help with the transition?
Leigh: If such things had been up to me, I would have seen to it that Slugger stayed young forever. I didn't want him to get older; I did not want him to retire. Yet when he reached the point where working could have potentially been hard or painful for him due to his age, I absolutely knew it was time for Slugger to retire. I was fortunate to have caring guidance from our veterinarian. His input made it easier for me to do the right thing at the right time.
Kenda's entrance into my life helped me feel a sense of continuity and security once it was time for Slugger to retire. I liked knowing that my first service dog and my second working partner would be a part of each other's lives. My two dogs also made it clear they liked sharing their journeys with each other—and me—as well.
Jen: Throughout your life, you have experienced blatant acts of discrimination. Is it simply due to ignorance? Or, do you believe our society's quest for perfection is to blame?
Leigh: Even with the passage of the Americans with Disabilities Act of 1990 (www.ada.gov), I believe that discrimination can arise out of either ignorance or choice. I feel that the discrimination I have faced over the years has in fact been a combination of both of these factors. Some people may not be familiar with service dogs. Some people may be uncomfortable with other individuals whom they perceive as being 'different'. Still, neither discomfort nor ignorance should excuse discrimination.
Jen: Looking back, what was the most valuable life lesson you learned from Slugger? Leigh: Slugger shared so much wisdom with me in the years that we had together! He taught me that every partnership is a matter of give and take. He taught me that white fur on a dark skirt makes a wonderful fashion statement. And the most profound lesson Slugger shared with me was that even life's biggest challenges can hold the promise of something good.
Jen: For those readers who want to know more about service dogs and the programs available, can you recommend some organizations?
Leigh: Having been involved with Saint Francis Service Dogs in Virginia for years, I would highly recommend the organization to those interested in learning more about service dogs in the state (www.saintfrancisdogs.org). Assistance Dogs International (www.AssistanceDogsInternational.org) also offers helpful information about service dogs in addition to a listing of service dog organizations throughout the United States and abroad. Delta Society (www.deltasociety.org) can also provide valuable information about many different types of working dogs and those who are partnered with them.
Jen: Let's switch gears now and talk about your website. Please take us on a brief tour highlighting your favorite parts.
Leigh: My website, www.leighbrill.com, is pretty basic, yet it seems to suit the fundamental style and message of my work. I'm especially happy with the video that is featured on my welcome page. I love knowing that folks can watch it and see a service dog in action (my girl, Kenda). I've also included information about the book so that people can uncover details about the story, my publisher, and where and how they can get A DOG NAMED SLUGGER! My website features lots of links that relate to my story. I think it's a great way to share resources as well as inspiration. Readers can get to know me a bit more on my site, too, and contact me if they want to share their thoughts. It's exciting to be able to let everyone know what my dog and I are up to on our news and reviews page. I'll be updating that very soon…
Jen: What's next for you? Are you currently at work on another project? And if so, what can you share with us?
Leigh: Lately I have been very focused on letting readers know about A Dog Named Slugger. I am also hard at work on my next book; Miranda and Charlie and the Great Cupcake Caper is the first in a series of fictional juvenile stories featuring an energetic kid-detective and her service dog.
Jen: Thank you so much for stopping by to chat with my readers. Your story is such an inspiration for all of us living with a chronic disease. I wish you only the best.
Leigh: I'm honored by the opportunity, thank you Jen! I'm pleased and humbled to know my book is making a positive difference. Sharing some of the goodness that Slugger first shared with me is rewarding on many levels. Best to you and wags from sweet Kenda!
I hope you have enjoyed my interview with Leigh. Truly, she is such an inspiration to us all. Please stop by your favorite bookstore or local library branch and pick up a copy of A DOG NAMED SLUGGER today.
Better yet, how would you like to win one instead? Okay, be one of five readers to answer to the following trivia question and you'll could win. Good luck!
What is the name of Leigh's next book?
Next time, I will be bringing to you my interview with Cynthia Keller, author of AN AMISH CHRISTMAS. You won't want to miss it.
Until next time…
Jen