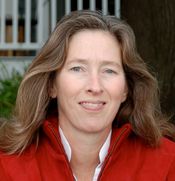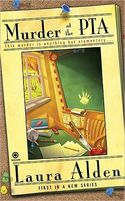 With the hustle and bustle of the holiday season comes an endless To Do list for moms. Whether it's staying up late to bake cupcakes for a class party or being volunteered to sew buttons on costumes for a play, the stress of the season gets to the best of us. Throw in a couple of last minute school assignments for the kids like book reports and science projects, it's a wonder we manage to enjoy the spirit of the season at all.
This month's Jen's Jewels Laura Alden knows firsthand what stress might do to a group of over-worked moms. In her debut novel MURDER AT THE PTA, the newly-elected PTA secretary Beth Kennedy must find out who killed Carver Elementary School's most disliked principal. With a long list of harried mom as suspects, Beth must separate the good from the bad in order to solve this most nerve-wracking case.
As part of this interview, Obsidian, an imprint of Penguin Books, has generously donated five copies for you, my favorite readers, to win. So, don't forget to look for the trivia question at the end. And, thanks for making Jen's Jewels a part of your holiday reading list.
Jen: The road to publication is oftentimes as fascinating as the novel itself. So that my readers have a better understanding of the woman behind the words, please share with us your educational and professional background.

Laura: I came of age in the 70's and my parents told me I could do anything I wanted, that all doors were now open to women. So instead of being the English teacher I might have been, I felt obligated to venture into male territory. Thus I got a B.S. in geology and spent 25 years in the surveying and civil engineering field. That career ended abruptly when I was laid off in 2009, but I recently found a wonderful job — a village clerk/planner/zoning administrator. Lots of different tasks, lots of responsibility, lots of autonomy. This isn't a position I ever imagined having, but now I can't imagine a job that would suit me better. Well, other than writing full time, of course!
Jen: Not surprisingly, initial career endeavors sometimes fall by the wayside in pursuit of a lifelong dream. Describe for us your "Ah! Ha!" moment when you made the conscious decision to pursue a career as a writer. And, how, if at all, has your educational background in geology helped you make that dream come true?
Laura: There were two things, neither of which had anything to do with education. The first was a job change that freed up my creativity. After a number of years in management, I felt the need to move on and took a job with waaay fewer responsibilities. A month later, I was dead bored. A month after that I turn to writing as a way to wake up my brain.
The second "Ah! Ha!" moment came via a sentence that leapt off the page and grabbed my shoulders. I was reading a lot of books on writing at the time, but this happened to be a book on exercise and dieting. I don't remember anything else about it, but there was this particular sentence: "What's it going to be, reasons or results?"
The phrase practically stuck me in the eye. I printed it out, framed it, and put it next to my computer. "Reasons or results?" At the end of my life, was I going to have a pile of reasons for not having written a book? Or was I going to sit down and write a book?
Once I started looking at it that way, the decision was easy.
Jen: As a writer, we all know how the pile of rejection letters becomes a badge of honor, if you will, in terms of acknowledging the dedication needed in order to pursue a writing career. Having written seven novels in the span of twelve years, your moment of acceptance finally has arrived. Looking back over the years, in what way does your first published novel MURDER AT THE PTA best encapsulate your professional journey?
Laura: One word — validation.
Jen: Any chance of some of those other titles coming off the closet shelf?
Laura: The first three novels I wrote should be either burned to bits or shoved to a dark corner of a damp basement. They're that bad. The next three could be publishable with a little polishing, so who knows? Maybe someday. Hope springs eternal and all that.
Jen: Let's talk about MURDER AT THE PTA. Please describe for us its premise. And, will this be the beginning of a new mystery series?
Laura: Yes, this is the beginning of a new series – I'm currently under contract for two more books. Right now I have absolutely no knowledge if the contract will be renewed, but I'm crossing fingers and toes, because I'd love to spend more time with Beth and the kids and Marina and all the other Rynwood- ites.
MURDER AT THE PTA starts with the main character, Beth, being arm-twisted by her best friend, Marina, into doing something she doesn't want to do. While this is par for the course, Beth also knows Marina's arm-twistings usually have sound reasons, so she becomes the local PTA's secretary. To her surprise (but not Marina's) she finds she loves being an important part of the PTA. Even when the school principal is murdered, Beth discovers she has something important to contribute.
Jen: Your main character Beth Kennedy has just recently gone through a divorce which most definitely has left some emotional scars. Interestingly enough, you do not choose to address its cause within the framework of the story. Why so?
Laura: Ah, great question. In the first draft, Beth was indeed struggling with the divorce and its aftermath. The standard framework of the cozy/traditional mystery, however, can often relegate such tangled and complicated issues to the background, and that's what happened here. Or, to put it another way, Beth's recovery from the divorce just wasn't part of the story. It didn't advance the plot, so into the background it went.
Jen: On the path of reinventing herself, Beth throws caution to the wind and decides to accept the position of PTA secretary at her children's school. What attracts her to this new position? And in what ways is it perhaps cathartic in terms of helping her cope with her new set of circumstances?
Laura: The call of "We need you" is hard to resist, and when Beth finds she's more than capable of doing the job, the confidence this gives her starts to ooze into other areas of her life. She doesn't realize it, of course, but Marina will point it out her, I'm sure.
Jen: Her best friend Marina is a ball of fire, always pushing Beth to the limits of her comfort zone. What makes these two such a compatible pair?
Laura: It's their very differences that make them such great friends. Marina pushes Beth, and Beth softens Marina's rough edges. They're good for each other and they're both well aware of that fact. There will always be friction between them because they're so different, but they've adapted this friction into a living part of their friendship and accept it as inevitable – even enjoyable.
Jen: When the news of the murder of Agnes Mephisto, the unpopular school principal, hits town, Beth and Marina decide to make it their personal mission to find her killer. First of all, why have they chosen to take on this dangerous task? Is it simply a good will mission, or do these two busybodies just crave to be the center of attention?
Laura: Marina, though she hasn't said so, probably has delusions of becoming Rynwood's version of Jessica Fletcher. It's all a game to her. Beth takes it much more seriously. No one, she comes to realize, should have their life taken away from them, even someone as unlovable as Agnes. Beth becomes Agnes's champion and makes it her personal goal to bring the killer to justice.
Jen: Naturally, the suspect list begins to grow as the ladies start uncovering the town's dirty little secrets. Then out of the blue, Beth's childhood friend Evan now turned sexy hottie, shows up tempting Beth into a new relationship. Why is Beth so leery of his intentions?
Laura: Poor Beth! Her self-esteem needs multi-vitamins, doesn't it? First off, she doesn't feel that Evan could possibly be interested in her. Once he realizes how inadequate and pathetic she truly is, he'll dump her and take up with someone more suitable to his good looks. Plus, with her divorce only a year old, she doesn't want to run in and out of relationships with men. This, she feels, couldn't possibly be good for the children.
Jen: Beth undertakes the responsibility of cleaning out Agnes's house. How does this have an effect on Beth's outlook on her own life?
Laura: It's at this point that Beth comes to know Agnes. She learns Agnes was a huge hockey fan, she learns she and Agnes shared the same taste in children's books, she learns Agnes was, in many ways, oddly frozen in time. Beth feels guilty that she judged the woman so harshly while knowing very little about her and that evolves into an unconscious decision to avoid judging people. As much as possible, anyway.
Jen: Beth's children play an important role in the plot. In general, how does their dependence on her contribute to Beth's willingness to risk it all despite her fears?
Laura: Beth's children are the most important part of her life, hands down, no questions asked. Helping Jenna and Oliver grow up to become happy and whole adults is generally Beth's first thought upon waking and her last thought before falling asleep. Whatever she can do for her children, she will, even if it means stepping out into the Great Scary Unknown.
Jen: Let's switch gears and talk about your promotional plans. Will there be a book tour? Blog appearances? Book give-away offers?
Laura: In the last couple of months I've guest posted on a number of blogs (Mystery Lovers Kitchen, Dollycas's Thoughts, Jungle Red, Lesa's Book Critiques, Cozy Chicks, etc.). Having a day job and living 300 miles from any major city precludes going on a book tour, but in October I attended the Magna cum Murder conference in Muncie, Indiana, and, if all goes well, I'll be at Malice Domestic next spring.
Jen: Will you be participating in author phone chats? And if so, how would my readers go about scheduling one?
Laura: An author phone chat? What a great idea! (Laura writes "Figure out how to do a phone chat" on her To Do list.)
Jen: Please take us on a tour of your website.
Laura: The one that needs a complete redesign? Oh, dear. I launched the website six years ago, long before I had any realistic chance of being published. The main reason I started it? I'd just bought a digital camera and wanted to have a spot to display the pictures.
But I've also used it as a way to keep myself writing. For six years, I've changed the home page post once a week and have written on a wide variety of topics. Writing, marriage, death, oyster dressing; thanks to this self-imposed weekly task I've discovered that I can write 500 words on just about anything.
The site also has the obligatory bio page, and I stuck in pages of links: one for writers, one to other author websites, and a page of fun links. (That's my favorite 🙂
Jen: Are you currently at work on your next project? If so, what can you share with us?
Laura: Book #2 in the PTA Mystery Series, tentatively titled "FOUL PLAY AT THE PTA" was delivered to my editor November 15. (I don't have the publication date yet.) Right now I'm working on the synopsis for Book #3 and am finding that Auntie May is demanding a large role. And since Auntie May usually gets what she wants, well….
Jen: Thanks so much for stopping by to chat with my readers. I thoroughly enjoyed MURDER AT THE PTA and can't wait to read your next release. Best of luck in all of your future endeavors!
Laura: Thanks for having me. And good luck with your own books!
I hope you have enjoyed my interview with Laura. Please stop by your favorite retailer or library branch and pick up a copy today. Better yet, how would you like to win one instead? Okay, be one of five readers to correctly answer the following trivia question and you could win!
What is the tentative title of Laura's next book?
Later this month, I will be bringing to you my interview with Stephanie O'Dea author of the cookbook MORE MAKE IT FAST, COOK IT SLOW. You won't want to miss it.
Until next time…
Jen