When I started writing THE LOOKING GLASS, a sequel was the furthest thing from my mind. Then I signed a two-book deal with Month9Books, and the yet unwritten book two suddenly became a concern.
I'd always thought of THE LOOKING GLASS as a stand-alone story. And here's the thing about stand-alone stories—they end. Isn't it nice when a story just ends instead of dragging on forever and ever and on and on …. and making you think about things like consequences and whether the people who were happy at the end of Book 1 could actuallystay happy forever after?
Happily ever afters don't happen if the story doesn't end.
Into the Woods is one of my favorite musicals ever created. You've probably seen it or heard of it and if you haven't seen it or heard of it you should go forth to Google and fix that right now. It's a fairy-tale mash-up in which all the characters get their happy endings at the end of Act I. Then, in Act II, the characters have to deal with the consequences of getting what they want. They have to deal with uncertainty. They have to venture out into real life, where things don't always end well.
This is the somber duty of a sequel—to march in on the triumphant resolution of the first book and say "Hey, that's nice, but life goes on! Tomorrow might still suck."
Needless to say, sequels are not often invited to sit at the "cool books" table.
So how does a girl approach the unexpected sequel? Without giving away too many spoilers, I'll say that at the end of THE LOOKING GLASS,Alice learns that she is more valuable and more valued than she thought. But what happens when she gets thrown back into a world where people don't always value themselves—or others—the way they should? What happens to someone who has gone through a traumatic experience when she is asked to return to humdrum daily life? An unexpected sequel starts with questions. An unexpected sequel starts with a conquering hero waking up the next morning and asking "What next?"
Writing THE LINGERING GRACE was a lot more satisfying than I expected it to be. Happily ever after is a beautiful idea, but we live our lives in a world where things don't always tie up so neatly. We live in a world of sequels, some expected, some unexpected. And, somehow, we learn to embrace them.
I hope that readers enjoy The Lingering Grace not as a continuation of The Looking Glass, but as a continuation of Alice's story—and as an exploration of the questions that happy endings don't answer.
About Jessica: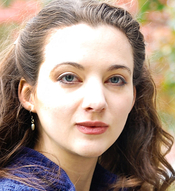 Jessica Arnold lives (in an apartment) and works (in a cubicle) in Boston, Massachusetts. She has a master's degree in publishing and writing from Emerson College.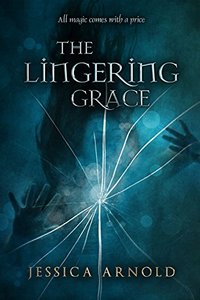 The new school year brings with it a welcome return to normalcy after Alice's narrow escape from a cursed hotel while on summer vacation. But when a young girl drowns in a freak accident that seems eerily similar to her own near-death experience, Alice suspects there might be something going on that not even the police can uncover.
The girl's older sister, Eva attends Alice's school and Alice immediately befriends her. But things change when Alice learns that Eva is determined to use magic to bring her sister back. She must decide whether to help Eva work the highly dangerous magic or stop her at all costs. After all, no one knows better than Alice the true price of magic.